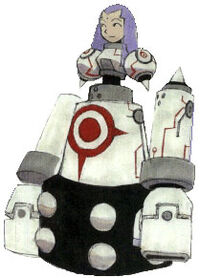 Megaman Juno is the final boss from Megaman Legends. He is a Bureaucratic Unit who was left in charge of watching over the population of Kattelox Island.
As time passed, Juno went dormant, while the population on the island arose. When Volnutt awakes him, he is surprised to see that Volnutt was amnesiac. He reveals to Volnutt that his true name is Megaman Trigger, and that he is a Purifier Unit, charged with disposing of malfunctioning and aberrant units. Juno looks on a panel and notices the overgrow of the population in the island, deciding to activate the Carbon Reinitialization Program, in order to erase all carbons from the island. Volnutt tries to stop Juno, but ends trapped in a electric field.
He is helped by the Bonnes and goes after Juno, fighting him in another room. Juno ends defeated, but the program was already initialized, so Data intervenes and orders the computer to stop the program.
Community content is available under
CC-BY-SA
unless otherwise noted.