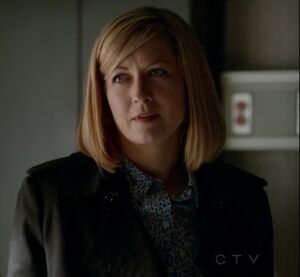 Megan Brooks is the main villainess from "At Close Range," episode 7.18 of Castle.
She was played by Ali Hillis.
Megan Brooks is the campaign manager for Congressman Alex Lopez, but as later revealed, she was nearly off Lopez's campaign. Carolyn Decker, a staffer for Lopez, informed him about her doubts about Megan remaining on the campaign. Unbeknownst to Carolyn, Megan heard everything and set out to kill Carolyn.
Megan committed the murder at a rally for Lopez, where she fired shots at both Carolyn and Lopez. Lopez survived, but Carolyn died during surgery. Regarding shooting at Lopez, Megan did so to make it appear that Lopez was the real target, though she may have also been enraged over Lopez possibly considering firing her.
Megan was revealed as the killer when she was confronted by Beckett at the hospital where Lopez was recovering. She expressed her devotion and loyalty to Lopez as her reasons for killing Carolyn Decker, right before she was arrested.