Jurassic World: Dominion Dominates Fandom Wikis - The Loop
Play Sound



Click to help Cruella!

This scum Melvin the Martian is driving Cruella insane!
IT MUST BE REWRITTEN OR ADDED TO!!
So sayeth the great Lord of Darkness Sauron, or he will send Darth Vader to terminate you.

Help improve this article by rewriting, expanding, updating the poorly written text of the article. ✓
Jafar says: Read my lips and come to grips with the reality!


This article is a stub and is in need of expansion. You can help Villains Wiki by expanding it.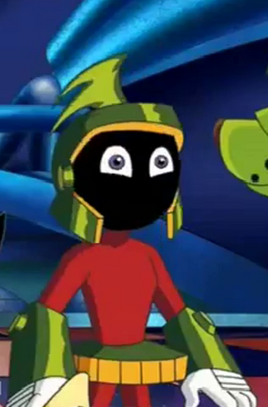 Melvin the Martian is a descendant of Marvin the Martian, Melvin is the general of the Martian army. He comes to blow up Acmetropolis after his spacecraft was hit by a missile that came from Tech's X3000 Automated Weapons System when Rev and Lexi mistake it for a video game. He demanded the planet's surrender or he'll destroy the planet. After a talk with Duck, Melvin decides to shrink it. When Lexi admitted tampering with Tech's invention, Melvin ordered the Loonatics to hand her over to him in 24 hours or "the planet will be hard to find on any map."
Lexi ended up surrendering to Melvin and the Loonatics get her back using an idea from Rev- to create a Trojan horse. Meanwhile Lexi faces off against Melvin in a game of Celestial Checkers (while Melvin is secretly having his warships shrink the rest of Acmetropolis), he also attempted to blow up Ace with a Uranium PU-36 Explosive Space Modulator (Marvin used an Aluminum PU-36 Explosive Space Modulator) but got his helmet blown off instead after arguing with him over who'd get it. Ace, Duck, Rev and Slam rescue Lexi, restore Acmetropolis, and defeat Melvin who escapes with his dog Sergeant Sirius.