Obi-Wan Finale - The Loop
Play Sound
The Mentors are a hostile species in the Doctor Who series, who were a recurring antagonist during the Sixth Doctor's era. They appeared in "Vengeance on Varos" and the "Mindwarp" segment of the "Trial of a Time Lord" season.
History
The Mentors were the aristocratic rulers of Thoros-Beta. Despite being physically weak to the point of being virtually immobile without assistance, they had gained dominance in the system, using the humanoid population of neighbouring Thoros-Alpha as a slave labour force. They viewed the universe in business terms, with acquisitions assessed on the basis of monetary gain.
The Doctor first encountered the Mentors on Varos, in the shape of their Galatron Mining Company. The Mentors' representative, Sil, was negotiating for the purchase of zeiton-7. Sil had convinced the population that zeiton had little value and was trying to force the price down. He used hard tactics with the planet's Governor, an office that had a high turnover since unpopular governors could be voted to death by the population, while bribing the permanent officials to sabotage any attempts at a fairer price. When the Doctor threatened to expose the truth, and attempts to have him killed failed, Sil called in an invasion force from Thoros-Beta. However, the discovery of zeiton traces elsewhere, meaning occupation of Varos would not give them a monopoly, resulted in the Mentors calling off the operation and resulting in Sil being ordered to pay whatever the Varosians asked.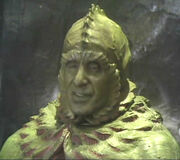 The Mentors continued their business dealings, provoking a war between the primitive peoples of Thardon and Krontep in order to sell them advanced weapons. They also employed a scientist, Crozier, to carry out genetic experimentation, creating slave creatures and also improving the Mentors themselves. As the result of this however, the Mentor leader Lord Kiv found his brain expanding to an extent that it no longer fitted in his skull, and required his brain to be transplanted into a new body to survive.
With the Krontep king Yrcanos proving unco-operative, the Mentors ordered Crozier to subject him to brainwashing to make him more compliant. The Doctor intervened but was subjected to the machine himself, leading him to ally himself with the Mentors for a time and assist Crozier. When his friend Peri was selected as Kiv's new host, with her personality set to be erased and replaced with his, the Doctor freed the Alphan slaves. The experiment was ended by an attack on Crozier's laboratory by Yrcanos and it is unclear how many of the Mentors survived his rampage.
Trivia
During his initial appearance in "Vengeance on Varos", Sil's species goes unnamed, although his home planet of Thoros-Beta is mentioned. The name Mentors is not used until "Mindwarp".