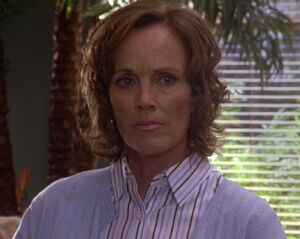 Meredith Cloverfield is the main villainess from "The Old and the Restless," episode 2.12 of Psych.
She was portrayed by Joan McMurtrey.
Biography
Meredith Cloverfield is a food service volunteer at Glorious Pines, a retirement community where Shawn and Gus inspect the disappearance of one of its residents, Oswald Chester--doing so by posing Henry as a resident. Her mother, Rhonda, is a resident at a different community which had terrible service, and she was seventh on a wait list to move into Glorious Pines.
Not wanting her mother to wait any longer, Meredith decided to resort to poisoning residents who were being kicked out because they would need full time care. She stole blood pressure medication and laced the FTC residents' meals with the pills, beginning with Oswald Chester, who fell while jogging and went into a coma. She did the same to three other residents, with all of her victims wearing bracelets made by dance instructor Chelsea, which ended up giving Meredith away as the villainess. After security guard Jervis Kent found more of the medication in Meredith's pockets, he placed Meredith under arrest.