Jurassic World: Dominion Dominates Fandom Wikis - The Loop
Play Sound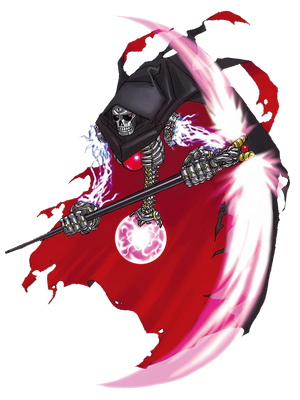 | | | |
| --- | --- | --- |
| " | Sleep, and then your hearts will be mine for the taking! | " |
| | ~ MetalPhantomon before he appears. | |
MetalPhantomon is a minor antagonist in the Digimon series.
It was voiced by Ken Yamaguchi from Digimon Data Squad, later Hisao Egawa from Digimon Ghost Game in the Japanese dubbed version and Paul St. Peter in the English dubbed version for Digimon Data Squad.
Appearance
MetalPhantomon is an Ultimate Level Digimon that resembles the Grim Reaper. His skeleton is made entirely out of metal and wields an scythe with energy blades.
Biography
Digimon Data Squad
During the journey to the Digital World to the Ice Ridge, the DATS team discovered a gorge, where MetalPhantomon dwells and the Dokugumon live as well. They were encountered by a swarm of Dokugumon and were captured by them.
MetalPhantomon puts the DATS team to sleep, and then appeared from the abyss while the DATS team were hung on strings. MetalPhantomon subjected Marcus, Thomas, and Yoshi in their nightmares, in order to feed off their energy to become the walking undead.
First, Marcus was forced into his nightmare about his sister, Kristy, being taken away by a Drimogemon while Marcus fought a Numemon who can multiply.
Second, Yoshi was forced into her nightmare about her sad childhood self hating her family. Then Thomas, who was forced into his nightmare, remembers himself as a young boy and his mother going to a summer festival, he attempts to stop his mother from going, but it was too late after his mother died in a truck accident, making Thomas cry in despair now that she's gone. MetalPhantomon then sucks Thomas's energy faster, but he managed to break free from the spell.
In order to avenge his mother's death, Thomas digivolved Gaomon into his ultimate form, MachGaogamon. While GeoGreymon and Sunflowmon defeated the Dokugumon, MachGaogamon pushes a building at MetalPhantomon. MetalPhantomon attempts to destroy everyone with his Soul Predator attack (as well as killing the last two Dokugumon), Thomas ordered MachGaogamon to end the battle. MachGaogamon then defeats MetalPhantomon.
Digimon Adventure:
A MetalPhantomon served as one of Millenniummon's army. It attacks Taichi and Greymon, but Greymon quickly digivolves to MetalGreymon to fight it. He manages to knock out MetalPhantomon, but suddenly dark Digivolves to Reapermon (thanks to Moon=Millenniummon's dark lightning). Reapermon seems to get the upper hand against MetalGreymon and Garudamon, but Taichi refuses to back down, and MetalGreymon continues to fight Reapermon, and then eventually Digivolves to WarGreymon to strike back at Reapermon and destroy it at close range with his Gaia Force attack.
Digimon Ghost Game
MetalPhantomon was invited by Sistermon Ciel to join the Digimon race, he absorbs the data of the Digimon who were eliminated in the race, and thus killing them. It was transported back to the Digital World along with Sistermon Ciel and the other participants after BlackGatomon opened the gate to the Digital World.
Powers and Abilities
Attacks
Grave Scream.
Soul Predator.
Scythe of Cyborgs.
Metallic Hunter.
Gallery
Trivia
In the Japanese version of the Digimon anime:

He was voiced by Ken Yamaguchi, who also voiced Murmukusmon in Digimon Frontier: Island of the Lost Digimon.
He was voiced by Hisao Egawa, who voiced SkullGreymon in same series, Machinedramon, Ogremon in both Digimon Adventure (1999 series) and Digimon Adventure: (2020 series).

In the English version he was voiced by Paul St. Peter, who also voiced Kiwimon, Apocalymon in Digimon Adventure, Diaboromon, Kokomon, Antylamon, Cherubimon in Digimon: The Movie, Cherubimon in Digimon Frontier, and SaberLeomon in Digimon Data Squad.