Michael Amar
, nicknamed
Murmur
, is an antagonist in the third season of "Arrow". His lips are sewn together, preventing him from speaking.
Given his inability to speak, Amar has one of his henchmen working as a translator to translate his orders to his men.
He is portrayed by Adrian Glynn McMorran.
History
Sometime ago, Michael was beaten by police, forced to admit to a crime that he didn't commit, and in turn served some time in Iron Heights Prison.
Eventually, he was released from prison.
In the series
He and his men break into a warehouse and steal a crate full of industrial grade diamonds, thereby killing two guards. Three of his men are taken into custody by the Arrow, Arsenal and the Canary but Amar and most of his men escape.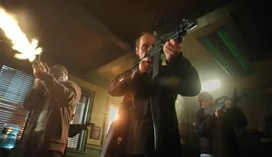 The Arrow and his allies find out that Amar and his gang rob diamond bullets which can go through police armour.
The same night, Murmur and his men attack the police precinct with their special bullets, killing every policeman on their way. Murmur beats up Captain Lance when he is about to shoot his translator. He proceeds to strangle Lance but is stopped by the Arrow who shoots an arrow in his chest. Arsenal, Nyssa al Ghul and Laurel Lance join the fight, defeating Amar's men. With all his men dealt with, Amar flees the precinct, shooting another officer on his way out. He is followed by the Arrow who tries to jump him. Amar slams him to the floor and savagely beats him. He then tries to strangle him but the Arrow recovers and knocks him out.  He is then taken into custody by Lance.
Ra's al Ghul, dressed as the Arrow, later kills all but one of Murmur's surviving gangsters.
Personality