The Sandman Will Keep You Awake - The Loop
Play Sound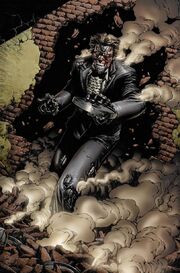 Midnight real name Jeffery Wilde is a villain from Marvel Comics and a former friend turned villain to Moon Knight.
Jeffery Wild was the son of moon knight villain Midnight Man who wanted to have his son not to follow in his footsteps and Jeff lived with his mom but his dad would sent him money for support.
When he turned sixteen he would find his father dying of Cancer Morgant recounted his life as a supervillain and foe to Moon Knight as well as teching him technqies and on his last days morgant beg his son to live the best life he can and not become a supervillain.Honoring his father's last request jeffery took on the mantle of Midnight in honoring his father and would work with Moon Knight to atone for his father's sins. Midnight would later become Moon Knight's sidekick much to Marc Spector's reluctance and the mentorship last for a short while during the events of the secret empire where Jeft was captured and presumed dead only to be later turned into a cyborg against his will and became their weapon. He would team up with with fellow cyborg Lynn Church to take vengance at moon knight for abanonding him but was later stopped. He and Lynn would later return again and things get ugly when Moon Knight fights. Midnight wants to die from all of this pain and misery which Moon Knight grants him such.

As a cyborg midnight has superhuman strength,speed,stamina,and durability as well as using every weapon from his cyber body like guns and cannons.