This article's content is marked as Mature
The page Mature contains mature content that may include coarse language, sexual references, and/or graphic violent images which may be disturbing to some. Mature pages are recommended for those who are 18 years of age and older.


If you are 18 years or older or are comfortable with graphic material, you are free to view this page. Otherwise, you should close this page and view another page.



Click To Help DIO!

DIO has declared that this article has stopped in time, and any and all information on it may be outdated.
Help improve this article by checking and updating it's info wherever necessary
And now time resumes!

✓
| | | |
| --- | --- | --- |
| " | How dare you invade this territory... Do you, Hot Pants, have an ability that allows you to melt your body? You've put me in a world where my name as the president's guard has been soiled. This is a world in which you will not be forgiven... I'll capture you and torture you slowly, so that your country will learn never to interfere with us, I will be putting you in a world of terror! | " |
| | ~ Mike O. to Hot Pants. | |
Mike Oldfield, better known as Mike O., is a minor antagonist in JoJo's Bizarre Adventure: Steel Ball Run. He is the Funny Valentine's bodyguard. He wields the Stand known as Tubular Bells.
Biography
???
Appearance
Mike O. has dark skin, and average height, and a medium build magenta eyes and black, curly hair. Most of his hair is centralized in a central oval-shaped pattern on his head, and has pink spiraling markings painted on the sides of his eyes. For clothing, he wears a dark blue coat with green highlights, a pale purple scarf, pants matching his coat covered in pink spikes, and matching shoes with terracotta soles.
Personality
Mike O. takes his position as Funny Valentine's bodyguard seriously, being fiercely loyal to Funny Valentine and determined to aid him in his plans. Taking his job with a degree of honor unrivaled, Mike O. will furiously defend his boss with his life, desires to not let anything bad happen to him or his wife (which is shown were he becomes furious at her accidental death), is able to have grudges against his enemies, and is quick to demand for torture and execution being delivered to his foes. Despite this, Mike O. is also intelligent and strategic, being able to use both his surroundings and his Stand to great effect. Mike O. also uses the word "world" when describing things on a grander scale commonly.
Powers and Abilities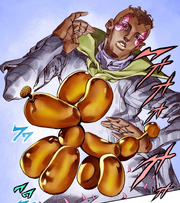 | | | |
| --- | --- | --- |
| " | Tubular Bells... I've already turned the tin shutters on the windows into balloon birds, and floated them around my world... I'll float all of the surrounding metals and direct them towards you. My Tubular Bells will serve not only as my defensive tactic. But they have sentenced you to a world of death by gulliotine! | " |
| | ~ Mike O. on Tubular Bells to Hot Pants. | |
While having no physical form, Tubular Bells allows Mike O. to inflate various metal objects as if their are balloons, eventually shaping them into floating minions that follow Mike O.'s commands. Once inflated, the balloon animals he summons can squeeze through gaps with ease, can be modeled into certain shapes, are able to do simple tasks, and attack by burrowing into foes before reverting back to their normal form (with these attacks being able to be powerful enough to break down walls). The shape of the object inflated seems to possibly have an effect on the object's shape, with "dogs" being made out of nails and "swans" being made out of shutters.
Gallery
Community content is available under
CC-BY-SA
unless otherwise noted.