We're Getting Mutants in the MCU - The Loop
Play Sound
This article's content is marked as Mature
The page Mature contains mature content that may include coarse language, sexual references, and/or graphic violent images which may be disturbing to some. Mature pages are recommended for those who are 18 years of age and older.


If you are 18 years or older or are comfortable with graphic material, you are free to view this page. Otherwise, you should close this page and view another page.
| | | |
| --- | --- | --- |
| " | Dimitri turned on me. Not the other way around. America made him greedy. Dimitri will turn on you as well, you shall discover this. I am a man of convictions, I have only done what I believed. None of you will survive in this country without me! This American greed takes everyone. It is like a disease. Only I am still sane! | " |
| | ~ Mikhail Faustin warning Niko that Dimitri betrayed him. | |
Mikhail Faustin (July 18, 1963 - 2008) (Russian: Михаил Фаустин) is an antagonist in the Grand Theft Auto series who appeared as a major antagonist in Grand Theft Auto IV.
He was the notorious founder and leader of the Faustin Crime Syndicate, whose members included his right-hand man Dimitri Rascalov and their debt collector Vlad Glebov. Over the course of the game, Faustin was known for very short temper due to his use of drugs; this extended to the point where he became extremely violent and murderous, which ended up leading him to make irrational decisions that would result in his demise at the hands of his hired gun Niko Bellic. making decisions that led to his own demise.
He was voiced by Karel Roden, who also played The Fixer in the same game, Emil Slovak in 15 Minutes, Struker in Bulletproof Monk, Carter Kounen in Blade II and Yuri Gretkov in The Bourne Supremacy.
Biography
Background
Mikhail Faustin was born and raised in 1963 in Russia (then Russian SFSR, USSR). He met his "brother for life" Dimitri Rascalov while serving in the Army during the Cold War as early as 1987, and were later cellmates in a Siberian prison camp. Both he and Dimitri have tattoos on the palms of their hands which represent that they are "brothers for life", according to Mikhail. Also by Mikhail's record, he protected Dimitri from being raped in prison, which he will sometimes remind him of to guilt him into following orders. In 1988, when Mikhail was 25 years old, he had a baby girl named Anna with his future wife Ilyena, who was only 18 at the time. Ilyena reminisces that Mikhail was "beautiful" at this time, before he became possessed by anger. Dimitri also says of Mikhail back then, "he had a temper, but he was fair". After the Cold War ended in 1991, they were both "selling hash to tourists in Red Square" according to Dimitri, and both men had multiple murder convictions.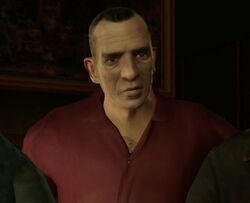 Mikhail "exploited a loophole in the immigration treaty to gain US residency in the late 90s", arriving in Hove Beach with Dimitri, Ilyena and Anna, then under 10 years old. He was living in Liberty City and situated into a criminal life by 1998, when he was arrested for extortion. Mikhail built a criminal enterprise based in Hove Beach, made up of several investments - the Perestroika cabaret, protection rackets, cocaine distribution, pornography, stolen goods (which he was arrested for in 2002) and more. This afforded him a lavish lifestyle consisting of a large Beachgate home, two luxury cars (a Turismo and custom black Schafter) and being able to raise his daughter in the upper-class American fashion (she speaks in a perfect American accent and Mikhail says he has "spoil[ed] her rotten").
Appearance
Mikhail Faustin is an middle aged man with a stern look. He has black hair. He usually wears a red shirt and dark gray trousers.
Personality
Mikhail is a violent man with anger issues. He is seen to constantly berate his wife Ilyena, his henchmen and Dimitri but is less violent (albeit still obnoxious) with Niko. In a fit of anger, he even shot at Roman's stomach (fortunately for him, Roman is later saved by Dimitri). He cannot stand that his daughter fell in love with a Lost MC's biker, Jason (who is killed by Niko in the mission No Love Lost).
Trivia
He is about 6'1 and 175 lbs.
He is very similar to Dwayne Forge from the same game as both are crime lords who want to be overthrown by their own gang members. They also both have very little people remaining loyal to them. However, it is mandatory to kill Mikhail but optional to kill Dwayne.
He is also very similar to a Mexican crime lord from Grand Theft Auto V named Martin Madrazo. They both have wives whom they abuse. It is also possible that Mikhail is cheating on his wife, Ilyena, for either Katerina or Vera, two Russian women at Perestroika, who are very briefly seen with him prior to Niko and Dimitri sitting down with him. Unlike Mikhail, Martin Madrazo remained alive, and was even associated with the GTA Online Protagonists. In addition, while Niko Bellic did betray Mikhail after Dimitri double-crossed him (which in turn led to Dimitri double-crossing Niko afterwards), Michael De Santa, along with Franklin Clinton and Trevor Philips, did not betray him, even though the latter did kidnapped Martin's wife, resulting both him and Michael to go into temporary exile, whereas Ilyena became widowed from Mikhail's death. Furthermore, Martin Madrazo redeemed himself whilst Mikhail Faustin did have some redeeming qualities but was ultimately killed by Niko under Dimitri's orders.
External Link