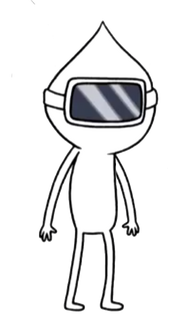 Click To Help Darkseid!

Darkseid has declared that this article requires immediate Cleanup in order to meet a higher standard.
Help improve this article by improving formatting, spelling and general layout - least it fall victim to an Omega Effect


✓
Milk People are small imp-like creatures that hail from a void-like dimension that is equally as white as them and is filled with milk. They are the main antagonists in Guy's Night.
Appearance
All of the Milk People resemble white-colored, imp-like creatures with heads shaped like milk drop. They also wear dark-colored visors, which actually cover their fang-filled mouths and their violent nature. They can turn other people into Milk People by biting them. It is unknown who was the first milk person, but it can be assumed all those milk people were once normal beings. 
Biography
Whenever someone takes the Milk Challenge without raising the milk jug over their heads after finishing, their consciousness is taken to the dimension of the Milk People. The Milk People will show the individuals great hospitality and provide them plenty of milk. However, this is only a ruse, as their true goal is to devour those who did not complete the challenge and turn them into one of their own.
Pops was sent to their dimension after he failed to raise the milk jug over his head. Pop then revealed the Milk People's true intentions after everyone discovered that they did not put the milk jug over their heads prior to being transferred over to the Milk People's dimension.  Pops and the others who took the challenge managed to escape through a magic elevator which led them back home. However, two of the men were turned into Milk People as a result of being bitten. Fortunately, Pops was able to complete the milk challenge by placing the milk jug over his head. 
Community content is available under
CC-BY-SA
unless otherwise noted.