She-Hulk Trailer Dropped - The Loop
Play Sound
This article's content is marked as Mature
The page Mature contains mature content that may include coarse language, sexual references, and/or graphic violent images which may be disturbing to some. Mature pages are recommended for those who are 18 years of age and older.


If you are 18 years or older or are comfortable with graphic material, you are free to view this page. Otherwise, you should close this page and view another page.
Milton Krest is the secondary antagonist in the 1989 James Bond film Licence to Kill.
He was portrayed by Anthony Zerbe, who also played Jonathan Matthias in The Omega Man, Helmut Kellerman in Mission: Impossible and Arnie Grunwald in Tales From The Crypt.
Biography
Krest is the owner of a marine research facility used as a cover for Franz Sanchez's drug operations, and also owns a boat named the Wavekrest. He is an alcoholic who faithfully serves Sanchez, though he does occasionally peek on Sanchez's mistress, Lupe Lamora, when she is undressing.
When Sanchez is placed under arrest for drugs and murder, Krest puts his organization at risk to free his boss after corrupt DEA official Ed Killifer sends his police van into the sea.
At night, Krest and Sanchez talk over Killifer's loyalty before Sanchez maims Felix Leiter, who was the one who got him arrested. James Bond, learning of Sanchez's vicious attack on his friend, meets with Krest the next day for a look around but Krest encourages the agent to leave.
On the drug deal the next day, Bond slips into the Wavekrest and plans to make Krest appear disloyal to Sanchez. Bond sabotages the drug deal while Krest's men attempt to kill him, but Bond manages to escape in a seaplane with $2 million of Sanchez's money.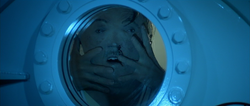 A while later, Bond once again sneaks onboard the Wavekrest as it is entering Isthmus City and plants the stolen money inside the ship's decompression chamber before Krest's meeting with Sanchez. Sanchez, already suspecting Krest of ripping him off, goes down to the lower deck and discovers the stolen money. Bond had previously made the paranoid Sanchez believe that Krest was using the money to pay a hit team to kill him.
In a rage, Sanchez throws Krest into the decompression chamber and gradually increases the pressure. As it reaches a critical level, Sanchez hacks the vent with a fire axe, causing rapid decompression inside the chamber. Screaming in agony, Krest's head begins to expand and eventually explodes, splattering the porthole window with blood.
Trivia
Milton Krest shares his name with a literary villain from the James Bond novels, though the two characters possess different personalities. Ironically many of the literary Krest's traits were given to Franz Sanchez including using a stingray tail whip on his significant other.