Wiki Targeted (Entertainment)
Play Sound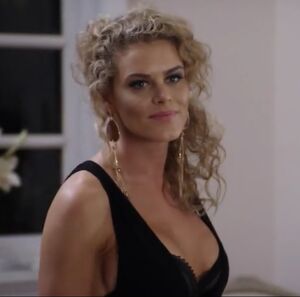 Mindy is the main antagonist of the 2017 Lifetime film, Open Marriage.
She was played by Kelly Dowdle.
Mindy was Max's husband, and both of them were longtime friends of their next-door neighbors, Becca and Ron. However, Mindy harbored a deranged obsession with Becca, wanting so much to be like her and even look like her. In her mind, Mindy's opportunity came when both Becca and Ron decided to have an open relationship with her and Max, which goes well at the start, but Ron later decided to end the open marriage; growing frustrated over seeing Max and Becca together. 
Upset over the arrangement ending, Mindy began stalking Becca and Ron, trailing them in her black car. She was also at a nightclub (donning an eye mask) spotting Ron with another woman, as well as seeing Max and Becca together, with all of them unaware of Mindy's presence. The villainous femme fatale took photos of them at the club and uploaded them publicly, which caused an argument between the quartet.
In the film's climax, Becca received a text from Mindy to meet her, and when she arrives, she sees Ron tied to the bed and Mindy emerging in a lacy white gown, while pointing a gun at her. After Max enters and confronts his insane wife, Mindy reveals her obsession with Becca and confesses to stalking her. She also expressed her pleasure over Becca deciding to open her marriage, and it was at that moment that Becca, Ron, and Max gave in to Mindy's twisted demand to have yet another tryst. During their act, Becca grabs their clock and killed Mindy with a single blow to her head. 
Gallery