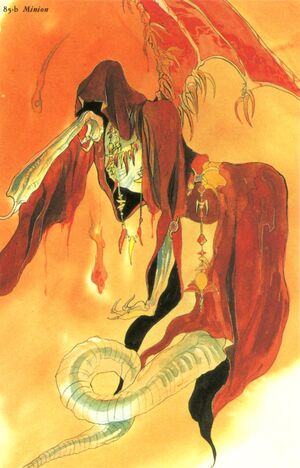 The Minions are major villains from Romancing SaGa, being the ones responsible for most of the troubles during the game.
Story
The three Minions, named Hate/Scorn, Spite and Hate/Strife, are actually manifestations of Saruin's soul, which he creates when the seal over him weakens to serve as his enforcers. As such, the Minions work to break the seal over their master, seeking the Fatestones which bind him. They are responsible for summoning all the monsters who plague the land of Mardias and the subsequent destruction of Ishtmus Castle, which is located near the cave where Saruin is sealed.
Each of them can be met by the player during the course of the game. One of them works along the Saruin's Priests set on the secret temple in Melvir who conducts sacrifices for their master, later leading a full-scale monster invasion of the city. Another of the Minions recreates the Assassin's Guild, which starts terrorizing the Tarmitta region, but once he is discovered he runs away, intending of going to the Frontier to break the seal over the Jewel Beast. The last Minion is found on the Frosthold Fortress, where he disguises himself as the Red Mage and offers to join the heroes to find the Obsidian Sword which is kept in the place, revealing himself after the heroes refuse to hand over the sword to him.
The Minions appear again in the last dungeon just before the final boss, preventing the heroes of reaching their master. They are fought one after the other, teaming up after their initial defeat. Upon their second defeat, they return to Saruin.  
Community content is available under
CC-BY-SA
unless otherwise noted.