We're Getting Mutants in the MCU - The Loop
Play Sound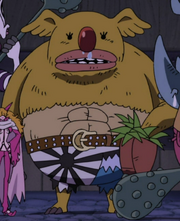 Minokoala is one of the five Demon Guards of Impel Down. He is an "awakened" Zoan Devil Fruit user that ate a fruit that turns him into a koala.
He was voiced by Keiji Hirai, who also voiced Charlotte Kato and Ikaros Much in the same series.
History
Impel Down arc
Minokoala first appeared behind Impel Down's main entrance with Sadi-chan when she told the Marines not to intervene when they tried to gain access to the stronghold. Later he, along with the other Demon Guards, is sent to Level 4 to stop the breakout but is defeated by Monkey D. Luffy. He is then woken up by Sadi-chan and sent up to Level 1 but is defeated again by Luffy.
Two Years Later
After the timeskip, Minokoala is seen with the other Demon Guards with their new member: Minochihuahua.
Abilities and Powers
As one of the Demon Guards of Impel Down under Sadi-chan, Minokoala is in charge of torturing and maintaining various prisoners. He fights with spiked brass knuckles on each hand.
Devil Fruit
He has eaten an as-of-yet unnamed Zoan type Devil Fruit that allows him to become a koala. Because he is an "Awakened Zoan", he is able to recover rapidly even after suffering high amounts of damage.