House of the Dragon Trailer - The Loop
Play Sound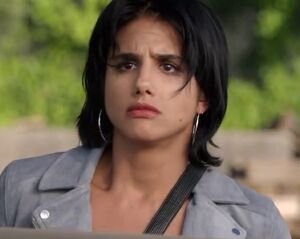 Miriam was a villainess from "Lost and Found," Supernatural's 13th season premiere.
She was played by Carlena Britch.
Biography
Miriam appeared as a drunk and bubbly young woman at a fast food joint in North Cove, Washington; repeatedly ordering fries despite the place not serving them. After seeing Sam, she is later shown talking to Dean and venting about her roommate, Becky, who she claims breaks things and thinks everything revolves around her.
Later in the episode, however, Miriam appeared at the town's police station with angels Lily and Conrad, revealing herself as an angel and later holding Clark Barker (son of town sheriff Christine Barker) hostage. She revealed her true nature to Dean and referred to him and Sam as the "Becky" that she talked about, and stated that "Becky" deserved to die. Miriam held an angel blade to Clark and threatened to kill him, but stated to Dean that she would let Clark go only if Christine shoots Dean. After hearing that her cohorts had Jack (the Nephilim son of Lucifer and Kelly Klein), Miriam stabbed Clark (non-fatally) and later fought with Dean.
During the battle, Miriam revealed her evil plan to Dean; taking Jack and using his immense power for the use of her and her cohorts. She stated that Jack's power can do anything, except bring Castiel back--blaming Dean for his demise as well. Miriam later appeared to the holding cell where Sam banished Lily and Conrad, and found herself surrounded by both brothers. Seeing that they would not surrender Jack to her, Miriam stabbed Jack with an angel blade, only for Jack to end up unharmed. After this, Sam took his own angel blade and killed Miriam.