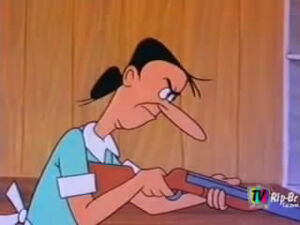 Miss Meany (Mrs. Meany in TNWWS) is a recurring antagonist in the Woody Woodpecker Show, and the last character to serve as Woody's foil. She was voiced by the late Verna Felton and the late Grace Stafford (who also voiced Woody himself). She returns as one of the three major antagonists in the New Woody Woodpecker Show, where she was voiced by Andrea Martin.
Miss Meany is portrayed as a grumpy old lady who is usually angry, sometimes with no reason at all, and almost anything can tick her off, making her run after others with a broom or a gun (usually the second). Not only she has a bad temper, she also dislikes animals. She is the character who had the most varied roles, rarely reprising a previous role, and also the character whose portrayal varies the most, being totally nice in some episodes but full blown villainous in others.
In The New Woody Woodpecker Show, Meany is the most recurring antagonist. She acts as Woody's landlord, being grumpy practically the whole time and constantly overreacting at Woody, sometimes for no reason.
Appearances
In the 1950's-1970's of the Woody Woodpecker Show, Miss Meany appears to be a tall thin woman, with long dark hair, Who ties her hair into a bun. But in the 1990's-2000's of the New Woody Woodpecker Show, Her hair is changed into a brown bobcut.
Woody Woodpecker Show
Calling Dr. Woodpecker (1963)
Get Lost! Little Doggy (1964)
Birds of a Feather (1965)
Janie Get Your Gun (1965)
Woody and the Beanstalk (1966)
Practical Yolk (1966)
Seal on the Loose (1970)
Chili Con Corny (1972)
For the Love of Pizza (1972)
Bye, Bye, Blackboard (1972)
New Woody Woodpecker Show
Temper, Temper
Chicken Woody
Date with Destiny
Woody's Roommate
S & K Files
Party Animal
Aunt Pecky
Everbody's a Critic
Cyrano de Woodpecker
Meany's Date Bait
Eenie, Meany, Out You Go
The Meany Witch Project
Fright Movie Woody
Wishful Thinking
K-9, Woody-0
Meany Side of the Street
Signed, Sealed and Delivered
That Healing Feeling
Skating By
Sync or Swim
Hospital Hijinx
The Twelve Lies of Christmas
Beach Nuts
Couples Therapy
Crouching Meany, Hidding Woodpecker
Born to Be Woody
Mechanical Meany
Spring Cleaning
Infrequent Flyer
Niece and Quiet
Surviving Woody
Community content is available under
CC-BY-SA
unless otherwise noted.