House of the Dragon Trailer - The Loop
Play Sound
| | | |
| --- | --- | --- |
| " | 72,000 channels and nothing on worth watching... y'think there might be something on mojo-tivo or the spineless spice channel? | " |
| | ~ Mojo | |
Mojo is an alien supervillain and enemy towards the X-Men, and Excalibur who is in many ways a parody of mass-media and reality television. He has appeared both in Marvel comics and in the X-Men animated series and was an antagonist in both roles.
History
Part of a race of spineless beings, most of the denizens of what would come to be called the Mojoverse were slowly driven insane by waves of energy from another space/time continuum. It would take centuries (of their time) for them to discover the origin of these transmissions. Mojo's race did not evolve much because of their inability to stand upright, until a scientist named Arize developed exoskeletons that allowed a fast technological revolution. However, some members of the race refused to use them and called themselves the Spineless Ones. Instead, they used motorized platforms to transport their bodies. They also became the rulers and demanded a race of slaves to do all the tasks they could not or would not do. Arize created the slaves, humanoid beings, using genetic engineering and basing their appearance on the "demons" of the Spineless Ones' nightmares, which were actually the characters of TV broadcasts of Earth-616, somehow scattered throughout their timeline and perceived by the Spineless Ones. Unknown to the Spineless Ones, Arize secretly planted the seeds in their genetic make-up to eventually turn on their masters and rule Mojo-World justly. Arize was banished by the Spineless Ones when he refused to build weapons for them.
The power structure of this world was based on the television industry and Mojo became their leader by controlling it, along with the slave trade. Mojo named the world after himself, 'Mojo World' and the universe the 'Mojoverse'. His followers, including Warwolves (vaguely dog-like metallic beings with the ability to kill people and take over the remains of their bodies as skins), became known as Wildways. Mojo also has a chamberlain, an android named Major Domo, who oversees Mojo's financial records and relays Mojo's commands to his servants. Major Domo is completely loyal to Mojo, but often obeys with sarcastic comments towards Mojo. Major Domo is sometimes assisted by the panicky female android Minor Domo.
One of the slaves Mojo had ordered, Longshot, to became one of his best stunt performers. However, Longshot disagreed with the rules and led a rebellion (most likely reasoned by the death of Jackson, a fellow stuntman). He was captured and had his memories removed, but managed to escape to earth, followed by bounty hunters. On Earth Longshot found allies in the form of Dr. Strange and the human stuntwoman Ricochet Rita and they managed to defeat Mojo, driving him back to his own world. Longshot, his friend Quark and Rita returned to the Mojoverse to free their fellow slaves. Longshot's mission failed and they were captured by Mojo. Longshot was brainwashed again, while Rita was tied to the bow of Mojo's world-traveling ship, serving as a guide. In an alternate future, Mojo had Rita transformed into an insane warrior/mage named Spiral and she was sent back in time to capture or kill Longshot.
Mojo became interested in Earth and captured Betsy Braddock, the mutant known as Psylocke, who had been blinded, and implanted bionic eyes in her original body. Much later it was learned that the eyes Mojo gave her were in fact interdimensional cameras allowing Mojo to record and broadcast all she could see. Psylocke was rescued by the New Mutants, and she aided both the New Mutants and the X-Men before officially becoming an X-man herself. It was later revealed that Betsy's body retained robotic eyes, as her consciousness was put into the body of a comatose Japanese assassin.
Shortly afterwards, Mojo sent Longshot to Earth where he joined the X-Men as well. Mojo had planned on enslaving the X-Men by turning them into children, but the New Mutants managed to free them and together they forced Mojo to flee again. Still Mojo found out that the adventures of the X-Men shot the audience level to top ratings, which increased his political power.
Mojo also manipulated the X-Men member Rachel Summers into working for him, but she soon escaped after realizing she was little more than a prisoner. Further setbacks began as Psylocke's broadcasts stopped when the X-Men were presumably killed by the Adversary, but Mojo wanted to have footage of the X-Men to improve his ratings, so one of his assistants came up with a possible solution, create versions that could be controlled. Many different versions of the X-Men appeared before him, but he considered them all failures and ordered their death except the X-Babies. The X-Babies were an immediate success but they rebelled almost immediately and escaped taking Rita with them.
Mojo reappeared along with an alternate version of Jubilee. Mojo had kidnapped Jubilee, taking her to the "Big Crunch", the end of time where all matter would collapse. Jubilee agreed to be Mojo's slave if he wouldn't interrupt the Crunch. Bigger and renamed Abcissa, she kidnapped her smaller self and took her to the Crunch. Wolverine appeared with a missile and defeated Mojo. Since Jubilee refused Mojo's offer, Abscissa's existence was nullified.
Eventually, Longshot returned to free the slaves and deposed Mojo, with the help of Mojo's upright, more human looking (although yellow) clone Mojo II. However, Mojo II turned out to be just as bad as his predecessor and Longshot had to defeat him as well. After Mojo II was ousted Mojo reclaimed his position and became the leader of Mojo World once more.
Mojo never learned from his mistake concerning the X-Babies and would create more X-Babies, who also rebelled. Eventually all of the X-Men had X-Baby counterparts on Mojo-World, and they all rebelled against Mojo and fled to an area he could not reach. He also created the Mighty 'Vengers (child versions of the Avengers) to finally stop the X-Babies once and for all. Of course, the Mighty 'Vengers, being essentially of the same moral fabric as their adult counterparts, turned on Mojo and defeated him. Finally, he created toddler versions of all of the Marvel supervillains. These characters are still employed by him although some of them were more intelligent and may even compete with him for dominance of Mojo-World.
Recently the Exiles made a deal with Mojo: in return for Longshot's help, Mojo receives broadcasts from all over the multiverse through the Exiles' crystal palace. Mojo reappeared along with the previously vanished Nocturne and Juggernaut, using a "Jean-Bomb" to turn the X-Men into babies, and after his defeat, a guilt-ridden Juggernaut decided to try to become a better person and left with him.
Television History
X-Men: The Animated Series
Mojo first appears in the X-Men Animated Series, on the episode titled "MojoVisions". Mojo is portrayed very much like his character in the comics, including his physical appearance, personality, and several other traits.
Wolverine and the X-Men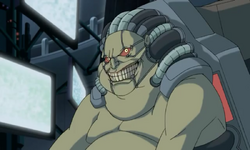 Mojo makes several appearances in the Wolverine and the X-Men series as a sub-villain. His most notorious act is when Nightcrawler and Scarlet Witch are kidnapped by Spiral to play in his game. One of the adversaries happen to be Wolverine, whom he controls to play in his game. He is seemingly defeated after Wolverine, released from his mind control, teams up with Nightcrawler to take both him and Spiral down.
Marvel's Avengers Assemble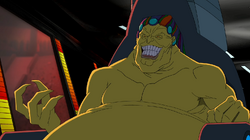 Mojo sends his minions to abduct Hulk where they also abduct Hawkeye in the process. Mojo puts Hulk and Hawkeye into his tournament where they are pitted up against the other galactic fighters (including the top fighter Torgo) that are Mojo's prisoners. After Hulk and Hawkeye forfeit one of the fights, Mojo teleports them back to Earth and then plans to destroy it. With help from the other Avengers, Hulk and Hawkeye managed to defeat Mojo who ends up teleporting away from his ship. Torgo tells the Avengers that he will take the prisoners back to their worlds and have a bounty placed on Mojo's head.
Gallery

Villains
Comics
Abomination | Absorbing Man | Adversary | Ahab | A.I.M. | Annihilus | Apocalypse | Arcade | Archangel | Arnim Zola | Avalanche | Awesome Android | Azazel | Badoon | Bastion | Baron Wolfgang von Strucker | Batroc | Belasco | Beyonder | Black Box | Blastaar | Blood Brothers | Bolivar Trask | Blob | Brotherhood of Evil Mutants | Bullseye | Cameron Hodge | Cassandra Nova | Children of the Vault | Clan Akkaba | Count Nefaria | Crossbones | Dark Avengers | Dark Beast | Dark Phoenix | Dark X-Men | Deadpool | Demon Bear | Dracula | Egghead | Emma Frost | Exodus | Fenris | Freedom Force | Friends of Humanity | Galactus | Graydon Creed | Hand | Hela | Hellfire Club | High Evolutionary | Hobgoblin | Holocaust | Horsemen of Apocalypse | HYDRA | Impossible Man | Juggernaut | Kang | Kid Omega | Kingpin | Klaw | Krakoa | Kraven | Lady Deathstrike | Legion | Leper Queen | Lilith | Living Monolith | Lizard | Loki | Madame Viper | Madelyne Pryor | Magneto | Magus | Malekith the Accursed | Mandarin | Marrow | Masters of Evil | Master Mold | Maximus | Mesmero | Mikhail Rasputin | Mister Jip | Mister Negative | Mister Sinister | Mojo | Mole Man | Morlocks | Moses Magnum | Mutant Response Division | Mystique | Mysterio | N'Astirh | Namor | Nanny | Nekra | Neo | Nimrod | Nitro | Norman Osborn | Obnoxio the Clown | Omega Gang | Omega Red | Onslaught | Orphan-Maker | Ozymandias | Pandemonia | Phalanx | Pilgrimm | Predator X | Proteus | Psycho-Man | Punisher (Earth-95216) | Purifiers | Pyro | Quicksilver | Reavers | Red Ghost | Red Skull | Reverend Craig | Rhino | Right | Rogue | Sabretooth | Sat-Yr-9 | Sauron | Savage Land Mutates | Scarlet Witch | Sebastian Shaw | Selene Gallio | Sentinels | Serpent Society | Shadow King | Shadow Xavier | Shocker | Silver Sable | Silver Samurai | Simon Trask | Skrulls | Spiral | Stranger | Stryfe | Stephen Lang | Sublime | Sugarman | Super-Adaptoid | Supreme Intelligence | Thanos | Tinkerer | Toad | Trevor Fitzroy | Typhoid Mary | Tyrannus | Unus | Vulcan | Vulture | Wendigo | Whiplash | Whirlwind | White Rabbit | William Stryker | Xemnu | Xorn
Movies
X-Men: Brotherhood of Mutants (Magneto, Mystique, Sabretooth & Toad) | Pyro
X2: William Stryker Jr. | Lady Deathstrike | Jason Stryker | Brotherhood of Mutants (Magneto, Mystique & Pyro)
X-Men: The Last Stand: Brotherhood of Mutants (Magneto, Dark Phoenix, Pyro, Juggernaut, Multiple Man & Mystique) | Omega Gang (Callisto, Psylocke, Quill, Arclight, Avalanche, Spike, Glob Herman & Phat) | Archangel
X-Men: First Class: Hellfire Club (Sebastian Shaw, Emma Frost, Azazel, Angel Salvadore & Riptide) | William Stryker Sr. | Magneto | Mystique
X-Men: Days of Future Past: Trask Industries (Bolivar Trask, William Stryker Jr. & Sentinels) | Magneto | Mystique | Toad | Horsemen of Apocalypse (Apocalypse)
X-Men: Apocalypse: Ashir En Sabah Nur/Horsemen of Apocalypse (Apocalypse, Magneto, Psylocke & Archangel) | Dark Phoenix | Mystique | William Stryker Jr.
X-Men: Dark Phoenix: Dark Phoenix | D'Bari (Vuk & Jones) | Brotherhood of Mutants (Magneto & Selene Gallio) | Mystique
The New Mutants: Essex Corp (Cecilia Reyes) | Demon Bear | Reverend Craig | Smiley Men
Television
X-Men (1992): Magneto | Sentinels | Sabretooth | Juggernaut | Apocalypse | Mesmero | Horsemen of Apocalypse | Mister Sinister | Omega Red | Brotherhood of Mutants (Mystique, Avalanche, Blob & Pyro) | Dark Phoenix | Master Mold | Bolivar Trask | Silver Samurai | Hellfire Club (Sebastian Shaw, Harry Leland, Jason Wyngarde, Donald Pierce & Emma Frost) | Reavers (Bonebreaker & Lady Deathstrike) | Supreme Intelligence | D'Ken Neramani | Deathbird | Graydon Creed | Red Skull | Silver Samurai | High Evolutionary | Phalanx
X-Men: Evolution: Magneto | Brotherhood of Mutants (Mystique, Avalanche, Toad, Blob, Quicksilver & Scarlet Witch) | Pyro | Mastermind | HYDRA (Madame Viper & Omega Red) | David Haller | Juggernaut | Bolivar Trask | Sentinels | Apocalypse | Horsemen of Apocalypse | Mesmero | Destiny
Wolverine and the X-Men: Brotherhood of Mutants (Magneto, Mystique, Scarlet Witch, Juggernaut, Quicksilver, Avalanche, Blob, Pyro & Toad) | Dark Phoenix | Bolivar Trask | Sentinels | Sabretooth | Mutant Response Division (Colonel Moss) | Shadow King | Hellfire Club (Sebastian Shaw, Donald Pierce, Harry Leland, Selene Gallio, Emma Frost & Stepford Cuckoos) | Master Mold | Silver Samurai
See Also
Deadpool Villains | X-Men Movie Villains | Wolverine Villains

Villains
Comics
Abomination | Absorbing Man | A.I.M. | Apocalypse | Arcade | Arnim Zola | Aryan | Baron Strucker | Bastion | Batroc | Beyonder | Bi-Beast | Blackheart | Blob | Bolivar Trask | Brotherhood of Mutants | Bushwacker | Cameron Hodge | Cannibals (Marvel Universe Vs) | Cassandra Nova | Collector | Contagion | Crossbones | Crossfire | Crusader | Daken | Damage | Dark Beast | Dark X-Men | Deadpool | Deathwatch | Doctor Doom | Donald Pierce | Dracula | Egghead | Ego | Electro | Galactus | Green Goblin | Hand | HYDRA | Hobgoblin | Holocaust | Hulk | Impossible Man | Iron Monk | Juggernaut | Kingpin | Killer Shrike | Kraven the Hunter | Lady Deathstrike | Lady Mastermind | Lizard | Lt. Ethan Warren | M.O.D.O.K. | Madame Masque | Madame Viper | Maestro | Magneto | Master Mold | Masters of Evil | Master of Illusions | Mauvais | Mister Jip | Mojo | Morlocks | Mister Sinister | Mysterio | Mystique | Nimrod | Nitro | Norman Osborn | Nuke | Omega Red | Onslaught | Overdrive | Prime Evil | Puma | Romulus | Red Skull | Reavers | Sabretooth | Savage Land Mutates | Sauron | Sebastian Shaw | Sentinels | Shadow King | Shingen Yashida | Silver Samurai | Sin | Spiral | Spot | Stryfe | Taskmaster | Tiger Shark | Titanium Man | Toad | Tarantula | Venom | Vermin | Vulture | Wendigo | Whiplash | Whirlwind | White Rabbit | William Stryker | Winter Soldier | Wrecker
Movies
Hulk Vs. Wolverine: Professor Thorton | Deadpool | Lady Deathstrike | Sabretooth | Omega Red
X-Men Origins: Wolverine: William Stryker Jr. | Sabretooth | Deadpool | Agent Zero | Blob
The Wolverine: Silver Samurai | Madam Viper | Shingen Yashida | Noburo Mori | Magneto
Logan: Essex Corp (Zander Rice, Donald Pierce, X-24 & Reavers)

Television
Brotherhood of Mutants (Magneto, Mystique, Scarlet Witch, Juggernaut, Quicksilver, Avalanche, Blob, Pyro & Toad) | Dark Phoenix | Bolivar Trask | Sentinels | Sabretooth | Mutant Response Division (Colonel Moss) | Shadow King | Hellfire Club (Sebastian Shaw, Donald Pierce, Harry Leland, Selene Gallio, Emma Frost & Stepford Cuckoos) | Master Mold | Silver Samurai
Video Games
Black Cat | Brigade | Fault Zone | Hazmat | Johnny Ohm | Niles Van Roekel | Solara | The Wink | Vulture