Spider-Man: No Way Home Trailer Dropped - The Loop
Play Sound



Click to help Cruella!

This scum Mole Man is driving Cruella insane!
IT MUST BE REWRITTEN OR ADDED TO!!
So sayeth the great Lord of Darkness Sauron, or he will send Darth Vader to terminate you.

Help improve this article by rewriting, expanding, updating the poorly written text of the article. ✓
Jafar says: Read my lips and come to grips with the reality!


This article is a stub and is in need of expansion. You can help Villains Wiki by expanding it.                       
"
I'm short, ugly, and blind, my existence is bereft of pleasure, living holds far more terror for me than dying. Death, like myself, is only a little thing.
"
~ To

Tyrannus
| | | |
| --- | --- | --- |
| " | Soon... all of mankind shall be sightless... unable to stop the Mole Man from conquering the entire planet! | " |
| | ~ Mole Man. | |
| | | |
| --- | --- | --- |
| " | Subteraneans FORWARD! | " |
| | ~ Mole Man | |
Mole Man (real name: Harvey Elder) is a villain from Marvel Comics, and an occasional enemy of the Fantastic Four. 
History
Harvey Elder spent years searching the globe for Subterranea, a network of tunnels running beneath the surface of much of the Earth. However, he was caught in an earthquake and almost blinded in the mysterious Valley of Diamonds.
Appearances In Other Media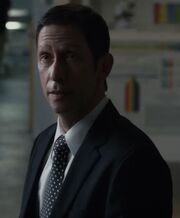 Fantastic Four (2015)
Harvey Elder has appeared as the secondary antagonist of the Fantastic Four 2015 reboot. However he does not take the mantle of Mole Man, in this film.
He was portrayed by Tim Blake Nelson, the same actor who portrayed what would have been The Leader in The Incredible Hulk, Jonathan Jacobo in Scooby-Doo 2: Monsters Unleashed, and Martin Kirby in Angel Has Fallen. 
History
As a government member, he is responsible for funding the teleportation project that Reed and his team are working on. After seeing the success of the machine, he rejects the small group so that he can operate the project in his own way.
Later, he uses the four teenagers who now hold superpowers for military purposes by promising them an antidote in return so that they can get back to their former lives. Harvey then sends men and Ben, transformed into a stone monster, find Reed who had run away to repair the machine. After which, he sends a team to the other dimension who brings back Victor who has mutated with alien energy. As Harvey questions him, Victor reveals his powers and explodes the agent's head, killing him before running away and returning to the other dimension.
Gallery
Trivia
He was created by the late Stan Lee and the late Jack Kirby.
Not only was he the first villain of the Fantastic Four, he was the very first villain in the entire Marvel Comics.

vengers Villains
Comics
Abomination | Abominatrix | Absorbing Man | Adolf Hitler | Agony | A.I.M. | Air-Walker | Alkhema | Aleksander Lukin | Alistair Smythe | Amatsu-Mikaboshi | Amora | Annihilus | Ani-Men | Answer | Apocalypse | Arcade | Ares | Arnim Zola | Atlas | Attuma | Avalanche | Awesome Android | Badoon | Barracuda | Baron Blood | Baron Mordo | Baron Wolfgang von Strucker | Baron Zemo | Basilisk | Batroc | Beetle | Beyonder | Black Knight | Blackout | Black Order | Black Cat | Black Talon | Black Widow | Blackie Drago | Blastaar | Blitzkrieg | Blizzard | Blob | Blood Brothers | Bombshell | Boomerang | Brothers Grimm | Brotherhood of Evil Mutants | Bullseye | Burglar | Bushmaster | Bushwacker | Cache | Cannibals (Marvel Universe Vs) | Carnage | Carrion | Calypso | Celestials | Centurion | Chameleon | Chance | Chemistro | Chester Goudal | Chitauri | Collector | Colonel Ross Whittaker | Commander Kraken | Constrictor | Corruptor | Count Nefaria | Cowled Commander | Crime-Master | Crimson Dynamo | Crimson Widow | Cristu Bulat | Crossbones | Crossfire | Daken | Damage | Daniel Whitehall | Dark Avengers | Dark Elves | Deadpool | Deathbird | Deathurge | Death Adder | Deke Wainscroft | Demogoblin | Diablo | Doctor Doom | Doctor Faustus | Doctor Octopus | Doctor Spectrum | Dormammu | Dracula | Dreadknight | Eddie Brock | Eel | Egghead | Ego the Living Planet | Electro | Elementals | Elements of Doom | Enclave | Enforcers | Equinox | Exodus | Ezekiel Stane | Fabian Cortez | Famine | Fin Fang Foom | Finn Cooley | Firelord | Fixer | Fold | Frost | Frost Giants | Frightful Four | Galactus | Gargantus | Garthan Saal | Ghost | Goliath | Gladiator | Godzilla | Grand Director | Grandmaster | Grant Ward | Graviton | Green Goblin (Norman Osborn, Harry Osborn) | Grey Goblin | Griffin | Grim Reaper | Grizzly | Growing Man | Grotesk | Hammerhead | Hand | Hazmat | Hela | Hera | Herr Kleiser | Heinz Kruger | High Evolutionary | Hitman | Hive | Horsemen of Apocalypse | Hobgoblin | Hood | Hydro-Man | HYDRA | Immortus | Impossible Man | Ironclad | Iron Monger | Jackal | Jack O' Lantern | Jester | Jigsaw | Johnny Ohm | Jonas Hambleton | Jormungandr | Juggernaut | Justin Hammer | Kaine | Kang the Conqueror | Killer Shrike | King Cobra | Kingpin | Klaw | Knull | Korath the Pursuer | Korvac | Kraven the Hunter | Kree | Lady Deathstrike | The Leader | Lightmaster | Living Brain | Living Laser | Living Monolith | Lizard | Loki Laufeyson | Lucia Von Bardas | Ma Gnucci | Machinesmith | Mad Pharaoh | Madame Masque | Madame Viper | Madcap | Madelyne Pryor | Maelstrom | Maestro | Maginty | Magneto | Magus | The Maker | Malekith the Accursed | Man-Ape | Mandarin | Mandrill | Man-Spider | Man-Wolf | Master Man | Master Pandemonium | Masters of Evil | Masked Marauder | Maximus the Mad | Melter | Menace | Mentallo | Mercurio the 4-D Man | Mesmero | Mephisto | Mister Fear | Mister Hyde | Mister Negative | Mister Payback | Mister Sinister | M.O.D.A.M. | M.O.D.O.K. | Mojo | Molecule Man | Mole Man | Molten Man | Monica Rappaccinni | Moonstone | Morbius the Living Vampire | Morgan le Fay | Moses Magnum | Mystique | Mysterio | Namor | Nebula | Nekra | Nicky Cavella | Nightmare | Nightshade | Niles Van Roekel | Nicky Cavella | Omega Red | Onslaught | Overdrive | Owl | Paladin | Phalanx | Phil Urich | Piledriver | Pluto | Presence | Princess Python | Proctor | Psycho-Man | Puppet Master | Puma | Purple Man | Quasimodo | Quicksand | Radioactive Man | Ragnarok | Ramrod | Reavers | Red Ghost | Red Skull | Reverend Samuel Smith | Rhino | Rhino II | The Rose | Ringer | Ringmaster | Riot | Ronan the Accuser | Roxxon | Sabretooth | Sandman | Säurespritze | Sauron | Savage Land Mutates | Scarecrow | Scarlet Witch | Scorcher | Scorpion | Screaming Mimi | Sebastian Shaw | Secret Empire | Selene Gallio | Sentinels | Sentry 459 | Serpent Society | Shriek | Shocker | Shockwave | Sidewinder | Silver Sable | Sin | Sinister Six | Skaar | Skeleton Crew | Skrulls | Skurge | Slug | Space Phantom | Spider-Man Revenge Squad | Spider-Slayers | Spot | Squadron Sinister | Stranger | Street | Sunstroke | Superia | Super-Adaptoid | Super-Apes | Super Patriot | Super-Skrull | Supreme Intelligence | Superia | Surtur | Swarm | Swordsman | Symbiotes | Tarantula | Taskmaster | Technovore | Temugin | Ten Rings | Terminus | Thanos | Thunderball | Thunderbolts | Thunderbolt Ross | Thundersword | Tiger Shark | Tinkerer | Titania | Titanium Man | Toad | Tombstone | Trapster | Trick Shot | Terrax the Tamer | Typhoid Mary | Tyrannus | U-Foes | Ulik | Ultimus | Ultron | Unicorn | Universal Church of Truth | Vapor | Vector | Venom | Vermin | Vulture | Walrus | Warlord Krang | Whiplash | Whirlwind | White Rabbit | Will-O'-The-Wisp | Winter Soldier | Wizard | Wonder Man | Wrecker | Worthy | X-Ray | Yellow Claw | Ymir | Yon-Rogg | Zahnmörder | Zodiac | Zombie Giant-Man | Zombie Sentry | Zzzax
Television
The Avengers: United They Stand: Ultron | Kang the Conqueror | Swordsman | Ringmaster | Masters of Evil (Baron Zemo, & Whirlwind) | Attuma | Zodiac (Taurus & Scorpio) | Egghead | Scarlet Witch | Grim Reaper
The Super Hero Squad Show: Doctor Doom | Mole Man | Fin Fang Foom | Abomination | Wrecker | Thunderball | Piledriver | M.O.D.O.K. | Klaw | Toad | Melter | Dormammu | Sabretooth | Juggernaut | Pyro | Whirlwind | Zzzax | Enchantress | Baron Mordo | Punisher | Egghead | Ringmaster | Skrulls (Super-Skrull) | Trapster | Mystique | Impossible Man | The Leader | Mad Thinker | Skurge | Crimson Dynamo | Batroc the Leaper | Loki Laufeyson | Magneto | Quicksilver | Scarlet Witch | HYDRA (Red Skull , Arnim Zola & Baron Wolfgang von Strucker) | Galactus | Terrax the Tamer | Firelord | Stardust | Thanos | Kree | Ego the Living Planet | Grandmaster | Annihilus | Nebula | Ronan the Accuser | Nightmare | Ultron | Dark Surfer | Sentinels | Dracula | High Evolutionary
Avengers: Earth's Mightiest Heroes: HYDRA (Red Skull, Baron Von Strucker, Grim Reaper, Arnim Zola, Doughboy & Madame Viper) | Masters of Evil (Baron Zemo, Enchantress, Skurge, Chemistro, Abomination, Crimson Dynamo & Grey Gargoyle) | A.I.M. (M.O.D.O.K.) | Kree Empire (Supreme Intelligence, Colonel Yon-Rogg & Ronan the Accuser) | Absorbing Man | Klaw | Ultron | Wrecker | Thunderball | Piledriver | Red Hulk | Frost Giants (Loki Laufeyson & Ymir) | Technovore | Bi-Beast | The Leader | Whirlwind | Kang the Conqueror | Man-Ape | Malice | Mad Thinker | Mandrill | Graviton | Fenris Wolf | Lucia Von Bardas | Zzzax | Blizzard | Constrictor | Griffin | Living Laser | Whiplash | King Cobra | Magneto | Wendigo | Skrulls (Super-Skrull) | Malekith the Accursed | Hela | Doctor Doom | Surtur | Glenn Talbot | Winter Soldier | J. Jonah Jameson | Destroyer | Annihilus | Purple Man | Galactus | Firelord | Stardust | Terrax the Tamer
Avengers Assemble: HYDRA/A.I.M. (Red Skull, M.O.D.O.K., Blood Brothers, Grim Reaper, Crossbones & Baron Wolfgang von Strucker) | J. Jonah Jameson | Doctor Doom | Ulik | Impossible Man | Dracula | Hyperion | Wrecker | Thunderball | Piledriver | Destroyer | Loki Laufeyson | Chitauri | Justin Hammer | Mojo | Galactus | Ringmaster | Black Order (Thanos) | Hela | Winter Soldier | Nighthawk | Dormammu | Ultron | Roxxon Energy Corporation | Absorbing Man | Titania | Whirlwind | Fin Fang Foom | Masters of Evil (Baron Zemo, Beetle & Goliath) | Klaw | Ghost | A.I.M. (Kang the Conqueror, Whiplash & Spymaster) | Abomination | Kree Empire | Egghead | The Leader | Crimson Widow | Arnim Zola | Enchantress | Skurge | Typhoid Mary | Ares | Taskmaster | Doughboy | Ulik | Beyonder | Symbiotes | Morgan le Fey | Tiger Shark | Erik Killmonger | Man-Ape | Madame Masque | Kraven the Hunter | Vulture
Marvel's M.O.D.O.K.: M.O.D.O.K. | A.I.M. | Monica Rappaccini | The Anomaly | Hexus | Super-Adaptoid | Austin Van Der Sleet
What If...?: Yellowjacket | Loki Laufeyson
Movies
Ultimate Avengers 1 & 2: Herr Kleiser | Chitauri
Next Avengers: Heroes of Tomorrow: Ultron
The Avengers: Loki Laufeyson | Chitauri (The Other & Leviathans) | HYDRA (Gideon Malick & Jasper Sitwell) | Georgi Luchkov | Thanos
Avengers: Age of Ultron: Ultron | Ultron Sentinels | HYDRA (Wolfgang von Strucker, List, Scarlet Witch & Quicksilver) | Ulysses Klaue | Madame B | Chitauri (Leviathans) | Thanos
Avengers: Infinity War: Black Order (Thanos, Ebony Maw, Proxima Midnight, Corvus Glaive, Cull Obsidian, Nebula, Outriders, Chitauri & Leviathans) | Red Skull | The Collector | Loki Laufeyson | Winter Soldier | M'Baku | Scarlet Witch | Thunderbolt Ross
Avengers: Endgame: Black Order (Thanos, Ebony Maw, Proxima Midnight, Corvus Glaive, Cull Obsidian, Nebula, Outriders, Sakaaran Mercenaries, Chitauri, Leviathans & Chitauri Gorillas) | HYDRA/STRIKE (Red Skull, Alexander Pierce, Crossbones, Jasper Sitwell & Jack Rollins) | Loki Laufeyson (Loki Laufeyson (Variant L1130)) | Winter Soldier | M'Baku | Scarlet Witch | Kraglin Obfonteri | Dark Elves | Thunderbolt Ross | Akihiko
Video Games
Captain America and The Avengers: Red Skull | Crossbones | Klaw | Living Laser | Whirlwind | Sentinel | Wizard | Grim Reaper | Mandarin | Juggernaut | Ultron
Marvel's Avengers: M.O.D.O.K. | Monica Rappaccinni | Abomination | Taskmaster | Super-Adaptoid | Lyle Getz | Maestro | Klaw | Crossbones
See Also
Avengers Academy Villains | Marvel Avengers Alliance Villains | Young Avengers Villains

Villains
Comics
Abomination | Absorbing Man | Acolytes | Adversary | Ahab | A.I.M. | Annihilus | Apocalypse | Arcade | Archangel | Arnim Zola | Avalanche | Awesome Android | Azazel | Badoon | Bastion | Baron Wolfgang von Strucker | Batroc | Black Tom Cassidy | Belasco | Beyonder | Black Box | Blastaar | Blood Brothers | Bolivar Trask | Blob | Brood | Brotherhood of Evil Mutants | Bullseye | Cameron Hodge | Cassandra Nova | Children of the Vault | Clan Akkaba | Count Nefaria | Crossbones | Dark Avengers | Dark Beast | Dark Phoenix | Dark X-Men | Deadpool | Demon Bear | Dracula | Egghead | Emma Frost | Exodus | Fenris | Freedom Force | Friends of Humanity | Galactus | Graydon Creed | Hand | Hela | Hellfire Club | Henry Peter Gyrich | High Evolutionary | Hobgoblin | Holocaust | Horsemen of Apocalypse | HYDRA | Impossible Man | Juggernaut | Kang | Kid Omega | Kingpin | Klaw | Knull | Krakoa | Kraven | Lady Deathstrike | Legion | Leper Queen | Lilith | Living Monolith | Lizard | Loki | Madame Viper | Madelyne Pryor | Magneto | Magus | Malekith the Accursed | Mandarin | Marrow | Masters of Evil | Master Mold | Maximus | Mesmero | Mikhail Rasputin | Mister Jip | Mister Negative | Mister Sinister | Mojo | Mole Man | Morlocks | Moses Magnum | Mutant Response Division | Mystique | Mysterio | N'Astirh | Namor | Nanny | Nekra | Neo | Nimrod | Nitro | Norman Osborn | Obnoxio the Clown | Omega Gang | Omega Red | Onslaught | Orphan-Maker | Ozymandias | Pandemonia | Phalanx | Pilgrimm | Predator X | Proteus | Psycho-Man | Punisher (Earth-95216) | Purifiers | Pyro | Quicksilver | Reavers | Red Ghost | Red Skull | Reverend Craig | Rhino | Right | Rogue | Sabretooth | Sat-Yr-9 | Sauron | Savage Land Mutates | Scarlet Witch | Sebastian Shaw | Selene Gallio | Sentinels | Serpent Society | Shadow King | Shadow Xavier | Shocker | Silver Sable | Silver Samurai | Simon Trask | Skrulls | Spiral | Stranger | Stryfe | Stephen Lang | Sublime | Sugarman | Super-Adaptoid | Supreme Intelligence | Thanos | Tinkerer | Toad | Trevor Fitzroy | Typhoid Mary | Tyrannus | Unus | Vulcan | Vulture | Wendigo | Whiplash | Whirlwind | White Rabbit | William Stryker | Xemnu | Xorn
Movies
X-Men: Brotherhood of Mutants (Magneto, Mystique, Sabretooth & Toad) | Pyro
X2: William Stryker Jr. | Lady Deathstrike | Jason Stryker | Brotherhood of Mutants (Magneto, Mystique & Pyro)
X-Men: The Last Stand: Brotherhood of Mutants (Magneto, Dark Phoenix, Pyro, Juggernaut, Multiple Man & Mystique) | Omega Gang (Callisto, Psylocke, Quill, Arclight, Avalanche, Spike, Glob Herman & Phat) | Archangel
X-Men: First Class: Hellfire Club (Sebastian Shaw, Emma Frost, Azazel, Angel Salvadore & Riptide) | William Stryker Sr. | Magneto | Mystique
X-Men: Days of Future Past: Trask Industries (Bolivar Trask, William Stryker Jr. & Sentinels) | Magneto | Mystique | Toad | Horsemen of Apocalypse (Apocalypse)
X-Men: Apocalypse: Ashir En Sabah Nur/Horsemen of Apocalypse (Apocalypse, Magneto, Psylocke & Archangel) | Dark Phoenix | Mystique | William Stryker Jr.
X-Men: Dark Phoenix: Dark Phoenix | D'Bari (Vuk & Jones) | Brotherhood of Mutants (Magneto & Selene Gallio) | Mystique
The New Mutants: Essex Corp (Cecilia Reyes) | Demon Bear | Reverend Craig | Smiley Men
Television
X-Men (1992): Magneto | Sentinels | Sabretooth | Juggernaut | Apocalypse | Mesmero | Horsemen of Apocalypse | Mister Sinister | Omega Red | Brotherhood of Mutants (Mystique, Avalanche, Blob & Pyro) | Dark Phoenix | Master Mold | Bolivar Trask | Silver Samurai | Hellfire Club (Sebastian Shaw, Harry Leland, Jason Wyngarde, Donald Pierce & Emma Frost) | Reavers (Bonebreaker & Lady Deathstrike) | Supreme Intelligence | D'Ken Neramani | Deathbird | Graydon Creed | Red Skull | Silver Samurai | High Evolutionary | Phalanx
X-Men: Evolution: Magneto | Brotherhood of Mutants (Mystique, Avalanche, Toad, Blob, Quicksilver & Scarlet Witch) | Pyro | Mastermind | HYDRA (Madame Viper & Omega Red) | David Haller | Juggernaut | Bolivar Trask | Sentinels | Apocalypse | Horsemen of Apocalypse | Mesmero | Destiny
Wolverine and the X-Men: Brotherhood of Mutants (Magneto, Mystique, Scarlet Witch, Juggernaut, Quicksilver, Avalanche, Blob, Pyro & Toad) | Dark Phoenix | Bolivar Trask | Sentinels | Sabretooth | Mutant Response Division (Colonel Moss) | Shadow King | Hellfire Club (Sebastian Shaw, Donald Pierce, Harry Leland, Selene Gallio, Emma Frost & Stepford Cuckoos) | Master Mold | Silver Samurai
Marvel Anime: X-Men: Hellfire Club (Emma Frost, Martermind) | U-Men (Sublime)
Legion: Shadow King | Oliver Bird | Time Eaters | Legion
The Gifted: Sentinel Services (Jace Turner, Ed Weeks) | Trask Industries (Roderick Champell) | Ted Wilson | Hellfire Club (Andrea Von Struker, Andreas Von Struker, Reeva Paype, Frost Sisters) | Benedict Ryan
See Also
Deadpool Villains | New Mutants Villains | X-Force Villains | X-Men Movie Villains | Wolverine Villains

Villains
Comics
Absorbing Man | Adolf Hitler | A.I.M. | Aleksander Lukin | Anaconda | Arcade | Arnim Zola | Awesome Android | Baron Blood | Baron Wolfgang von Strucker | Baron Zemo | Batroc the Leaper | Beetle | Bi-Beast | Black Cat | Black Talon | Black Mamba | Black Widow | Blitzkrieg | Blizzard | Blood Brothers | Boomerang | Boomslang | Brothers Grimm | Bulldorzer | Bullseye | Cache | Chemistro | Constrictor | Cottonmouth | Controller | Count Nefaria | Cowled Commander | Crimson Dynamo | Crossbones | Dark Avengers | Darren Cross | Death Adder | Doctor Faustus | Eel | Electro | Famine | Fer-De-Lance | Firebrand | Fixer | Flag-Smasher | Ghost | Gorgon | Grand Director | Grant Ward | Graviton | Grey Gargoyle | Griffin | Grim Reaper | Grizzly | Heinz Kruger | Herr Kleiser | HYDRA | Hydro-Man | Iron Monger | Ironclad | Jack O' Lantern | Kang the Conqueror | Killer Shrike | King Cobra | Kingpin | Klaw | Korath the Pursuer | Korvac | Kraven the Hunter | Lady Deathstrike | Living Laser | Lizard | Loki | Lucia Von Bardas | Machinesmith | Madame Viper | Madcap | Magneto| Man-Ape | Mandarin | Master Man | Masters of Evil | Mentallo | Mesmero | Mister Hyde | M.O.D.A.M. | M.O.D.O.K. | Mole Man | Moonstone | Namor | Nightmare | Nightshade | Nitro | Piledriver | Princess Python | Puff Adder | Punisher | Punisher (Earth-95126) | Quicksand | Rattler | Red Ghost | Red Skull | Rhino | Ringmaster | Rock Python | Ronan | Roxxon | Säurespritze | Scarecrow | Scorpion | Sebastian Shaw | Secret Empire | Selene Gallio | Serpent Society | Shocker | Shockwave | Sidewinder | Silver Sable | Sin | Sinister Six | Skeleton Crew | Slither | Slug | Songbird | Super-Adaptoid | Super-Apes | Superia | Super Patriot | Supreme Intelligence | Tarantula | Taskmaster | Terminus | Thanos | Thunderball | Thunderbolt Ross | Thunderbolts | Tiger Shark | Tinkerer | Titania | Titanium Man | Trapster | Typhoid Mary | U-Foes | Unicorn | Ultron | Vapor | Vector | Vermin | Vulture | Whiplash | Whirlwind | Winter Soldier | Wizard | Worthy | Wrecker | X-Ray | Yellow Claw | Zahnmörder | Zodiac
Movies
Captain America (1990): Red Skull | Valentina de Santis
Captain America: The First Avenger: HYDRA (Red Skull, Arnim Zola, Heinz Kruger, HYDRA Lieutenant, & Velt) | Adolf Hitler | Roeder | Hutter | Schneider
Heroes United: Iron Man and Captain America: HYDRA (Red Skull & Taskmaster)
Captain America: The Winter Soldier: HYDRA/STRIKE (Alexander Pierce, Winter Soldier, Crossbones, Jack Rollins, Jasper Sitwell, Russo, Senator Stern, Arnim Zola, Wolfgang von Strucker, List, Scarlet Witch, & Quicksilver) | Georges Batroc | Ferdinand Lopez | Gerald Durand
Captain America: Civil War: Helmut Zemo | Thunderbolt Ross | Winter Soldier | Scarlet Witch | HYDRA (Vasily Karpov, Josef, & Winter Soldiers) | Hero Mercs (Crossbones)
TV Series
The Falcon and The Winter Soldier: Winter Soldier | Flag Smashers (Flag-Smasher, Dovich, Gigi, DeeDee, Lennox, Nico, Matias, & Diego) | Sharon Carter | Baron Zemo | LAF (Georges Batroc & Louie) | Senator Atwood | Valentina Allegra de Fontaine
What If...?: Red Skull | Arnim Zola | Heinz Kruger | HYDRA's Champion

Video Games
The Amazing Spider-Man & Captain America in Doctor Doom's Revenge: Doctor Doom | Electro | Hobgoblin | Rhino | Boomerang | Grey Gargoyle | Oddball | Batroc the Leaper | Mysterio
Captain America and the Avengers: Red Skull | Crossbones | Klaw | Living Laser | Whirlwind | Sentinel | Grim Reaper | Wizard | Mandarin | Juggernaut | Ultron
Captain America Super Soldier: HYDRA (Red Skull, Arnim Zola, Madam Hydra & Baron Strucker) | Baron Zemo
Captain America: The Winter Soldier: Winter Soldier | Sin | Taskmaster | Shockwave | Serpent Society (King Cobra, Puff Adder & Diamondbak)
See Also
Agent Carter Villains