Doctor Strange in The Multiverse o Madness - The Loop
Play Sound
Molly Griggs, also known as Brainwave, is a psychopathic former patient of the Summerholt Institute and recurring antagonist in the WB Television series Smallville.
She appeared as the main antagonist in the Season Three episode "Delete" and a supporting antagonist in the web series Vengeance Chronicles.
She was portrayed by Missy Peregrym.
Biography
Early life
Molly was a brilliant engineering student who was recruited by MIT at the age of 15. However, she suffered a mental breakdown and murdered a fellow student, leading to her being sent to the Summerholt Neurological Institute for treatment.
While at Summerholt, Molly grew close to Dr. Lawrence Garner who made her feel like a normal person.
Delete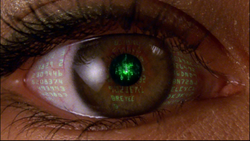 After being released, Molly was interviewed by Chloe Sullivan about her stay in Summerholt. Although she tried to state that Dr. Garner had changed her life, Chloe was determined to shut down the facility due to their unethical experiments.
Determined to prevent that from happening, Molly developed a mind control program that would make Chloe's friends try to kill her.
She sent it in the form of e-mails under the pseudonym Brainwave that were sent to them after Molly gained access to Chloe's contacts e-mail addresses from her Torch hard drive that was confiscated by LuthorCorp.
Molly encountered Lex Luthor who was looking for the on-call tech guy. He explained his problem and she gives him a disc which should scan for the viruses.
She sent her first message to Clark Kent who tried to run Chloe down with his pickup truck. Clark claimed to have no memory of leaving the library and the last thing he remembered was working on his laptop.
Chloe examined the computer and learns that he downloaded an email from someone named "Brainwave". Molly prepared to send another email message to Lana Lang.
Lana finishes showing Adam Knight around the school when she receives an email message on a handheld device that Lex gave her. The message consists of flashing lights rather than words causing Lana's eyes to glow. Lana attempted to kill Chloe with martial arts and an axe but was stopped when Adam intervened with some impressive martial arts of his own.
They realize that they both got suspicious e-mails just before the attacks and Clark guesses they were hypnotized. Molly then had Max Taylor killed by his secretary.
After being confronted by Clark, Dr. Garner made a call to Molly that was overheard by Clark using his super hearing. Eventually, Lex and Clark discovered her location. When Clark arrives, he finds Lex is already there. Molly explains that she is defending Dr. Garner out of loyalty.
He doesn't have the power to control her. She developed the program herself. Lex discovers that Molly sent another email, and Clark is horrified to realize it was to his mother.
Under Molly's influence, the Kents lured Chloe to the Kent Farm and tried to kill her with a scythe while Jonathan chains her to a post by her neck. Clark intervened and Chloe was saved. Lex later approaches Dr. Garner and admits to having stashed Molly away somewhere safe.
The Vengeance Chronicles
It was later revealed that Molly was sent to Level 33.1 where she met a group of super-powered beings that were being experimented on. Molly was tasked with testing mass manipulation through personal computers.
During her stay, Molly became romantically involved with fellow resident, Nick Yang.
Molly and her boyfriend Nick Yang managed to escape and enlisted the Angel of Vengeance's help to expose Lex for what he was doing. Lex had implanted Molly and the others with tracking devices. As it was based on technology developed by her, Molly was able to remove her and Nick's implants.
Bart Allen warned Nick and Molly that Lex had resumed the project and began hunting meteor freaks again, so they decided to find and warn Andrea before Lex caught her.
They ask Andrea to help them expose Lex's project, claiming the only way they can get proof is to break into his mansion and access his personal computer to obtain files that prove the project exists.
Andrea and Chloe end their conversation with high hopes that she will obtain the proof as Andrea prepares to go back to Smallville to break into the mansion. Nick uses his powers to manipulate Lex's security cameras and lights.
Molly begins to work on the computer, but Andrea notices that she is downloading a program, not uploading files.
Nick tries to distract Andrea but she realizes that Molly is installing something. Molly admits that she intends to hypnotize Lex into killing himself and Andrea protests, saying she did not agree to help commit murder.
Nick and Molly feel the ends justify the means and the three argue.
Andrea gets Nick to realize that she knows first-hand that killing in revenge will not solve the problem; it will only make them feel guilty for the rest of their lives. Nick changes his mind and destroys the computer instead, just as Lex's security arrives.

Villains
Protagonists