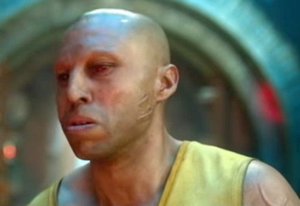 Moloka Dar is a minor antagonist in the 2014 Marvel film Guardians of the Galaxy. He is an alien criminal who lost his family and friends to the Kree fanatic Ronan the Accuser.
He was portrayed by Alexis Rodney.
Role
Moloka Dar was a criminal who was arrested by the Nova Corps and detained in the space prison known as the Kyln. He was present when Gamora (a former associate of Ronan's) was brought to the prison alongside Rocket Racoon, Peter Quill and Groot. Wanting revenge on Ronan, Moloka gathered up several of his inmates to capture Gamora in the prison showers. They plan to kill her until they were interrupted by the arrival of Drax, who too wants revenge on Ronan for the death of his family. Moloka offered Drax his favorite knife to do the job, but Peter arrives to the rescue by convincing Drax that they need Gamora alive as Ronan is already tracking her alongside Nebula and their Sakaaran mercenaries. As such, Drax accepts the deal, but not before telling Moloka that he's keeping the knife, much to Moloka's dismay.
Eventually, Peter, Gamora, Drax, Rocket and Groot escaped just as Ronan and his forces arrive to the Kyln. Realizing that Gamora has escaped, Ronan orders for the prison to be destroyed to cover his tracks, and all of the inmates and officers were murdered in the process, including Moloka himself. Eventually, Moloka's death would later be avenged when the Guardians took the Orb (containing the Power Infinity Stone) and used it to kill Ronan.
Villains
Comics
Absorbing Man | Alkhema | Annihilus | Badoon | Beyonder | Blastaar | Black Order | Collector | Celestials | Chitauri | Dark Avengers | Doctor Doom | Doctor Octopus | Ego the Living Planet | Galactus | Garthan Saal | Grandmaster | J'son | Kang the Conqueror | Korath the Pursuer | Korvac | Kree | Loki Laufeyson | Maelstrom | Magus | Masters of Evil | Nebula | Ronan | Shocker | Skrulls | Space Phantom | Super-Adaptoid | Super-Skrull | Supreme Intelligence | Thanos | Titania | Ultimus | Ultron | Universal Church of Truth | Venom
Movies
Guardians of the Galaxy: Kree Empire (Ronan the Accuser, Nebula, Korath the Pursuer, Sakaaran Mercenaries & Exolon Monks) | Yondu Ravager Clan (Yondu Udonta, Kraglin Obfonteri, Horuz & Vorker) | Garthan Saal | Eson the Searcher | Chitauri (The Other) | Moloka Dar | Monstrous Inmate | The Collector | Dark Elf | Thanos
Guardians of the Galaxy Vol. 2: Ego | Sovereign (Ayesha, Sovereign Admiral, Zylak & Sovereign Chambermaid) | Yondu Ravager Clan (Yondu Udonta, Kraglin Obfonteri, Nebula, Tullk, Oblo, Taserface, Gef, Retch, Halfnut, Brahl, Vorker, Narblik & Huhtar) | Abilisk | The Grandmaster | Thanos
Community content is available under
CC-BY-SA
unless otherwise noted.