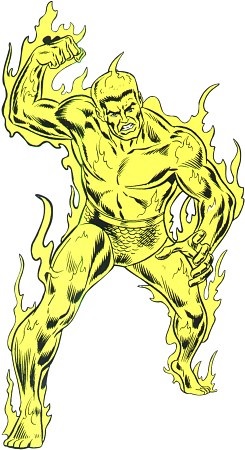 Molten Man is a villain of Spider-Man from Marvel comics.
Biography
Mark Raxton, a lab assistant who created an experimental metal alloy, was changed when the substance accidentally spilled on him, giving him superhuman strength and molten-metal skin. He could heat his body up to 300 degrees Fahrenheit and create molten lava from his skin. He used his new powers to his advantage and went on a crime spree, but was stopped by Spider-Man. Since then, he has battled Spidey several times.
He has recently been regretting his criminal activities, most of all a murder he committed while being brainwashed by the Green Goblin. During the Marvel civil war, when Spider-Man revealed his identity publicly, Raxton was approached by Chameleon, another of Spidey's foes, and was asked to join his little group of supervillains seeking to destroy Peter Parker. Raxton at first refused, as he now had a normal life and didn't want to be a criminal anymore. But when Chameleon threatened to have Electro kill Raxton's son, he gave in and joined as Molten Man. The group was defeated by Spider-Man and Black Cat.
The Spectacular Spider-Man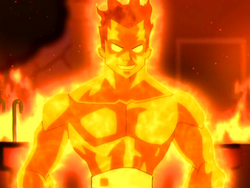 In The Spectacular Spider-Man TV series, Molten Man was Mark Allen, the brother of Peter Parker's girlfriend Liz. He was a gambling addict who owed his bookie, Blackie Gaxton, for all of the bets he lost. Gaxton made connections with Miles Warren and Norman Osborn and Mark agreed to let Warren turn him into Molten Man in order to pay off his debt. Mark was under the presumption that he could control his power, but it was really all in the hands of whoever held the button that turned it off and on, which happened to be the Green Goblin. The Goblin blackmailed Mark into battling Spider-Man, but Molten Man was defeated and sent to Ryker's prison.
Gallery