This article's content is marked as Mature
The page Mature contains mature content that may include coarse language, sexual references, and/or graphic violent images which may be disturbing to some. Mature pages are recommended for those who are 18 years of age and older.


If you are 18 years or older or are comfortable with graphic material, you are free to view this page. Otherwise, you should close this page and view another page.
| | | |
| --- | --- | --- |
| " | Momo, Momo, Momo is going to kill you. | " |
| | ~ The infamous quote of a child singing when Momo appears on a cartoon. | |
| | | |
| --- | --- | --- |
| " | Do you want a surprise? Look in her eyes. I will not lie, you're going to die. | " |
| | ~ A line from the Momo Challenge Song. | |
Momo is an internet urban legend originating in 2018. She appears to be a young woman with dark brown hair, huge bulging eyes, a huge mouth with a big smile, and she appears to only have bird legs.
She was created by Keisuke Aso Aisawa.
Biography
Backstory
Originally, Aso created the sculpture in the summer of 2016, which he named the sculpture Geisha Bird or the Tiger Bird. On August 15-27 2016, he gave the sculpture to the group exhibition known as The Ghost Gallery, in Tokyo.
In 2018, people started stealing images of the sculpture, and started building the name Momo for the sculpture, which would lead Momo to start giving children dangerous tasks to harm themselves.
Aso did not give any permissions or allow anyone to create a legend out of his sculpture. He also says that he has complexed feelings about Momo existing, and he enjoyed reading various urban legends such as "a mouth split woman" and "human dog".
Aso stated that he is highly against the idea of children getting harmed, especially over his sculpture and the legend, which makes him lose interest.
Legend
There were speculations that she was created by either of these two makeup Instagram users: barbierena and nanaakooo. However, she was actually created by the Japanese company named Link Factory. The real name of the sculpture is Mother Bird, and the artist who created it is known to make strange statues like Momo.
The story of Momo started spreading on July 14, 2018, when a YouTube user GloomyHouse created a video talking about the legend. He goes on to say that there are different phone numbers which you can use to contact Momo on Whatsapp. Once the person gets in contact with Momo, the person behind Momo will start leaking all the personal data and information about the person.
Sometimes, Momo will start even sending very graphical images towards the people that contacted her. It was reported that a 14-year-old had contact with Momo, which escalated in the boy screaming rapidly. When the mother of the boy entered the room, she found the chat-log with Momo. Momo sent the boy a photo of a drawing, and two graphical disturbing videos, which escalated in the boy having a seizure, making the mother bring the boy to the hospital.
It was also reported that a 12-year-old girl committed suicide by hanging herself on a tree in the family's backyard. The investigation goes on the say that the motive for her suicide was having a contact with Momo. The girl recorded the activities prior to the suicide onto her telephone.
2019 Spreadings
In 2019, a famous American actress widely known as Kim Kardashian, shared on her Instagram profile a post created by another woman, which warns the parents about the Momo challenge, because Momo started appearing in various YouTube videos and cartoons. A 5-year-old boy called the police because of Momo. The boy was watching a cartoon, and the video cut to a photograph of Momo, threatening the boy that she is going to kill him.
Police have said that two teenagers have committed suicide because of Momo.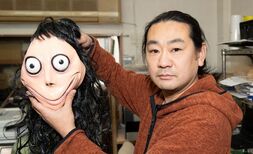 Aftermath
In response to the controversy, Aisawa had confirmed that he had dismantled the original sculpture when it began to rot. As Aiswa states "The children can be reassured Momo is dead - she doesn't exist and the curse is gone.".
Aisawa also said that he salvaged an eye from the original sculpture.
In music
In 2019, an audio-file about Momo got supposedly leaked on the dark-web. The original audio comes from a Canadian police interview. On the audio-file, you can hear a traumatised girl speaking about Momo, which parents got murdered. Once the audio got leaked, someone took the audio, and created a song out of the girl's voice.
In video games
Momo
On July 19, 2018, a user by the name SirFatCat published on GameJolt a videogame named Momo. In the game, the player has to do various tasks before getting rescued, such as searching, hiding, and closing doors. The goal is to try and survive until 00:00. If succeeded, the police will come over and help the player escape.
Momo Chatline
On July 22, 2018, another user by the name RecordGuy626 uploaded on GameJolt a game named Momo Chatline. In the game, the player chats with Momo, and Momo sends very scary graphical images to the player. The game is supposed to be a remake of the original urban legend.
Gallery
Images
Videos
Trivia
Momo got famous after the famous American YouTube-Twitch star EtikaWorldNetwork watched the video on his stream.
Momo, the urban legend that has veiled in recent days is actually a way of stealing information from unsuspecting users. That was said and confirmed by cyber security's experts. The challenge behind the viral is to talk to "Momo" through messages or calling "her" in Whatsapp. Once the number is contacted, "Momo" may respond with some violent threats and demonstrate having access to users' personal information. One only needs to put a person's number on Facebook or Instagram to get information from the user's people. Of course, this depends on the privacy of the account. With this, experts recommend everyone keep their accounts on social networks blocked for the general public. 

According to Twitter users, the person behind that number is "Momo" and she can converse in multiple languages. Others believe Momo is actually a bot, something that can be compared to an Artificial Intelligence used to steal private information of users.

Notable Legends
Chupacabra | Cyclops | Dragons | Wyverns | Dullahan | Fairies | Gremlins | Grim Reaper | Ghosts | Giants | Headless Horseman | Kraken | Loch Ness Monster | Medusa | Minotaur | Monsters | Mothman | Ogres | Siren | Skeletons | Spiders | Vampires | Wendigo | Yeti | Zombies
Demonology Legends
The Devil | Demons | Fallen Angels
Abaddon | Abere | Abyzou | Andromalius | Angra Mainyu | Aka Manto | Apep | Asmodeus | Asuras | Antichrist | Baal | Banshee | Baphomet | Beelzebub | Beast | Behemoth | Behemoth the Elephant | Belphegor | Black Cats | Black Monk of Pontefract | Black Shuck | Black Volga | Bogeyman | Buer | Cerberus | Coco | Crom Cruach | Demiurge | Eight Feet Tall | El Charro Negro | Enma Daio | Erlik | Gargoyles | Hellhounds | Iblis | Kali | Kansa | Kelpie of Loch Ness | Kitsune | Krampus | Kroni | Lamia | Legion | Locusts of Abaddon | Mahishasura | Malsumis | Mammon | Mara | Mares | Mephistopheles | Moloch | Nure-Onna | Rakshasa | Ravana | Raven Mocker | Sack Man | Samael | Six Demons | Stolas | Succubi | Termagant | Unholy Trinity | The Watchers | Wa Nyudo | Whore of Babylon | Zabaniyah
Disambiguation Pages
Satan | Demon | Succubus | Antichrist | Baphomet | Krampus | Behemoth
Gods & Spirits
Gods & Goddesses: Bila | Camazotz | Damballa | Geb | Fomorians (Balor, Bres) | Gods of Olympus (Ares, Atë, Hades, Hera, Limos, Poseidon, Zeus) | Jötunn (Ymir, Loki, Hela, Skoll and Hati, Fenrir, Jormungandr, Surtr, Hræsvelgr) | Kali | Nun | Set | Titans (Atlas, Kronos, Prometheus) | Veles | Xolotl
Spirits: Dybbuk | El Silbón | Fetch | Hinnagami | La Llorona | La Sayona | La Viuda | Mackenzie Poltergeist | Myling | Poltergeists | Stingy Jack
Humans & Humanoids
Abhartach | Ajax the Lesser | Ame-onna | Antaeus | Bandits | Baron Samedi | Black Rock Witch | Blair Witch | Cain | Cassiopeia | Christie Cleek | Count Dracula | Creon | Davy Jones | Delilah | Draug | Doppelgangers | Goliath | Gomorrahites | Green Knight | Green Witch | Hags | Haman the Agagite | Hanako-San | Herod the Great | Herodias | Horsemen of the Apocalypse | Ixion | Jezebel | Judas Iscariot | King Ahab | King Arthur | King Oenomaus | King Vortigern | Kuchisake-onna | La Tunda | Lilith | Lord William de Soulis | Louhi | Lucius Tiberius | Lycaon | Meg of Meldon | Morag | Morgan le Fay | Nanny Rutt | Pandarus | Paris | Phaedra | The Pharisees | Polyphemus | Rich Man | Romans | Santa Compaña | Saul | Sawney Bean | Sciron | Shechem | Sodomites | Stingy Jack | Tamamo no Mae | Tantalus | Trauco | Tydeus | Umibōzu | Yallery Brown | Ysbaddaden
Monsters, Animals & Anthropomorphic Beings
A-mi'-kuk | Akkorokamui | Averesboro Gallinipper | Aye-aye | Basilisk | Boneless | Cirein-cròin | Cockatrice | Count Dracula| Cuegle | Cuélebre/Culebre | Devil Monkeys | Dip | Erymanthian Boar | Escornau | Fossa | Fouke Monster | Foxes | Frankenstein's Monster | Giants of Voronezh | Golden Cicada | Groundhogs | Harpies | Herensuge | Hydra | Jackalopes | J'ba Fofi | Kappa | La Cegua | Lambton Worm | Leviathan | Manticores | Madman Marz | Michigan Dogman | Mikari Baba | Morag | Mordred | Morgan le Fay | Ojáncanu | Onamazu | Otesánek | Paparrasolla | Pesanta | Redcaps (Robin Redcap) | River Mumma | Undead| Scylla | Stymphalian Birds | Tailypo | Tarasque | Trolls | Tsuchinoko | Will O' The Wisp | Wolves
Common Legends
Amanda the Doll | Black Goo | Bunnyman | Bye Bye Man | Candyman | China Doll | Clown Doll | Cropsy | Crying Boy | Hairy-Armed Woman | Hatman | Homey the Clown | Hook Killer | John and Susan Buckley | Joliet the Haunted and Cursed Doll | La Tunda | Licking Maniac | Melon Heads | Men in Black | Mystery Killer | Nain Rouge | Nameless Thing of Berkeley Square | Old Man Try-By-Night | Peeping Tom | Rain Man | Robert the Doll | Paimon | Patasola | Skinned Tom | Teke Teke | The Killer In the Backseat | The Man Upstairs
Cryptids
Beast of Gévaudan | Black Eyed Children | Black Stick Men | Cherufe | Devil Monkeys | Emela-Ntouka | Dog-headed Men | Fallen Angels | Fear Liath | Flatwoods Monster | Ghosts Goatman | Grafton Monster | Greys | Hoop Snake | Indrid Cold | Jackalopes | Jersey Devil | Kelpie of Loch Ness | Kongamato | Malawi Terror Beast | Mamlambo | Manananggal | Maricoxi | Mngwa | Momonjii | Morag | Nobusuma | Pope Lick Monster | Popobawa | Pukwudgies | Reptoids | Roc | Ropen | Salawa | Sea-Serpents | Shadow People | Sheepsquatch | Slide-Rock Bolter | Snallygaster | Spring Heeled Jack | Tanuki | Thunderbird | Two-Toed Tom | Water Horses | White-Eyed Children | Yowie
Modern Legends
Charlie | Bloody Mary | Bloody Mary (Halloween Horror Nights) | Ghost (Johnny, I Want My Liver Back) | Ghost Trains | Momo | Orie Chef | Aliens (AC) | Martinez Dog Demon | The Spirit of Dark and Lonely Water | Crisis
Possessed Objects
Coffin on Wheels | Ghost Trains | Black Volga | Robert the Doll | Joliet the Haunted and Cursed Doll | China Doll | Amanda the Doll | Clown Doll | Gargoyles
See Also
Cthulhu Mythos Villains | Trevor Henderson Villains | Creepypasta Villains | SCP Foundation Villains
Community content is available under
CC-BY-SA
unless otherwise noted.