Jurassic World: Dominion Dominates Fandom Wikis - The Loop
Play Sound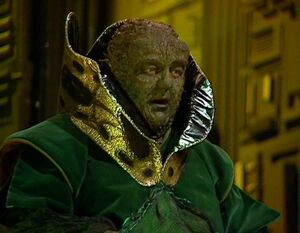 Monarch is the main antagonist of the Doctor Who story "Four to Doomsday".
He was portrayed by the late Stratford Johns.
Biography
Monarch was the leader of the planet Urbanka. He became obsessed with using faster than light travel to go back in time to before the beginning of the universe, where he believed he would find the proof that he was God. He had the entire population of Urbanka stored on silicon chips which could be implanted into android bodies, although he himself remained organic. He made four visits to Earth, centuries apart, collecting a human each time: An ancient Australian aborigine, a Mayan, a Chinaman from the Futu Dynasty and a Greek philosopher. He also had them transferred to android bodies, using their cultures to create non-sentient androids as a workforce.
Monarch's plundering of Urbanka's resources eventually rendered the planet uninhabitable. He decided to take control of Earth and launched an evacuation with his human servants and his two Urbankan lieutenants, Persuasion and Enlightenment, with the rest of the Urbankans kept in storage in their chips. He told the humans that he would give them leadership of their own ethnic groups but was actually preparing a poison that would allow him to wipe out Earth's population.
When Monarch's ship was four days away from Earth, the TARDIS arrived on board. Monarch greeted the Doctor and his companions in a friendly manner, treating them as his guests. He had Tegan give him information on current Earth fashions, using some sketches she drew to fashion human-looking android bodies for Persuasion and Enlightenment. He attempted to charm Adric around to his way of thinking and unsuccessfully tried to have Nyssa placed in an android body. He showed an interest in gaining control of the TARDIS, but after Tegan accidentally transported it into space and the Doctor conspired against him with the Greek Bigon, Monarch tried to have the Doctor killed. Adric convinced him otherwise and Monarch hoped he could win everyone over.
However, the Doctor convinced the other human leaders to join them and they managed to put Monarch's android servants out of action. Persuasion and Enlightenment were deactivated, with their chips thrown out into space, when they tried to stop the Doctor and Adric retrieving the TARDIS. Monarch tried to kill them by shutting down life support but failed. After setting the ship on a course back to Urbanka, the Doctor and his friends tried to leave in the TARDIS. Monarch confronted them and the Doctor threw a canister of the poison at him, killing him and causing his body to shrink away to nothingness.