Jurassic World: Dominion Dominates Fandom Wikis - The Loop
Play Sound



Click to help Cruella!

This scum Mongoose is driving Cruella insane!
IT MUST BE REWRITTEN OR ADDED TO!!
So sayeth the great Lord of Darkness Sauron, or he will send Darth Vader to terminate you.

Help improve this article by rewriting, expanding, updating the poorly written text of the article. ✓
Jafar says: Read my lips and come to grips with the reality!


This article is a stub and is in need of expansion. You can help Villains Wiki by expanding it.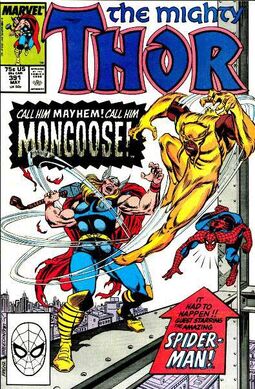 Very little is known of Mongoose's past, before he came to New York City. He was smuggled out of his country of origin by the villainous Baron Zemo and his Masters of Evil. He was apparently supposed to join the Masters of Evil on their assault on the Avengers Mansion. The Masters' Absorbing Man and Titania, in disguise, were supposed to pick him up at the airport, but they became involved in a battle with the hero Spider-Man. Mongoose, now that he was in America, decided to forget about the Masters of Evil and set out on his own.
Mongoose was next seen attacking the hero Thor, who was at a construction site in his civilian identity of Sigurd Jarlson. Apparently the Mongoose had been hired by someone to kill Thor, for an unknown reason. The Mongoose, using his "cellsmograph," had tracked Thor down while he was in his secret identity. Spider-Man intervened, giving Jarlson enough time to get his hammer and turn into Thor.
Spider-Man and Thor fought Mongoose to a stand still, but Mongoose escaped after creating a diversion. Mongoose broke the support beams holding up the building where they were fighting. Fearing for the lives of the construction workers on the building, Thor held up the building long enough for Spider-Man to fashion some temporary support to avoid collapse.
The current location of Mongoose is unknown, though he is probably still somewhere in New York City.
Villains
Comics
Abomination | Absorbing Man | Air-Walker | Alioth | All-Black | Amatsu-Mikaboshi | Angela | Annihilus | Apocalypse | Arcade | Ares | Arnim Zola | Asteroth | Baron Mordo | Beyonder | Bi-Beast | Blackheart | Blackout | Black Winter | Blastaar | Blockbuster | Bolivar Trask | Bor Burison | Bulldozer | Celestials | Collector | Crimson Dynamo | Crusader | Dark Avengers | Dark Gods | Darkoth | Desak | Destroyer | Diablo | Dormammu | Dr. Doom | Dracula | Dweller-In-Darkness | Ego the Living Planet | Enchanters Three | Enchantress | Executioner | Fafnir | Fenris Wolf | Fin Fang Foom | Frost Giants | Galactus | Godzilla | Goliath | Gorr the God Butcher | Grandmaster | Graviton | Grey Gargoyle | Gog | Grog | Growing Man | Hela | Hera | High Evolutionary | Hawkeye | Impossible Man | Immortus | Jormungandr | Juggernaut | Justin Hammer | Kang | Karnilla | King Cobra | Kingpin | Knorda | Knull | Korath | Korvac | Kurse | Laufey | Leader | Living Monolith | Loki Laufeyson | Lorelei | Maestro | Magneto | Mangog | Malekith the Accursed | Man-Beast | Masters of Evil | Megatak | Mephisto | Mercurio the 4-D Man | Mister Hyde | M.O.D.O.K. | Mongoose | Moonstone | Morgan le Fay | Moses Magnum | Namor | Nebula | Norman Osborn | Onslaught | Perrikus | Piledriver | Pluto | Punisher | Punisher (Earth-95126) | Purple Man | Quicksand | Quicksilver | Radioactive Man | Ragnarok | Rhino | Ringmaster | Rock Trolls | Roxxon | Sandu | Scarlet Witch | Set | Seth | Skaar | Skrulls | Space Phantom | Spider-Man | Stranger | Super-Adaptoid | Super-Skrull | Surtur | Terminus | Terrax | Thanos | Thunderball | Thunderbolt Ross | Thunderbolts | Titania | Titanium Man | Valkyrie | Venom | Worthy | Wrecker | Ulik | Ultimus | Ultron | Umar | Ymir | Zarrko
Movies
Hulk Vs. Thor: Loki Laufeyson | Hela | Enchantress | Skurge | Surtur | Malekith the Accursed | Valkyrie
Thor: Tales of Asgard: Algrim | Frost Giants | Loki Laufeyson | Fenris Wolf | Amora the Enchantress | Surtur
Thor: Loki Laufeyson | Frost Giants (Laufey, Grundroth, Hailstrum, Raze & Jotunheim Beast) | The Destroyer | Jasper Sitwell
Thor: The Dark World: Dark Elves (Malekith the Accursed & Kurse the Strong) | Loki Laufeyson | Marauders (Duhg & Kronan Marauder) | Jotunheim Beast | The Collector
Thor: Ragnarok: Berserker Army (Hela Odinsdottir, Skurge & Fenris Wolf) | Sakaaran Guards (The Grandmaster & Topaz) | Loki Laufeyson | Fire Demons (Surtur & Fire Dragon) | Thanos

TV Series
The Mighty Thor: Loki | Amora the Enchantress | Skurge the Executioner | Absorbing Man | Grey Gargoyle | Thunderbolt Ross | Zarrko | Pluto | Sandu | Surtur | Mr. Hyde
Loki: Loki Laufeyson's Variants (Loki Laufeyson (Variant L1130), Sylvie Laufeydottir, Boastful Loki & President Loki) | Time Variance Authority (He Who Remains, Miss Minutes, Ravonna Renslayer, Hunter D-90) | Alioth | Kang the Conqueror
What If: Infinity Ultron | Yellowjacket | Loki Laufeyson | The Destroyer | Brock Rumlow | Jack Rollins | Thunderbolt Ross | Skrulls | Nebula | Grandmaster | Skurge | Yondu Udonta | Ego | Arim Zola | Prince Killmonger | Strange Supreme | Surtur | Frost Giants

Video Games
Thor: God of Thunder: Loki Laufeyson | Frost Giants (Ymir) | Rock Trolls (Ulik) | Fire Demons (Surtur) | Hela
Thor: The Dark World: Loki Laufeyson | Dark Elves (Malekith the Accursed, Kurse the Strong) | Ymir | Mangog | Marauders | Frost Giants

See Also
Hercules (Marvel) Villains