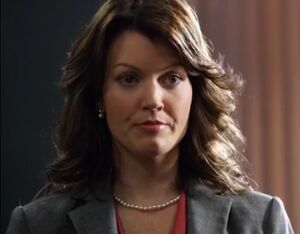 Monica Jarrow is the main antagonist of the Law & Order: LA episode "Playa Vista".
She was played by Bellamy Young, who also played [Monica West]] in the same show, Stephanie Harker in Law & Order, and Tina Moore in Mystery Woman: Visions of a Murder.
Biography
Monica Jarrow is the wife of golf pro Chip Jarrow and the mother of their only son, sixteen-year-old Luke Jarrow. It was documented in the episode that Chip has a wandering eye, and ten years prior to the episode's events, Monica caught Chip during one of his dalliances. Because of this, a post-nup was added where Monica receives one million dollars for every time she catches him cheating, while agreeing to keep the dalliances quiet.
While doing so, however, Monica had been using Chip's philandering and Luke's violent nature to turn Luke against Chip, as Luke had been repeating nearly every venomous word that Monica had uttered about Chip and his mistresses. The earliest instance was Luke smashing Chip's Ferrari countless times with a baseball bat, after Monica told Luke that Chip uses it to pick up women.
In the episode, Chip was being blackmailed by fellow golfer Kristin Halstead, as Kristin found out that Chip was carrying on with her one-time girlfriend, Carly Morris, and threatened to tell Monica. After learning about Kristin's blackmail, the evil Monica gave Kristin's address to Luke and sent him there to kill Kristin, which he does by bludgeoning her to death. The villainess later colluded with her son to frame Chip for the murder, as both of them pointed the finger at Chip during the investigation. After Luke was put to trial, both Chip and Monica were informed that Luke could face life in jail, and at that point, Chip offered to take the fall to save Luke. However, Monica—not wanting Chip to look good in Luke's eyes—decided to confess to her role in Kristin's murder, while lashing out at Chip in the process. She even stated that she figured that Luke would only get a few years in jail if he was caught. At episode's end, Monica plead guilty to manslaughter, while Luke was tried as a juvenile.