The Sandman Will Keep You Awake - The Loop
Play Sound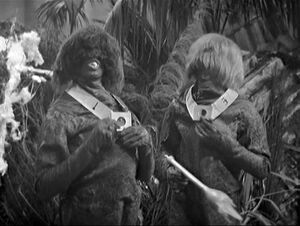 The Monoids are the main antagonistic faction of the Doctor Who story "The Ark". The first half of the story portrays them as allies, with them becoming antagonists in the second half set in the future.
History
The Monoids were a mute race who communicated with sign language. They settled on Earth after their homeworld became uninhabitable and were used as servants by the humans. With Earth's destruction imminent, a space Ark was launched to carry a group of humans and Monoids to the planet Refusis 2. Since the journey would take 700 years, most of the inhabitants were kept in suspended animation, leaving a small crew to monitor things.
As the ship was setting off, the Doctor, Steven and Dodo landed on board. They unknowingly brought a cold virus with them, which infected the Ark's population, who no longer had any immunity. A number of Monoids died along with at least one human crewmember but the Doctor was able to come up with a cure with assistance from a Monoid.
However, the virus had sapped the humans' will, making things perfect for the Monoids to take over. Having developed voice boxes, they gained control of the Ark and made the humans their slaves. Those who opposed their will worked in the kitchens under guard with a number of collaborators allowed limited freedom.
As the Ark approached Refusis 2, the Doctor, Steven and Dodo returned, having travelled forward in time. Monoid One had already planned that only the Monoids would settle on the planet and set up a bomb to destroy the Ark with the humans on board. He sent Monoid Two down to Refusis with the Doctor, Dodo and the collaborator Yendom to prepare the way but they were opposed by the native Refusians, who killed Monoid Two after he had killed Yendom, who had realised the Monoids' betrayal.
The remaining Monoids travelled down to Refusis, leaving the humans to die. However, Monoid Four began to suspect Monoid One had been premature and planned to return to the Ark with a small group of like-minded dissidents and defuse the bomb. This resulted in a civil war, in which many of the Monoids were killed, including Monoid One and his supporters, who had also killed Monoid One's servant Maharis. Monoid Four allowed the Doctor, Dodo and their ally Dassuk to return to the Ark and, with the help of the Refusians, dispose of the bomb.
The surviving Monoids were willing to settle on Refusis with the humans and those of their number still in suspended animation, with the Doctor encouraging them to live together as equals.