We're Getting Mutants in the MCU - The Loop
Play Sound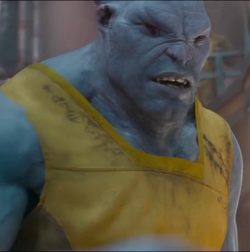 | | | |
| --- | --- | --- |
| " | Check out the new meat! I'm gonna slather you up in Gunavian jelly and go to town! | " |
| | ~ The Monstrous Inmate to Peter. | |
The Monstrous Inmate is a minor antagonist in the 2014 Marvel film Guardians of the Galaxy. He is an unnamed alien criminal held in the space prison Kyln.
He was portrayed by Nathan Fillion, who also played Caleb in Buffy the Vampire Slayer, Gao the Lesser in Jade Empire, Captain Hammer in Dr. Horrible's Sing-Along Blog, Preston Northwest in Gravity Falls, Cornvelious Daniel in Rick & Morty and The Detachable Kid in The Suicide Squad.
History
The Monstrous Inmate was briefly seen the Kyln as the Guardians were escorted there for their attempt to take the Power Orb. Spotting Peter Quill, the Inmate sadistically plans of making an example by threatening to torture him, much to Peter's dismay. Fortunately, Rocket Raccoon gets his friend Groot to shove his tree fingers into the Inmate's nose, threatening the other criminals that if they want to harm Quill, they would have to go through him and Groot first. Groot then dropped the Inmate and left him whimpering on the floor, leaving Peter very satisfied.
Eventually, the Inmate ends up getting killed by Ronan the Accuser when the latter raided the Kyln, resulting the deaths of all officers and criminals per Ronan's orders. However, the Inmate's death was avenged when the Guardians used the Power Orb to kill Ronan in the end.
Villains
Comics
Abomination | Absorbing Man | A.I.M | Alkhema | Angela | Annihilation Wave | Annihilus | Apocalypse | Archangel | Badoon | Beyonder | Blastaar | Black Cat | Black Order | Blob | Blood Brothers | Brood | Bulldozer | Carnage | Collector | Celestials | Chitauri | Crime-Master | Dark Avengers | Dark Phoenix | Diablo | Doctor Doom | Doctor Octopus | Dormammu | Dragon of the Moon | Eddie Brock | Ego the Living Planet | Electro | Fin Fang Foom | Firelord | Frost Giants | Galactus | Garthan Saal | Gorgon | Grandmaster | Green Goblin | Grey Gargoyle | Hela | Hera | High Evolutionary | Jack O' Lantern | J'son | Juggernaut | Kang the Conqueror | Korath the Pursuer | Korvac | Knull | Kraven | Kree | Loki Laufeyson | Madame Masque | Maelstrom | Magneto | Magus | Mastermind | Masters of Evil | Medusa | Mephisto | M.O.D.O.K. | Mole Man | Namor | Nebula | Oddball | Piledriver | Puff Adder | Pyro | Red Skull | Ronan | Rhino | Sabretooth | Sandman | Savage Six | Sentinels | Shocker | Skrulls | Space Phantom | Super-Adaptoid | Super-Skrull | Supreme Intelligence | Symbiotes | Taskmaster | Terrax | Thanos | Titania | Thunderball | Ultimus | Ultron | Universal Church of Truth | Venom | Vulcan | Vulture | Whiplash | Whirlwind | Wrecker | Xemnu
Movies
Guardians of the Galaxy: Kree Empire (Ronan the Accuser, Nebula, Korath the Pursuer, Sakaaran Mercenaries & Exolon Monks) | Yondu Ravager Clan (Yondu Udonta, Kraglin Obfonteri, Horuz & Vorker) | Garthan Saal | Eson the Searcher | Chitauri (The Other) | Moloka Dar | Monstrous Inmate | The Collector | Dark Elf | Thanos
Guardians of the Galaxy Vol. 2: Ego | Sovereign (Ayesha, Sovereign Admiral, Zylak & Sovereign Chambermaid) | Yondu Ravager Clan (Yondu Udonta, Kraglin Obfonteri, Nebula, Tullk, Oblo, Taserface, Gef, Retch, Halfnut, Brahl, Vorker, Narblik & Huhtar) | Abilisk | The Grandmaster | Thanos

TV Series
Guardians of the Galaxy (TV Series): Thanos | J'son | Kree | Ronan the Accuser | Korath the Pursuer | Nebula | Black Order | Loki Laufeyson | Destroyer | Medusa | Maximus | High Evolutionary | Supreme Intelligence | Symbiotes | Chitauri | Magus | Blood Brothers| Fin Fang Foom | The Collector | Grandmaster | A.I.M (M.O.D.O.K) | Venom | Carnage | Hela
What If...? (Season 1): Infinity Ultron | The Collector | Black Order (Ebony Maw | Proxima Midnight | Corvus Glaive | Cull Obsidian) | Ego | Prince Killmonger | Arnim Zola | Strange Supreme
Video Games
Marvel's Guardians of the Galaxy: Magus | Dweller-In-Darkness | Blood Brothers | Inquisitor | Thanos | Wendigo | Fin Fang Foom | Grand Unifier Raker
See Also
Howard the Duck Villains | Nova Villains