Spider-Man: No Way Home Trailer Dropped - The Loop
Play Sound
Montross was a nefarious Mandalorian bounty hunter and an enemy of Jango Fett in the Star Wars franchise. He is the central antagonist of Star Wars: Bounty Hunter, a video game set ten years before Episode II: Attack of the Clones.
History
Montross originally was Jaster Mereel's right hand but betrayed him to the Death Watch and left him for dead. Telling to the other Mandalorians that Jango died saving Jaster in order to become leader of the Mandalorians, his plan was foiled when Jango appeared and revealed the truth to the mandalorians. Supported by Silas and the other mandalorians, Jango banished Montross from the Mandalorians.
The Offer
Years later, Montross had become a ruthless bounty hunter, making a rule to always kill its targets, even when they paid more alive, saying that "money meant nothing to him, the thrill driving him". He was eventually contacted by Tyranus to kill Komari Vosa in exchange for five million credits. However, Jango also received the offer.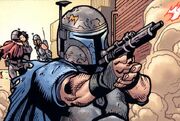 The Bando Gora was involved in making and selling death sticks. Both Montross and Fett began tracking the origin of the death sticks. Montross tracked the death sticks to Groff Haugg. He found Groff in one of Corusacant's districts and interrogated him. Groff lied to Montross and guided him to the Gazzari system. Montross later froze Groff to death in carbonite to keep his mouth shut. Jango arrived and they battled but Montross escaped and began looking for Komari in the Gazzari system. He learned from his ship's computer that some time ago the Republic stopped the death stick operations in the system and realized Groff lied to him.
Montross then learned that some smuggler, Bendix Fust who was serving time at Oovo IV, and wanted alive by the drug lord Sebolto, who Montross realized might be the last link to Vosa. Learning that the prison was having a riot and communications had been jammed, Montross realized Fett was involved and headed to Malastare, to Sebolto's hideout.
However, Fett arrived there and got to Sebolto first, causing the Dug to escape through a ramp but fell to his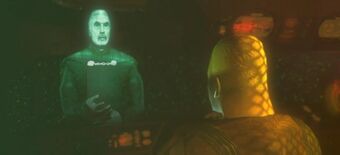 death. Montross arrived on a skiff and fought Jango again but it was ended when Zam Wessel arrived with the Slave I and fired missiles at Montross. Wessel and Fett made their escape but Montross activated a listening device on the Slave I. They headed to Tatooine after examining Huttese marks on Sebolto's drug ships.
The Final Showdown
While Fett and Wessel were busy in Tatooine, Montross was overhearing Jango's conversations with Roz, his friend and informative. Montross tracked the contact and went to the Outland Station. He later tortured Roz to near death for the location of Komari Vosa and planted bombs in the Outland Station in order to kill Fett, taunting Jango through a transmission. Jango arrived after killing Gardulla and escaped in time, however the explosion killed Roz and hundreds of other people.
Montross headed to a moon of Bogden which was the hideout of the Bando Gora. Jango caught up to him and confronted Montross at the front gate of Vosa's fortress. Montross redonned his Mandalorian helmet and challenged Fett to a fight to the death. Fett accepted and both of the Mandalorians had their final showdown. Jango won the fight, and left a supplicating Montross to be killed by the Bando Gora cultists.
Abilities
Although he is not Force-sensitive, Montross has shown to be shown to be on the best bounty hunters of its time, rivalling Jango in that regard, having been a mandalorian like the latter was. He is an expert tracker, interrogator and marksman and is also knowledgeable in the art of warfare.
Gallery
Trivia
Montross acts as a sort of foil for Jango in Bounty Hunter. While Jango is, like Montross an ex-mandalorian who became a ruthless bounty hunter who, much like him, enjoys the act of hunting bounties, Jango is ultimately a man of reason with a code of honor and an attachment to multiple people (Roz, Jaster and even Zam eventually) and the ways of the mandalorians. Montross on the other hand was identified as man who lived only to murder. Namely, he is the only character in the game (except Palpatine, who makes a brief appearence at the beginning) who can be considered Pure Evil:

Zam and Jango, though remorseless killers, only murder hardened criminals, crime lord or corrupt officials and are shown to have moments of humanity.
Jabba the Hutt, though a despicable crime lord considers the Bando Gora to be "scum", refusing to make business with them.
Count Dooku thinks he is acting out of a genuine desire to better the galaxy.
Vosa and her cultists were all brainwashed into their villainy.
Montross however, has no delusion about what he is and does and no excuses to explain his behaviour, and even goes out of his way to be cruel and sadistic, taunting Jango over the death of his friends. This is further proven when Montross muses to Jango about how briefly considered using the power of the Bando Gora to cause the deaths of millions simply because he wanted to, insisting that he wasn't in for the money.