She-Hulk Trailer Dropped - The Loop
Play Sound



Click To Help DIO!

DIO has declared that this article has stopped in time, and any and all information on it may be outdated.
Help improve this article by checking and updating it's info wherever necessary
And now time resumes!

✓
| | | |
| --- | --- | --- |
| " | Accept this vow, then: If I must drink blood, let it be the blood of the corrupt -- of those who deserve to die. The blood of the guilty. | " |
| | ~ Morbius | |
Dr. Michael Morbius, Ph.D., M.D., better known as simply Morbius, is an anti-heroic antagonist from Marvel Comics, serving as an enemy to Spider-Man, Blade, and Ghost Rider. He was a biogenetic scientist who was dying of a blood-destroying disease. He injected himself with radioactively altered vampire bat DNA, and it transformed him into a living vampire. Morbius developed a craving and need for human blood, especially the radioactive blood of Spider-Man, which he thought would cure his never-ending hunger.
Biography
Spider-Man: The Animated Series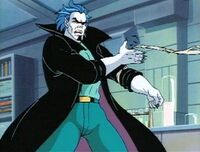 Most Morbius's screen appearances to date were in Spider-Man Animated series where he was voiced by Nick Jameson (who also voiced Richard Fisk in this series). He was the main antagonist in season 2. Morbius first appeared in his human form in "Insidious Six" two-part episode. In these episodes, he has a romance with Felicia Hardy (a.k.a. the Black Cat). In the episode entitled "Morbius", he stole a vial of Peter Parker's blood in the belief that this was part of Parker's entry in a science competition they were both competing in. While examining the blood in his laboratory, one of the vampire bats he was experimenting on escaped, and began to lap it up. When Morbius tried to scare the bat away, it bit him. The bite infected him with Parker's irradiated blood, transforming him into a living vampire.
He appeared as a villain in the following four episodes, Enter the Punisher, Duel of the Hunters, Blade the Vampire Hunter and The Immortal Vampire, along with "The Awakening" and "The Vampire Queen" in Season #4. In his earlier appearances, he goes on a rampage to turn everyone into Vampires. However, he was stopped by Spider-Man and Blade in The Immortal Vampire. At the end of "The Vampire Queen", Morbius stopped becoming an evil blood sucker thanks to a serum created by Abraham Whistler which suppresses anyone who has a vampiric urge for human blood, but only if they wanted to be human and joined forces with vampire hunter Blade and superhuman Black Cat, who was Felicia's alter ego that Morbius figured out in The Awakening, to stop Blade's evil mother, Mirium. Morbius made a cameo at the beginning and end of the second episode of the animated version of "Secret Wars," along with Blade, who were not only concerned about stopping Mirium but curious where Black Cat went (she was transported from Earth to the Secret Wars planet to fight alongside with Spider-Man as one of the heroes to help him). That was the last appearance of Morbius in the show.
A notable thing about Morbius is that the censorship for the show did not allow vampires to appear. So to allow the use of Morbius, he could not bite victims to drink their blood. Despite having fangs, and evidently being a vampire, he instead had to drain victims through blood suckers on his hands. And blood is only referred to as "plasma". The word "blood" is commonly used in non-vampire episodes. Though, the words "blood-bath", "blood sample" and so on are used throughout the series (including vampire episodes). Also, in "The Immortal vampire", Morbius says to Peter: "I need a sample of the neogenic blood you created".
Ultimate Spider-Man
Morbius makes his appearance in Ultimate Spider-Man vs the Sinister Six. He was voiced by Ben Diskin. Morbius is a Hydra Scientist tasked by Arnim Zola to work on an experiment using a venom sample with Doctor Octopus. They succeeded as they made a chemically enhanced version of venom known as Anti-Venom that possessed Harry Osborn and began to annihilate Agent Venom. Anti-Venom nearly destroys Agent Venom until Spider-Man managed to defeat it after he interrogated Morbius.
Morbius later appeared in Symbiote Saga, where he assaulted Spider-Man and Agent Venom in a Warmachine Armor to collect a sample of Venom from Flash. He succeeds and retreats to a research building, where he begins to experiment on it with Doctor Octopus, who is now a captive of Hydra after his deception. This time, they created Carnage, and once they succeeded, Morbius calls upon two Hydra Agents to dispatch Doctor Octopus. However, once Spider-Man and Flash Thompson showed up, Doctor Octopus injects Morbius with bat DNA, turning him into a vampire humanoid. In retribution, Morbius throws the Carnage symbiote at Doc Ock that soon possesses him. Once Morbius transformed into a humanoid bat, he flies away from the building, leaving Spider-Man and Agent Venom to deal with the Carnage possessed Doctor Octopus.
After Spider-Man managed to stop the Carnage infection upon the city with the help with Anti-Venom, the Carnage entrails upon the streets form together into a giant that made its way to Horizon High, where it then spreads itself upon the entire school, infecting Mary Jane Watson there and transforming her into the Carnage Queen. Morbius had evolved closer to his human form and arrives at the school and begins his search for the Carnage Queen. Once he found her fighting Spider-Man, Agent Venom, and Iron Patriot, Morbius places a device upon her head and mind controls her. Spider-Man, Agent Venom, and Iron Patriot are then subdued and are taken to the Shield Academy, where Morbius reveals his plan is to infect the world with Hydra missiles armed with Carnage symbiotes. As Morbius then orders Carnage Queen to destroy Spider-Man, Spider-Man manages to destroy the device on her, freeing her from Morbius' control. Carnage Queen soon assaults Morbius. Morbius tried to absorb the life energy from Carnage Queen, but had no luck at it and had his life energy drained instead.
Sony's Marvel Universe
Morbius appeared as the titular main protagonist in the 2022 film Morbius, a part of Sony's ongoing cinematic universe in association with Marvel.
He is portrayed by Jared Leto, who previously portrayed the Joker in the DC Extended Universe, Harry Goldfarb in Requiem for a Dream, Angel Face in Fight Club, and Niander Wallace in Blade Runner 2049.
Gallery
External Links

Villains
Comics
Abomination | Absorbing Man | Agony | A.I.M. | Alistair Smythe | Annihilus | Answer | Arcade | Ares | Arnim Zola | Attuma | Awesome Android | Baron Mordo | Baron Zemo | Basilisk | Batroc the Leaper | Beetle | Beyonder | Big Man | Black Cat | Black Widow | Blackie Drago | Blastaar | Blizzard | Blob | Bolivar Trask | Bombshell | Boomerang | Brothers Grimm | Burglar | Bulldozer | Bullseye | Bushwacker | Cadaverous | Calypso | Carlton Drake | Carnage | Carrion | Chameleon | Chance | Constrictor | Count Nefaria | Crime-Master | Crossbones | D'Spayre | Daemos | Dark Avengers | Deadpool | Demogoblin | Destroyer | Diablo | Doctor Doom | Doctor Faustus | Doctor Octopus | Doppelganger | Dormammu | Dracula | Dreadknight | Electro | Enclave | Enforcers | Equinox | Fancy Dan | Firelord | Fixer | Freak | Frightful Four | Gabriel Stacy | Galactus | Ghost | Gibbon | Gog | Goliath | Grant Ward | Graviton | Green Goblin (Norman Osborn, Harry Osborn and Bart Hamilton) | Grey Gargoyle | Grizzy | Hammerhead | Hand | Hazmat | High Evolutionary | Hitman | Hobgoblin | Hood | Human Fly | Humbug | Hybrid | HYDRA | Hydro-Man | Ironclad | Impossible Man | Inheritors | Iguana | Jackal | Jack O' Lantern | Jester | Jigsaw | J. Jonah Jameson | Johnny Ohm | Jonas Harrow | Juggernaut | Justin Hammer | Kangaroo | Kang | Kaine | Karn | Killer Shrike | King Cobra | Kingpin | Knull | Kraven the Hunter | Kristoff Vernard | Lady Octopus | Lasher | Lady Deathstrike | Leader | Leap-Frog | Lee Price | Life Foundation | Lightmaster | Living Brain | Living Laser | Lizard | Loki Laufeyson | Lucia Von Bardas | Mad Thinker | Madame Masque | Madame Viper | Maestro | Maggia | Magneto | Mandarin | Man-Spider | Man-Wolf | Mania | Masked Marauder | Master Mold | Masters of Evil | Maximus | Menace | Mephisto | Mesmero | Mister Brownstone | Mister Fear | Mister Hyde | Mister Negative | M.O.D.O.K. | Mojo | Mole Man | Molten Man | Montana | Moonstone | Morbius | Morlun | Moses Magnum | Mysterio (Quentin Beck, Daniel Berkhart and Francis Klum) | Nebula | Nekra | Nightmare | Niles Van Roekel | Nitro | Onslaught | Overdrive | Orka | Owl | Ox | Phage | Phil Urich | Piledriver | Princess Python | The Prowler | Psycho-Man | Puma | Punisher | Punisher (Earth-95126) | Puppet Master | Quasimodo | Quicksilver | Ramrod | Raze | Red Ghost | Red Skull | Rhino | Rhino II | Richard Fisk | Ringer | Ringmaster | Riot | Roland Treece | The Rose | Roxxon Energy Corporation | Sabretooth | Sandman | Sarah Stacy | Sauron | Scarecrow | Scarlet Witch | Scorcher | Scorpion | Scorn | Scream | Sebastian Shaw | Secret Empire | Serpent Society | Sentinels | Seth Youngblood | Shocker | Shriek | Sin-Eater | Silvermane | Silver Sable | Sinister Six | Skip | Skrulls | Solus | Songbird | Patton Parnel | Spider-Carnage | Spider-Man Revenge Squad | Spider-Slayers | Spot | Stegron | Street | Super-Apes | Supercharger | Swarm | Symbiotes | Tarantula | Taskmaster | Terminus | Terrax | Thanos | The Thousand | Thunderball | Thunderbolt Ross | Thunderbolts | Tiger Shark | Tinkerer | Titania | Titanium Man | Toad | Tombstone | Trapster | Turner D. Century | Typhoid Mary | Tyrannus | U-Foes | Ultimatum | Ultron | Vapor | Vanessa Fisk | Vector | Venom (Eddie Brock) | Vermin | Vulture | Walrus | Whiplash | White Rabbit | Whirlwind | Will-O'-The-Wisp | Wizard | Worthy | Wrecker | X-Ray | Zodiac | Zombie Spider-Man | Zombie Giant-Man
Movies
Spider-Man: Green Goblin | Dennis Carradine | Bank Robbers | Harry Osborn | J. Jonah Jameson
Spider-Man 2: Doctor Octopus | Harry Osborn | J. Jonah Jameson | Green Goblin
Spider-Man 3: Venom | Sandman | New Goblin | J. Jonah Jameson | Green Goblin | Dennis Carradine
The Amazing Spider-Man: Lizard | Gustav Fiers | Cash Register Thief | Norman Osborn
The Amazing Spider-Man 2: Electro | Green Goblin | Donald Menken | Rhino | Alistair Smythe | Ashley Kafka | Felicia Hardy | Gustav Fiers | Norman Osborn
Spider-Man: Homecoming: Bestman Salvage (Vulture, Tinkerer, Shocker #1, Shocker #2 & Randy Vale) | Mac Gargan | Aaron Davis
Spider-Man: Into the Spider-Verse: Kingpin | Doctor Octopus | Prowler | Tombstone | Scorpion | Green Goblin | Vanessa Fisk | Richard Fisk
Spider-Man: Far From Home: Mysterio's Crew (Mysterio, William Ginter Riva, Victoria Snow, Gutes Guterman, Janice Lincoln, & Doug) | Elementals (Molten Man, Hydro-Man, Sandman, Cyclone and Elemental Fusion) | Skrulls (Talos) | Obadiah Stane | J. Jonah Jameson
Spider-Man: No Way Home: Raimiverse (Green Goblin, Doctor Octopus & Sandman) | Webbverse (Electro & Lizard) | J. Jonah Jameson | Venom | Mysterio

Television
Spider-Man (1967)
Vulture | Green Goblin | Electro | Rhino | Mysterio | Doctor Octopus | Scorpion | Human Fly | Kingpin | Lizard | Spider-Slayer | Sandman | Dr. Matto Magneto | Enforcers (Cowboy and Ox) | Frederick Foswell | Mole Man | J. Jonah Jameson
Spider-Man (1981)
Doctor Doom | Kingpin | Doctor Octopus | Lizard | Black Cat | Sandman | Silvermane | Magneto | Mysterio | Ringmaster | Green Goblin | Sidewinder | Kraven the Hunter | Red Skull | Chameleon | Vulture | Hammerhead | Wizard | Medusa
Spider-Man and His Amazing Friends (1981)
Green Goblin | Kraven the Hunter | Doctor Doom | Swarm | Chameleon | Electro | Brotherhood of Mutants (Magneto, Blob, Toad, and Mastermind) | Mysterio | Loki Laufeyson | Ymir | Mordred | Kingpin | Doctor Faustus | Red Skull | Juggernaut | Shocker | Sandman | Dracula | Scorpion | Beetle | Doctor Octopus | A.I.M.
Spider-Man: The Animated Series
Kingpin | Green Goblin (Norman Osborn and Harry Osborn) | Doctor Octopus | Hobgoblin | Venom | Vanessa Fisk | Richard Fisk | Silvermane | Insidious Six (Scorpion, Rhino, Mysterio, Chameleon, Shocker, and Vulture) | Black Cat | Lizard | Morbius | Spider-Carnage | Spider-Slayers (Alistair Smythe) | Carnage | Baron Mordo | Dormammu | Silver Sable | Hydro-Man | Prowler | Doctor Doom | Red Skull | Electro | Hammerhead | Tombstone | Punisher | Kraven the Hunter | Calypso | Herbert Landon | Jackal | Owl | Spot | Beyonder | J. Jonah Jameson
Spider-Man Unlimited
High Evolutionary | Venom | Carnage | Electro | Kraven the Hunter | Green Goblin | Vulture | Man-Wolf | J. Jonah Jameson
Spider-Man: The New Animated Series
Harry Osborn | Electro | Kraven the Hunter | Turbo Jet | Kingpin | Lizard | Shikata | Silver Sable
The Spectacular Spider-Man
Green Goblin | Tombstone | Doctor Octopus | Hammerhead | Venom (Eddie Brock) | Sinister Six (Rhino, Vulture, Electro, Sandman, Mysterio, and Kraven the Hunter) | Chameleon | Tinkerer | Enforcers (Shocker, Ricochet and Ox) | Molten Man | Silvermane | Silver Sable | Harry Osborn | Lizard | J. Jonah Jameson | Black Cat | Miles Warren | Frederick Foswell | Calypso | Roderick Kingsley | Morris Bench | Cletus Kasady
Ultimate Spider-Man
Doctor Octopus | Green Goblin | Harry Osborn | Taskmaster | HYDRA (Arnim Zola, Crossbones, Morbius, and Baron Mordo) | Sinister Six (Kraven the Hunter, Rhino, Electro, Scorpion, Vulture, and Hydro-Man) | Toad | Batroc the Leaper | Beetle | Lizard | Frightful Four (Wizard, Trapster & Klaw) | Juggernaut | Sandman | Venom | Loki Laufeyson | The Collector | Grandmaster | Carnage | Wolf Spider | Ultimate Green Goblin | Shocker | Shriek | Swarm | Dracula | Spider-Slayers (Kaine) | Absorbing Man | Abomination | Annihilus | Arcade | Attuma | Awesome Android | Blastaar | Blizzard | Boomerang | Chitauri | Deadpool | Destroyer | Doctor Doom | Dormammu | Skurge | Enforcers (Montana, Fancy Dan, Ox) | Frost Giants | Grizzly | Hammerhead | Jack O'Lantern | Korvac | The Leader | Living Laser | Man-Wolf | Maximus | Melter | Mesmero | M.O.D.O.K. | Molten Man | Mister Negative | Mysterio | Nightmare | Norma Osborn | Phalanx | Sabretooth | Skaar | Galactus | Ulik | Whirlwind | Wrecker | Piledriver | Thunderball | Bulldozer | Ymir | Zodiac | Scorpio | Zzzax | J. Jonah Jameson
Spider-Man (2017)
Symbiotes (Venom, Scream, Scorn, and Mania) | Dark Goblin | Hobgoblin | Doctor Octopus | Vulture/Goblin King | Alistair Smythe | Rhino | Jackal | Hammerhead | Electro | A.I.M. (M.O.D.O.K.) | Spider-Slayers | Lizard | Tinkerer | Swarm | Scorpion | Sinister Six | Kraven the Hunter | Man-Wolf | Silver Sable | Beetle | Spot | Prowler | Molten Man | Mister Negative | Chameleon | HYDRA (Crossbones and Arnim Zola) | Black Cat | Ghost | Blizzard | Absorbing Man | Crimson Dynamo | Overdrive | Mysterio | Jack O'Lantern | Silvermane | Lady Octopus | Paladin | Puma | Shocker | Living Brain | Sandman | Technovore | Baron Mordo | Knull | J. Jonah Jameson
Spidey and His Amazing Friends (2021)
Green Goblin | Doctor Octopus | Rhino
Video Games
The Amazing Spider-Man & Captain America in Dr. Doom's Revenge: Doctor Doom | Electro | Hobgoblin | Rhino | Boomerang | Grey Gargoyle | Oddball | Batroc the Leaper | Mysterio
Spider-Man: Return of the Sinister Six: Sinister Six (Doctor Octopus, Electro, Hobgoblin, Mysterio, Sandman and Vulture)
Spider-Man vs. The Kingpin: Kingpin | Doctor Octopus | Lizard | Electro | Sandman | Hobgoblin | Venom | Tinkerer | Mysterio | Vulture | Bullseye | Typhoid Mary
Spider-Man & X-Men: Arcade's Revenge: Arcade | Carnage | Rhino | Apocalypse | Juggernaut | Selene Gallio | Sentinels | Master Mold
Spider-Man and Venom: Maximum Carnage: Carnage | Shriek | Doppelganger | Demogoblin | Carrion
Spider-Man and Venom: Separation Anxiety: The Jury | Sentry | Ramshot | Screech | Bomblast | Firearm | Wysper | Life Foundation | Symbiotes (Carnage | Riot | Phage | Lasher | Agony | Scream)
Spider-Man (2000): Doctor Octopus | Symbiotes | (Carnage, Venom) | Jade Syndicate | Monster Ock | Scorpion | Rhino | Mysterio, J. Jonah Jameson, Lizard
Spider-Man 2: Enter Electro: Electro | Beetle | Hammerhead | Lizard |Sandman | Shocker
Spider-Man (2002): Green Goblin | Shocker | Vulture | Spider-Slayers | Scorpion | Kraven the Hunter | Dennis Carradine | Harry Osborn | J. Jonah Jameson
Spider-Man 2: Doctor Octopus | Harry Osborn | Rhino | Mysterio | Shocker | Puma | Black Cat | Vulture | Calypso | J. Jonah Jameson
Ultimate Spider-Man: Bolivar Trask | Venom | Vulture | Silver Sable | Shocker | R.H.I.N.O. | Electro | Beetle | Green Goblin | Sandman | Carnage
Spider-Man 3: Venom | Sandman | New Goblin | Lizard | Scorpion | Kraven the Hunter | Calypso | Kingpin | Rhino | Morbius | Shriek | H-Bombers (Mad Bomber) | J. Jonah Jameson
Spider-Man: Web of Shadows: Spider-Man | Venom | Kingpin | Black Cat | Vulture | Electro | Tinkerer | Rhino
Spider-Man: Shattered Dimensions: Mysterio | Kraven the Hunter | Hammerhead | Hobgoblin | Electro | Sandman | Vulture | Scorpion | Deadpool | Juggernaut | Silver Sable | Goblin | Serena Patel | Carnage
Spider-Man: Edge of Time: Peter Parker | Atrocity | Walker Sloan
The Amazing Spider-Man: Spider-Slayers (Alistair Smythe) | Lizard | Rhino | Vermin | Scorpion | Felicia Hardy | Iguana | Nattie
The Amazing Spider-Man 2: Carnage | Kingpin | Green Goblin | Shocker | Kraven the Hunter | Black Cat | Electro | Chameleon | Norman Osborn | Cash Register Thief
Marvel's Spider-Man: Sinister Six (Doctor Octopus, Mister Negative, Electro, Vulture, Rhino and Scorpion) | Inner Demons | Norman Osborn | Silver Sable | Kingpin | Shocker | Tombstone | Taskmaster | Black Cat | Screwball | Hammerhead | Walter Hardy | Yuriko Watanabe
Marvel's Spider-Man: Miles Morales: Roxxon Energy Corporation (Simon Krieger) | The Underground (Tinkerer) | Prowler | Rhino | Kingpin | Norman Osborn | Doctor Octopus | Vulture
See Also
Black Cat Villains | Cloak & Dagger Villains | Morbius: The Living Vampire Villains | Prowler Villains | Punisher Villains | Scarlet Spider Villains | Silk Villains | Silver Sable Villains | Solo Villains | Sony's Spider-Man Universe Villains | Spider-Girl Villains | Spider-Gwen Villains | Spider-Man 2099 Villains | Spider-Man Noir Villains | Spider-Woman Villains | Toei's Spider-Man Villains | Venom Villains

Villains
Comics
Abomination | Abominatrix | Absorbing Man | Adolf Hitler | Agony | A.I.M. | Air-Walker | Alkhema | Aleksander Lukin | Alistair Smythe | Amatsu-Mikaboshi | Amora | Anaconda | Annihilus | Ani-Men | Answer | Apocalypse | Arcade | Ares | Arnim Zola | Atlas | Attuma | Avalanche | Awesome Android | Badoon | Barracuda | Baron Blood | Baron Mordo | Baron Wolfgang von Strucker | Baron Zemo | Basilisk | Batroc | Beetle | Beyonder | Bi-Beast | Black Knight | Blackout | Black Order | Black Cat | Black Mamba | Black Talon | Black Widow | Blackie Drago | Blastaar | Blitzkrieg | Blizzard | Blob | Blood Brothers | Bombshell | Boomerang | Brothers Grimm | Brotherhood of Evil Mutants | Bulldozer | Bullseye | Burglar | Bushmaster | Bushwacker | Cache | Cannibals (Marvel Universe Vs) | Carnage | Carrion | Calypso | Celestials | Centurion | Chameleon | Chance | Chemistro | Chester Goudal | Chitauri | Collector | Colonel Ross Whittaker | Commander Kraken | Constrictor | Corruptor | Cottonmouth | Count Nefaria | Cowled Commander | Crime-Master | Crimson Dynamo | Crimson Widow | Cristu Bulat | Crossbones | Crossfire | D'Spayre | Daken | Damage | Daniel Whitehall | Dark Avengers | Dark Elves | Deadpool | Deathbird | Deathurge | Death Adder | Deke Wainscroft | Demogoblin | Diablo | Diamondback | Doctor Doom | Doctor Faustus | Doctor Octopus | Doctor Spectrum | Dormammu | Dracula | Dreadknight | Eddie Brock | Eel | Egghead | Ego the Living Planet | Electro | Elementals | Elements of Doom | Enclave | Enforcers | Equinox | Exodus | Ezekiel Stane | Fabian Cortez | Famine | Fin Fang Foom | Finn Cooley | Firelord | Fixer | Fold | Frost | Frost Giants | Frightful Four | Galactus | Gargantus | Garthan Saal | Ghost | Giganto | Goliath | Gladiator | Godzilla | Grand Director | Grandmaster | Grant Ward | Graviton | Green Goblin (Norman Osborn, Harry Osborn) | Grey Gargoyle | Grey Goblin | Griffin | Grim Reaper | Grizzly | Growing Man | Grotesk | Hammerhead | Hand | Hazmat | Hela | Hera | Herr Kleiser | Heinz Kruger | High Evolutionary | Hitman | Hive | Horsemen of Apocalypse | Hobgoblin | Hood | Hydro-Man | HYDRA | Immortus | Impossible Man | Inner Demons | Ironclad | Iron Monger | Jackal | J. Jonah Jameson | Jack O' Lantern | Jester | Jigsaw | Johnny Ohm | Jonas Hambleton | Jormungandr | Juggernaut | Justin Hammer | Kaine | Kang the Conqueror | Killer Shrike | King Cobra | Kingpin | Klaw | Knull | Korath the Pursuer | Korvac | Kraven the Hunter | Kree | Kristoff Vernard | Lady Deathstrike | The Leader | Lightmaster | Living Brain | Living Laser | Living Monolith | Lizard | Loki Laufeyson | Lucia Von Bardas | Ma Gnucci | Machinesmith | Mad Pharaoh | Mad Thinker | Madame Masque | Madame Viper | Madcap | Madelyne Pryor | Maelstrom | Maestro | Maginty | Magneto | Magus | The Maker | Malekith the Accursed | Man-Ape | Mandarin | Mandrill | Man-Spider | Man-Wolf | Master Man | Master Pandemonium | Masters of Evil | Masked Marauder | Maximus the Mad | Medusa | Melter | Menace | Mentallo | Mercurio the 4-D Man | Mesmero | Mephisto | Mister Fear | Mister Hyde | Mister Negative | Mister Payback | Mister Sinister | M.O.D.A.M. | M.O.D.O.K. | Mojo | Molecule Man | Mole Man | Molten Man | Monica Rappaccinni | Moonstone | Morbius the Living Vampire | Morgan le Fay | Moses Magnum | Mystique | Mysterio | Namor | Nebula | Nekra | Nicky Cavella | Nightmare | Nightshade | Niles Van Roekel | Nicky Cavella | Omega Red | Onslaught | Orka | Overdrive | Owl | Paladin | Phalanx | Phil Urich | Piledriver | Pluto | Presence | Princess Python | Proctor | Psycho-Man | Punisher | Puppet Master | Puma | Purple Man | Quasimodo | Quicksand | Quicksilver | Radioactive Man | Ragnarok | Ramrod | Rattler | Reavers | Red Ghost | Red Skull | Reverend Samuel Smith | Rhino | Rhino II | The Rose | Ringer | Ringmaster | Riot | Ronan the Accuser | Roxxon | Sabretooth | Sandman | Säurespritze | Sauron | Savage Land Mutates | Scarecrow | Scarlet Witch | Scorcher | Scorpion | Screaming Mimi | Sebastian Shaw | Secret Empire | Selene Gallio | Sentinels | Sentry 459 | Serpent Society | Shriek | Shocker | Shockwave | Sidewinder | Silver Sable | Sin | Sinister Six | Skaar | Skeleton Crew | Skrulls | Skurge | Slug | Space Phantom | Spider-Man Revenge Squad | Spider-Slayers | Spot | Squadron Sinister | Stranger | Street | Sunstroke | Superia | Super-Adaptoid | Super-Apes | Super Patriot | Super-Skrull | Supreme Intelligence | Superia | Surtur | Swarm | Swordsman | Symbiotes | Tarantula | Taskmaster | Technovore | Temugin | Ten Rings | Terminus | Thanos | Thorr Odinson | Thunderball | Thunderbolts | Thunderbolt Ross | Thundersword | Tiger Shark | Tinkerer | Titania | Titanium Man | Toad | Tombstone | Trapster | Trick Shot | Terrax the Tamer | Typhoid Mary | Tyrannus | U-Foes | Ulik | Ultimus | Ultron | Unicorn | Universal Church of Truth | Vapor | Vector | Venom | Vermin | Vulture | Walrus | Warlord Krang | Whiplash | Whirlwind | White Rabbit | Will-O'-The-Wisp | Winter Soldier | Wizard | Wonder Man | Wrecker | Worthy | X-Ray | Yellow Claw | Ymir | Yon-Rogg | Zahnmörder | Zodiac | Zombie Giant-Man | Zombie Sentry | Zzzax
Movies
Ultimate Avengers 1 & 2: Herr Kleiser | Chitauri
Next Avengers: Heroes of Tomorrow: Ultron
The Avengers: Loki Laufeyson | Chitauri (The Other & Leviathans) | HYDRA (Gideon Malick & Jasper Sitwell) | Georgi Luchkov | Thanos
Avengers: Age of Ultron: Ultron | Ultron Sentinels | HYDRA (Wolfgang von Strucker, List, Scarlet Witch & Quicksilver) | Ulysses Klaue | Madame B | Chitauri (Leviathans) | Thanos
Avengers: Infinity War: Black Order (Thanos, Ebony Maw, Proxima Midnight, Corvus Glaive, Cull Obsidian, Nebula, Outriders, Chitauri & Leviathans) | Red Skull | The Collector | Loki Laufeyson | Winter Soldier | M'Baku | Scarlet Witch | Thunderbolt Ross
Avengers: Endgame: Black Order (Thanos, Ebony Maw, Proxima Midnight, Corvus Glaive, Cull Obsidian, Nebula, Outriders, Sakaaran Mercenaries, Chitauri, Leviathans & Chitauri Gorillas) | HYDRA/STRIKE (Red Skull, Alexander Pierce, Crossbones, Jasper Sitwell & Jack Rollins) | Loki Laufeyson (Variant L1130) | Winter Soldier | M'Baku | Scarlet Witch | Kraglin Obfonteri | Dark Elves | Thunderbolt Ross | Akihiko
Television
The Avengers: United They Stand
Ultron | Kang the Conqueror | Swordsman | Ringmaster | Masters of Evil (Baron Zemo, Absorbing Man, Boomerang, Moonstone, Tiger Shark & Whirlwind) | Attuma | Zodiac (Taurus & Scorpio) | Egghead | Scarlet Witch | Grim Reaper | Quicksilver | Namor | Doctor Doom | Baron Strucker | HYDRA | A.I.M. | Black Knight | The Collector
The Super Hero Squad Show
Doctor Doom | Mole Man | Fin Fang Foom | Abomination | Wrecker | Thunderball | Piledriver | Bulldozer | M.O.D.O.K | Klaw | Toad | Melter | Dormammu | Sabretooth | Juggernaut | Pyro | Whirlwind | Zzzax | Enchantress | Baron Mordo | Punisher | Egghead | Ringmaster | Skrulls (Super-Skrull) | Trapster | Mystique | Impossible Man | The Leader | Mad Thinker | Skurge | Crimson Dynamo | Batroc the Leaper | Loki Laufeyson | Magneto | Quicksilver | Scarlet Witch | HYDRA (Red Skull , Arnim Zola & Baron Wolfgang von Strucker) | Galactus | Terrax the Tamer | Firelord | Stardust | Thanos | Kree | Ego the Living Planet | Grandmaster | Annihilus | Nebula | Ronan the Accuser | Nightmare | Ultron | Dark Surfer | Sentinels | Dracula | High Evolutionary | Screaming Mimi

Avengers: Earth's Mightiest Heroes
HYDRA (Red Skull, Baron Von Strucker, Grim Reaper, Arnim Zola, Doughboy & Madame Viper) | Masters of Evil (Baron Zemo, Enchantress, Skurge, Chemistro, Abomination, Crimson Dynamo & Grey Gargoyle) | A.I.M. (M.O.D.O.K) | Kree Empire (Supreme Intelligence, Colonel Yon-Rogg & Ronan the Accuser) | Absorbing Man | Klaw | Ultron | Wrecker | Thunderball | Piledriver | Bulldozer | Red Hulk | Frost Giants (Loki Laufeyson & Ymir) | Technovore | Bi-Beast | The Leader | Whirlwind | Kang the Conqueror | Man-Ape | Malice | Mad Thinker | Mandrill | Graviton | Fenris Wolf | Lucia Von Bardas | Zzzax | Blizzard | Constrictor | Griffin | Living Laser | Whiplash | King Cobra | Magneto | Wendigo | Skrulls (Super-Skrull) | Ulik | Malekith the Accursed | Hela | Doctor Doom | Surtur | Glenn Talbot | Winter Soldier | J. Jonah Jameson | Destroyer | Annihilus | Purple Man | Galactus | Firelord | Stardust | Terrax the Tamer | Red Ghost | Super-Apes | Mandarin | Bushmaster | U-Foes (Vector, Vapor, X-Ray & Ironclad) | Crossfire | Serpent Society | Rattler | Death Adder | Anaconda | Air-Walker

Avengers Assemble
HYDRA/A.I.M. (Red Skull, M.O.D.O.K, Blood Brothers, Grim Reaper, Crossbones & Baron Wolfgang von Strucker) | J. Jonah Jameson | Doctor Doom | Ulik | Impossible Man | Dracula | Attuma | Hyperion | Wrecker | Thunderball | Piledriver | Bulldozer | Destroyer | Loki Laufeyson | Chitauri | Justin Hammer | Mojo | Galactus | Ringmaster | Black Order (Thanos) | Hela | Winter Soldier | Nighthawk | Zarda | Crimson Dynamo | Radioactive Man | Zzzax | Dormammu | Ultron | U-Foes (Vector, Vapor, X-Ray & Ironclad) | Roxxon Energy Corporation | Absorbing Man | Titania | Whirlwind | Fin Fang Foom | Maximus | Medusa | Masters of Evil/Thunderbolts (Baron Zemo, Beetle, Screaming Mimi, Moonstone, Fixer & Goliath) | Klaw | Ghost | A.I.M. (Kang the Conqueror, Whiplash & Spymaster) | Abomination | Kree Empire | Egghead | The Leader | Crimson Widow | Arnim Zola | Enchantress | Skurge | Typhoid Mary | Ares | Taskmaster | Doughboy | Ulik | Beyonder | Baron Mordo | Symbiotes | Morgan le Fey | Tiger Shark | Erik Killmonger | Princess Zanda | Man-Ape | Madame Masque | Kraven the Hunter | Vulture | Orka

Marvel Disk Wars: The Avengers
Loki Laufeyson | A.I.M. (M.O.D.O.K.) | Abomination | Baron Zemo | HYDRA (Red Skull, Crossbones) | King Cobra | Whirlwind | Tiger Shark | Whiplash | Diamondback | Crimson Dynamo | Dormammu | Sabretooth | Diablo | Graviton | Juggernaut | Lizard | Absorbing Man | Wrecking Crew (Bulldozer, Piledriver, Thunderball, Wrecker) | Silver Samurai | Green Goblin (Norman Osborn) | Venom | Ultron | Cottonmouth | Doctor Octopus | Mandarin | Ronan | Fin Fang Foom | Baron Blood | Vampires | Bi-Beast | Obadiah Stane | Predator X | Mystique | Taskmaster | Blizzard

Marvel Future Avengers
Masters of Evil (Ares, Enchantress, Leader, Winter Soldier) | Loki Laufeyson | Kang the Conqueror | Maximus | HYDRA/A.I.M. (Red Skull, M.O.D.O.K., Arnim Zola) | Green Goblin (Norman Osborn) | Super-Adaptoid | Deadpool | Morgan le Fay | Klaw | Crossbones | Blizzard | Diamondback | The Hood | Ezekiel Stane

Marvel's M.O.D.O.K.
M.O.D.O.K. | A.I.M. | Monica Rappaccini | The Anomaly | Hexus | Super-Adaptoid | Austin Van Der Sleet | Mister Sinister | Madame Masque | Whirlwind | Mandrill | The Leader | Arcade | Fin Fang Foom | The Brood | Frost Giants

What If...?
Infinity Ultron | Yellowjacket | Loki Laufeyson | The Destroyer | Brock Rumlow | Jack Rollins | Thunderbolt Ross | Whiplash | Arnim Zola | Prince Killmonger | Strange Supreme | Georges Batroc | Ego | Zombies (Scarlet Witch)
Video Games
Captain America and The Avengers: Red Skull | Crossbones | Klaw | Living Laser | Whirlwind | Sentinel | Wizard | Grim Reaper | Mandarin | Juggernaut | Ultron
Avengers in Galactic Storm: Kree (Ronan, Korath & Supreme Intelligence)
Marvel Avengers: Battle for Earth: Skrulls
Marvel Disk Wars: The Avengers - Ultimate Heroes: Red Skull | Loki Laufeyson | Baron Zemo | A.I.M. (M.O.D.O.K.) | Abomination | Graviton | Tiger Shark
LEGO Marvel's Avengers: Loki Laufeyson | Malekith the Accursed | Kurse | Various Villains
Marvel's Avengers: M.O.D.O.K. | Monica Rappaccinni | Abomination | Taskmaster | Super-Adaptoid | Lyle Getz | Maestro | Klaw | Crossbones
See Also
Avengers Academy Villains | Marvel Avengers Alliance Villains | Young Avengers Villains