She-Hulk Trailer Dropped - The Loop
Play Sound
Jafar says: Read my lips and come to grips with the reality!


This article is a stub and is in need of expansion. You can help Villains Wiki by expanding it.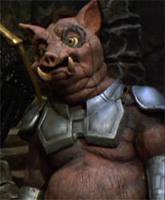 Mordant was a pig-like henchman who wears a monocle and a major antagonist in Mighty Morphin Power Rangers: The Movie. Together with Goldar, he defected from Lord Zedd to join Ivan Ooze when the latter imprisoned the former and Rita Repulsa in a snowglobe. In an original draft of the script, he was revealed to be Goldar's second cousin, three times removed, on his mother's side, visiting for the summer, but this was written out for the final draft, and many audience members were confused as to Mordant's origins. Mordant has never been seen in any Power Rangers series. He has only appeared in the movie. Mordant seemed to be one of the soft sorts of villains, just like Squatt, Baboo, and Finster. His further destiny after the movie is unknown.
Role in the series
Mordant appears in the Spyro/MMPR crossover as a minion to Zedd and Rita who reprises his role in the movie, but then briefly joins the Fang Empire after teaming up with Ivan Ooze. it's not known if he'll retain loyalty to the Fang Empire to return to the Villain League, but it's hinted that he will not dare retain loyalty to Fang, and instead return to the league and beg not to be either destroyed or imprisoned.
See also
He is maybe the Pig-like Creature version of Penguin from Batman.
He is maybe the Pig-like Creature version of

Heinrich Von Marzipan

from Codename: Kids Next Door.