Jurassic World: Dominion Dominates Fandom Wikis - The Loop
Play Sound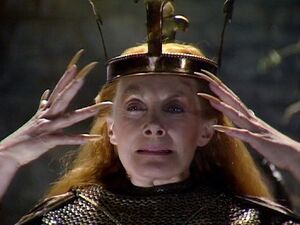 Morgaine is the main antagonist of the Doctor Who story "Battlefield".
She was portrayed by Jean Marsh, who also played Queen Bavmorda in Willow, Princess Mombi in Return to Oz and Doctor Culex in the 90s incarnation of The Tomorrow People.
Biography
Morgaine described herself as Dominator of the Thirteen Worlds, Sunkiller and Battle Queen of the S'Rax. Centuries earlier, in another dimension, she had fought against King Arthur and a future incarnation of the Doctor known as Merlin, who she had apparently sealed into ice caves for eternity. She was immortal and displayed magical abilities. Receiving a signal that apparently meant the return of Arthur, she travelled to Earth's dimension in the late 20th century with the aid of her son Mordred and their troops.
Morgaine quickly contacted the seventh Doctor telepathically, their first meeting from his point of view, and declared Earth would be their last battlefield. She blasted a UNIT helicopter out of the sky with her powers but nevertheless respected the humans' honour when coming across a war memorial, sending Mordred from her company for fighting on their land without proper respect and holding a truce with the Brigadier for the sake of a memorial ceremony. She tracked Mordred down to the Gore Crow Hotel where she killed UNIT Flight-Lieutenant Lavel by extracting information on UNIT's forces from her mind and then disintegrating her body. However, she also restored landlady Elizabeth Rowlinson's sight as payment for Mordred's drinks.
While her troops engaged UNIT, Morgaine summoned the Destroyer from another dimension to use as a threat and then confronted Ace and Shou Yuin, who had been left to guard Excalibur. When the Doctor and the Brigadier threatened Mordred to get her to stand down, Morgaine simply told him to die well. She fled with Excalibur, intending to return to her own time, but was stopped by the Doctor, the Brigadier and Ace, who recovered the sword. Morgaine seemingly returned to her own dimension with Mordred after releasing the Destroyer.
However, they quickly returned and took control of the Salamander 6-0 nuclear missile, which she planned to detonate. The Doctor confronted her one last time, convincing her of the dishonour of such a method of killing. Morgaine demanded that Arthur face her in single combat but the Doctor told her that Arthur had died in their last encounter and the body he had found had turned to dust. The fight went out of Morgaine at the news and the Doctor instructed UNIT to take her into custody.