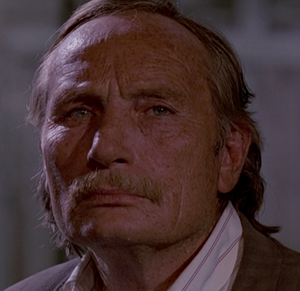 Jafar says: Read my lips and come to grips with the reality!


This article is a stub and is in need of expansion. You can help Villains Wiki by expanding it.                       

Mr. Blue is a minor character in the 1992 Quentin Tarantino film Reservoir Dogs and played by former criminal turned novelist Eddie Bunker. He later appears in the 2006 video game adaption of the same name, which depicts his escape after the failed heist and death.
He was portrayed by the late Edward Bunker in the movie, and voiced by Khary Payton in the video game.
Biography
Chronologically, Mr. Blue is seen in the warehouse during when Joe Cabot gives the "Dogs" their aliases, naming him Mr. Blue.
Later he joins the rest of the gang to have breakfast before the heist at a jewelry store.
Later in the film, it is mentioned that Mr. Blue was killed sometime after the failed heist.
Video Game
The 2006 gameadaption has Mr. Blue as a playable character in the first and final mission of the game. His two mission appearances show Mr. Blue escaping the bank that the Dogs had robbed and fighting his way through swat teams. When escaping outside Mr. Blue fights through alleyways and diverts through a theater. Surrounded by cops, Mr. Blue lights up a cigar, and is gunned down.
After filling the adrenaline meter Mr. Blue's special move is that he can stub out a hostage's eye with a cigar.
Trivia
In the movie Mr. Blue has the least dialogue or screen time. On some covers for Reservoir Dogs, Mr. Blue is sometimes absent. Even the tagline mentions 5 men, when there is in fact 6.
Community content is available under
CC-BY-SA
unless otherwise noted.