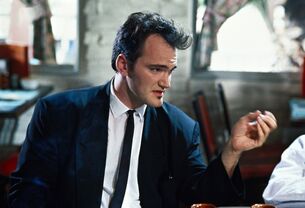 Mr. Brown is a minor character in the film Reservoir Dogs (1992), portrayed by Quentin Tarantino (who also directed the film).
Biography
Mr. Brown is one of the six men hired by mob boss Joe Cabot for a diamond heist (the other men are Mr. Blonde, Mr. White, Mr. Pink, Mr. Orange, and Mr. Blue). Mr. Brown is first seen at the beginning of the film sitting with his five accomplices, Cabot, and Cabot's son Eddie at a diner, where the men have various casual conversations before executing the heist, including Mr. Brown stating that Madonna's song "Like a Virgin" is a metaphor for "big dicks.".
Later in the film it is revealed that Mr. Brown got shot in the head by a police officer, which blinds him but does not immediately kill him. Mr. Brown, Mr. White, and Mr. Orange get into a car to escape the area, but they crash because Mr. Brown was driving and unable to see. A police car arrives at the scene, and as Mr. White shoots at the police officers Mr. Orange notices that Mr. Brown dies from his injuries.
Gallery
Community content is available under
CC-BY-SA
unless otherwise noted.