She-Hulk Trailer Dropped - The Loop
Play Sound



Click To Help DIO!

DIO has declared that this article has stopped in time, and any and all information on it may be outdated.
Help improve this article by checking and updating it's info wherever necessary
And now time resumes!

✓
This article's content is marked as Mature
The page Mature contains mature content that may include coarse language, sexual references, and/or graphic violent images which may be disturbing to some. Mature pages are recommended for those who are 18 years of age and older.


If you are 18 years or older or are comfortable with graphic material, you are free to view this page. Otherwise, you should close this page and view another page.
Dr. Victor Fries, also known as Mr. Freeze, is a major antagonist in Telltale Games' Batman: The Enemy Within. A former cryogenicist at GothCorp, Victor Fries turns into a criminal so he can research a cure for his terminally ill wife Nora, who has been diagnosed with MacGregor's Syndrome. He is Telltale Games' adaptation of the DC supervillain of the same name.
He was voiced by Matthew Mercer.
Biography
Episode Two: The Pact
Moments after the death of their ally, the Riddler, Mr. Freeze and his allies strike a coordinated attack on Gotham City. Mr. Freeze attacks GothCorp where he steals technology, freezing everything in his path and killing several people.
Voting on Bruce Wayne
When Bruce Wayne is brought into the Pact's headquarters to either become part of them or to be killed, John Doe activates an EMP device they stole from Wayne Enterprises. The EMP blasts disturbs Mr. Freeze in another room and he runs into the main hall screaming. When Bruce claims that he can make it stop, Mr. Freeze threatens to send both him and Doe to a "frozen hell" if the electricity does not get back on immediately. Once Bruce has deactivated the device, Mr. Freeze leaves the room again - claiming that he must check on Nora.
Harley later explains to Bruce that Mr. Freeze's condition stems from a lab accident and that all he cares about is his wife Nora, for whom he gave up everything in order to save her. Harley reveals that he froze Nora and stores her in the room nearby, while Mr. Freeze is searching for a cure for her condition. Harley tells Bruce that talking about Mr. Freeze's wife is the only thing to get Freeze's attention.
When Bruce approaches Mr. Freeze if he chooses to speak to him first and mentions Nora's name, Mr. Freeze immediately attacks him. Bruce will either block the hit and claim that he might have a way to help causing Mr. Freeze to pause or will be grabbed by the throat but will still offer help for Nora causing Victor to release him. Bruce reminds him that Nora will be lost if he gets arrested by the authorities and tells him that he owns technology companies that might provide a way to save Nora. After thinking about it, Mr. Freeze thanks Bruce but also tells him to get on Bane's good side to advance in the Pact (if Bruce hasn't talked to Bane yet), but if Bruce doesn't convince Mr. Freeze successfully, the latter will distrust him.
After Bruce has talked to both Mr. Freeze and Bane, Harley comes down from her office and tells the Pact that the "package" is on the way. The henchmen prepare to leave and Bruce wants to join them but Harley reminds him that he is not in the pact until the leaders have voted. After both Bane and Mr. Freeze agree that Bruce should join the pact if he successfully convinced them, John Doe and Harley agree as well, and even if Bane and Mr. Freeze weren't successfully convinced, Bruce still becomes a member regardless. Harley allows Bruce to come with them and together, the pact sets out to get the package.
Obtaining the "Package"
The Pact drives off in the armored vans procured by Bane. Bane drives the van Bruce is in as well, and when they reach their destination, Bane tells Bruce to prepare the EMP.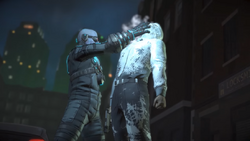 Eventually, Bane orders Bruce to activate the EMP, which fries the electricity on the entire block. The EMP fries the weapons and the equipment of the Agents that were sent in by Waller, allowing Bane, Mr. Freeze, Bruce and the Pact to walk right past them. When they arrive at the van carrying the "package", Bane orders Mr. Freeze to open it. Mr. Freeze touches the door of the van, causing it to freeze over in an instant. Mr. Freeze then orders Bruce to strike it, which Bruce does. Special Agent Roger Harrison jumps out of the van and Mr. Freeze moves forward to touch, freeze and kill him. However, Bruce stops him from doing so. Angry, Mr. Freeze walks off, claiming that this isn't over. While Bane advises Bruce not to turn his back on Mr. Freeze from now on, the latter walks up to one of the agents they passed before, slams his hand into the man's face and freezes him solid until he shatters, killing him.
Although the agents soon start fighting back, the pact successfully obtains the package and return to their headquarters. If Bane was left behind, Mr. Freeze is concerned that Bane might be out for vengeance on them for leaving him behind - should he survive the night.
Episode Three: Fractured Mask
?
Episode Four: What Ails You
?
Gallery
Villains

Villains
Video Games
Toy Mafia (Hugh Bliss) | Brady Culture | Soda Poppers | Jurgen | Strong Bad | The King of Town | Sultry Buttons | Uzi Bazooka | Craig | Trogdor | Queen Bee | Bumblebees | Pudgie-Woo and Tinkie-Wee | Monty Muzzle | The Narrator | General Skun-ka'pe | Anton Papierwaite | Sammun-Mak | "Junior" Max | Charlie Ho-Tep | Billy Yoder | Dr. Laura Sorkin | Miles Chadwick | Walkers | Stranger | Save-Lots Bandits | St. John Family (Andrew, Dan & Brenda) | Jake | Linda | Jolene | Vernon | Crawford Oberson | Logan | Larry | Lilly | Kenny | Marcus Crabtree | Nate | Russell | Roman | Bigby Wolf | Crooked Man | Bloody Mary | Jersey Devil | Georgie Porgie | Vivian | Bluebeard | Ichabod Crane | Grendel | Jack Horner | Woodsman | The Tweedles | Geppetto | Carver's Group (William Carver, Troy & Johnny) | Arvo | Buricko | Vitali | Natasha | Winston | Victor | Ralph | Michelle | Kenny | Jane | Mike | Rhys | Fiona | Handsome Jack AI | August | Hugo P. Vasquez | Vallory | Bossanova | Rudiger | Asher Forrester | Andros | Britt Warrick | Damien | Dezhor zo Raza | Gared Tuttle | Gryff Whitehill | Harys | Ludd Whitehill | Rickard Morgryn | Tazal | Hostile Mobs (Wither Storm) | The Ocelots | Ivor | Soren the Architect | Aiden | Maya | Gill | White Pumpkin | PAMA | Hadrian | Mevia | Em | Norma | Randall | Monroe Colonists (Gabby & Jonas) | Children of Arkham (Vicki Vale, Oswald Cobblepot & Blockbuster) | Catwoman | Two-Face | Falcone Crime Family | Joe Chill | Victor Zsasz | Mr. & Mrs. Vale | Gotham Criminal Triumvirate (Carmine Falcone, Thomas Wayne & Hamilton Hill) | The New Frontier (Joan, Badger & Max) | Scavenger | Romeo | Stella | Prismarine Foes | Warden | The Pact (Riddler, Harley Quinn, Bane, Mr. Freeze, John Doe & Eli Knable) | The Agency (Amanda Waller & Roger Harrison) | Rumi Mori | Willy Deever | S.A.N.C.T.U.S. | The Delta (Lilly, Minerva, Abel, Dorian, Sullene, Gad, Michael, Gina & Armando) | Marlon | Violet
See Also
Game of Thrones Villains | Homestar Runner Villains | Jurassic Park Villains | Minecraft Villains | Telltale Batman Villains | Telltale's The Walking Dead Villains | Wallace and Gromit Villains