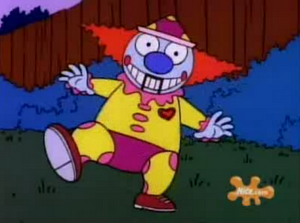 Mr. Friend
(usually called "
Mr. Fiend
" by the babies) is the name of a robotic toy made by Stu Pickles in an episode of
Rugrats
. He was designed to be the perfect playmate, but instead, it creeped out and scared the babies.
He can be found in the video-game Rugrats: Search For Reptar - however the toy has malfunctioned and instead of being a plaything it has become a kind of mini-boss that spawns multiple versions of itself while attempting to actually harm Tommy while spouting out strange songs and rhymes: Tommy uses small cans to knock the robots over and destroy them but if they touch him they cause him to take damage.