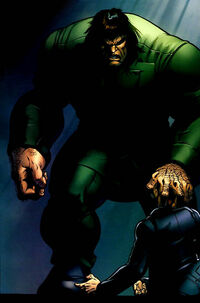 Dr. Calvin Zabo is a morally abject but brilliant medical researcher who was fascinated by the effect of hormones on human physiology. One of his favourite stories was R.L. Stevenson's 1886 classic, Dr. Jekyll and Mr. Hyde.
History
He was convinced that the experiment in the story could actually be performed and obsessed with the idea of unleashing his full bestial nature in a superhuman form. However, he needed money to do this so he robbed his various employers systematically. Though too intelligent to be caught, the medical community was suspicious of his tendency to always be employed by organizations which were subsequently robbed.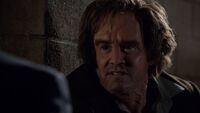 He sought work as a surgeon in a hospital where Donald Blake was a directing physician, yet Blake would not allow him a job due to his history. Zabo was enraged that Blake would not give him the position, even though he did indeed intend to rob the organization. He swore revenge on Blake. He was eventually successful in creating the Hyde Formula, and turned into a huge, Hulk-like creature he called "Mister Hyde", named after the Mr. Hyde in the book. In this new form he found he had vast superhuman strength enabling him to crush cars and tear through steel as though it were made of cardboard. With his new superhuman powers he sought out Blake, who transformed into Thor and beat him senseless. He next kidnapped Donald Blake and Jane Foster and even though he was once again defeated by Thor, he managed to escape because Foster had hidden Thor's hammer, fearing that if Hyde was captured, Blake would be killed by a time bomb Hyde had set.
At some point Hyde fathered a daughter, Daisy Johnson, who became a member of S.H.I.E.L.D.; her mother was apparently a prostitute with whom Calvin Zabo regularly had 'business'. The girl was put up for adoption after birth, subsequently manifesting superpowers due to Zabo's mutated genetic code being passed on to her.
He went into business as a full time professional super criminal and partnered himself with the Cobra to get revenge upon Thor. With the Cobra, he was employed by Loki to kidnap Jane Foster, and they battled Thor again, but were defeated even though Loki had doubled their power. Hyde and Cobra were among the many costumed menaces assembled by Doctor Doom to disrupt the wedding of Reed Richards and Susan Storm.
Hyde and the Cobra next battled Daredevil. Cobra then teamed with the original Jester and Cobra against Daredevil[6]. With the Scorpion, Hyde then battled Captain America and the Falcon. Teaming with the Cobra again, Hyde attempted to acquire Cagliostro's serum. Hyde was next employed by the Purple Man, and battled Daredevil in an arena alongside Cobra, the Jester, and the Gladiator.
Hyde and the Cobra frequently fought Thor, Spider-Man, and Daredevil, and were essentially inept criminals. Eventually, tiring of their repeated failures, the Cobra elected to sever their partnership. He escaped from Ryker's Island, taking the time to taunt Hyde before leaving. Hyde never forgave him for the slight. With Batroc, Hyde later blackmailed New York City with a hijacked supertanker. Hyde attempted to destroy the entire city in order to kill Cobra. Eventually, he was defeated by Captain America with Batroc's aid. Hyde then stalked Cobra seeking revenge, and this time battled Spider-Man. He was imprisoned again but escaped Ryker's Island, and stalked Cobra again, and battled Spider-Man and the Black Cat. Hyde later battled Daredevil again.
Masters of Evil
Hyde later became a member of the Masters of Evil IV. With the Masters of Evil, Hyde invaded Avengers Mansion. He tortured the Black Knight and Edwin Jarvis. With Goliath and the Wrecking Crew, he nearly killed Hercules, but was defeated by the Avengers. Hyde later attempted an escape from the Vault alongside Titania, Vibro, the Griffin, and Armadillo. He was defeated and recaptured by the Captain. He later eventually escaped from the Vault alongside the Wizard and others. Hyde was later defeated in combat by the Cobra.
Hyde later fought with the Grey Hulk and received head trauma that limited his ability to transform. Shortly after he had several run-ins with the Dan Ketch Ghost Rider in which he was defeated with the Penance Stare.
Hyde briefly helped the symbiote-bonded Toxin track Cobra after a prison escape by providing a piece of skin for the symbiote to track.
Zabo was being held in The Raft (the Ryker's Island Prison complex)[7] When a prison break was caused by the villain, Electro, Zabo emerged in his Hyde persona and fought with Daredevil and was knocked unconscious by Luke Cage.
At one point, Zabo was discovered by the Young Avengers to be selling a derivative of his Hyde formula on the street as one of the various illegal substances known as Mutant Growth Hormone.
Civil War
Most recently, Zabo began to graft abilities similar to the powers of Spider-Man to homeless teenagers. After Spider-Man revealed his identity during the Civil War, Zabo sought to recreate the circumstances of Spider-Man's "birth", by taking in orphans off the street, imbuing them with spider-powers, and seeing whether or not the teenagers would give in to their darker impulses. During the ensuing battle with Spider-Man, Hyde pulled webbing off his face, taking his eyelids with it, and was hit in the face with hydrochloric acid, courtesy of one of his own guinea pigs. He was left blinded and his face was ruined as a result. Dr. Curt Connors later aided Spider-Man in a cure for Calvin, one of Zabo's test subjects.
The Hood
The Hood hired him as part of his criminal organization to take advantage of the split in the superhero community caused by the Superhuman Registration Act. Later. along with Firebrand, King Cobra, and Mauler, he attacked Yellowjacket, Constrictor and other Initiative staff and trainees.
Mister Hyde worked with Boomerang, Tiger Shark, and Whirlwind to manipulate Venom into procuring Norman Osborn's fortunes. This was thwarted by Venom and Green Goblin as Norman threw a bomb into Mister Hyde's mouth causing him to spit out blood. Norman Osborn then warned Mister Hyde and the villains that if they crossed him again, he would kill everyone that they ever loved before they were tortured to death.
Thunderbolts
Hyde was recruited into the Thunderbolt's Beta Team.
Powers and Abilities
Mister Hyde posses super strength and invulnerability.

vengers Villains
Comics
Abomination | Abominatrix | Absorbing Man | Adolf Hitler | Agony | A.I.M. | Air-Walker | Alkhema | Aleksander Lukin | Alistair Smythe | Amatsu-Mikaboshi | Amora | Annihilus | Ani-Men | Answer | Apocalypse | Arcade | Ares | Arkon | Arnim Zola | Atlas | Attuma | Avalanche | Awesome Android | Badoon | Barracuda | Baron Blood | Baron Mordo | Baron Wolfgang von Strucker | Baron Zemo | Baron Zemo II | Basilisk | Batroc | Beetle | Beyonder | Black Knight | Blackout | Black Order | Black Cat | Black Talon | Black Widow | Blackie Drago | Blastaar | Blitzkrieg | Blizzard | Blob | Blood Brothers | Bombshell | Boomerang | Brothers Grimm | Brotherhood of Evil Mutants | Bullseye | Burglar | Bushmaster | Bushwacker | Cache | Carnage | Carrion | Calypso | Celestials | Centurion | Chameleon | Chance | Chemistro | Chester Goudal | Chitauri | Collector | Colonel Ross Whittaker | Commander Kraken | Constrictor | Corruptor | Count Nefaria | Cowled Commander | Crime-Master | Crimson Dynamo | Cristu Bulat | Crossbones | Crossfire | Cutthroat | Daken | Damage | Daniel Whitehall | Dark Avengers | Dark Elves | Deadpool | Deathbird | Deathurge | Death Adder | Deke Wainscroft | Demogoblin | Diablo | Doctor Doom | Doctor Faustus | Doctor Octopus | Doctor Spectrum | Dormammu | Dracula | Dreadknight | Eddie Brock | Eel | Egghead | Ego the Living Planet | Electro | Elementals | Elements of Doom | Enclave | Enforcers | Equinox | Exodus | Ezekiel Stane | Fabian Cortez | Famine | Fin Fang Foom | Finn Cooley | Firelord | Fixer | Frost | Frost Giants | Frightful Four | Galactus | Gargantus | Garthan Saal | Ghost | Goliath | Gladiator | Godzilla | Grand Director | Grandmaster | Grant Ward | Graviton | Green Goblin | Harry Osborn | Grey Goblin | Griffin | Grim Reaper | Grizzly | Growing Man | Grotesk | Hammerhead | Hand | Hazmat | Hela | Hera | Herr Kleiser | Heinz Kruger | High Evolutionary | Hitman | Hive | Horsemen of Apocalypse | Hobgoblin | Hydro-Man | HYDRA | Immortus | Ironclad | Jackal | Jack O' Lantern | Jester | Jigsaw | Johnny Ohm | Jonas Hambleton | Juggernaut | Justin Hammer | Kaine | Kang the Conqueror | Killer Shrike | King Cobra | Kingpin | Klaw | Knull | Korvac | Kraven the Hunter | Kree | Lady Deathstrike | Leader | Lightmaster | Living Brain | Living Laser | Living Monolith | Lizard | Loki Laufeyson | Lucia Von Bardas | Ma Gnucci | Machinesmith | Mad Pharaoh | Madame Masque | Madame Viper | Madcap | Madelyne Pryor | Maelstrom | Maginty | Magneto | Magus | Malekith the Accursed | Man-Ape | Mandarin | Mandrill | Man-Spider | Man-Wolf | Master Man | Master Pandemonium | Masters of Evil | Masked Marauder | Maximus the Mad | Melter | Menace | Mentallo | Mercurio the 4-D Man | Mesmero | Mephisto | Mister Fear | Mister Hyde | Mister Negative | Mister Payback | Mister Sinister | M.O.D.A.M. | M.O.D.O.K. | Mojo | Molecule Man | Mole Man | Molten Man | Moonstone | Morbius the Living Vampire | Morgan le Fay | Moses Magnum | Mystique | Mysterio | Namor | Nebula | Nekra | Nicky Cavella | Nightmare | Nightshade | Niles Van Roekel | Nicky Cavella | Norman Osborn | Obadiah Stane | Omega Red | Onslaught | Overdrive | Owl | Paladin | Phalanx | Phil Urich | Piledriver | Pluto | Presence | Princess Python | Proctor | Psycho-Man | Puppet Master | Puma | Purple Man | Quasimodo | Quicksand | Radioactive Man | Ragnarok | Ramrod | Reavers | Red Ghost | Red Skull | Reverend Samuel Smith | Rhino | Rhino II | The Rose | Ringer | Ringmaster | Riot | Ronan the Accuser | Roxxon | Sabretooth | Sandman | Säurespritze | Sauron | Savage Land Mutates | Scarecrow | Scarlet Witch | Scorcher | Scorpion | Screaming Mimi | Sebastian Shaw | Secret Empire | Selene Gallio | Sentinels | Sentry 459 | Serpent Society | Shriek | Shocker | Shockwave | Sidewinder | Silver Sable | Sin | Sinister Six | Skaar | Skeleton Crew | Skrulls | Slug | Space Phantom | Spider-Man Revenge Squad | Spider-Slayers | Spot | Squadron Sinister | Stranger | Street | Superia | Super-Adaptoid | Super-Apes | Super Patriot | Super-Skrull | Supreme Intelligence | Superia | Surtur | Swarm | Swordsman | Symbiotes | Tarantula | Taskmaster | Technovore | Temugin | Ten Rings | Terminus | Thanos | Thunderball | Thunderbolts | Thunderbolt Ross | Thundersword | Tiger Shark | Tinkerer | Titania | Titanium Man | Toad | Tombstone | Trapster | Trick Shot | Terrax the Tamer | Typhoid Mary | Tyrannus | U-Foes | Ulik | Ultimus | Ultron | Unicorn | Universal Church of Truth | Vapor | Vector | Venom | Vermin | Vulture | Walrus | Warlord Krang | Whiplash | Whirlwind | White Rabbit | Will-O'-The-Wisp | Winter Soldier | Wizard | Wonder Man | Wrecker | Worthy | X-Ray | Yellow Claw | Ymir | Yon-Rogg | Zahnmörder | Zodiac | Zzzax
Movies
The Avengers: Loki Laufeyson | Chitauri (The Other & Leviathans) | HYDRA (Gideon Malick & Jasper Sitwell) | Georgi Luchkov | Thanos
Avengers: Age of Ultron: Ultron | Ultron Sentinels | HYDRA (Wolfgang von Strucker, List, Scarlet Witch & Quicksilver) | Ulysses Klaue | Madame B | Chitauri (Leviathans) | Thanos
Avengers: Infinity War: Black Order (Thanos, Ebony Maw, Proxima Midnight, Corvus Glaive, Cull Obsidian, Nebula, Outriders, Chitauri & Leviathans) | Red Skull | The Collector | Loki Laufeyson | Winter Soldier | M'Baku | Scarlet Witch | Thunderbolt Ross
Avengers: Endgame: Black Order (Thanos, Ebony Maw, Proxima Midnight, Corvus Glaive, Cull Obsidian, Nebula, Outriders, Sakaaran Mercenaries, Chitauri, Leviathans & Chitauri Gorillas) | HYDRA/STRIKE (Red Skull, Alexander Pierce, Crossbones, Jasper Sitwell & Jack Rollins) | Loki Laufeyson | Winter Soldier | M'Baku | Scarlet Witch | Kraglin Obfonteri | Dark Elves | Thunderbolt Ross | Akihiko
Community content is available under
CC-BY-SA
unless otherwise noted.