Jurassic World: Dominion Dominates Fandom Wikis - The Loop
Play Sound
| | | |
| --- | --- | --- |
| " | Hello, I like money! | " |
| | ~ Mr. Krabs' most famous quote from The Spongebob SquarePants Movie. | |
| | | |
| --- | --- | --- |
| " | You're fired! | " |
| | ~ Mr. Krabs' famous catchphrase. | |
Eugene Harold Krabs (b. November 30, 1942), mostly known as Mr. Krabs, is a major character in Nickelodeon's SpongeBob SquarePants franchise. He is the money-obsessed founder of the Krusty Krab and just like Spongebob, he is business rivals with Plankton.
Although he is one of the series protagonists, Mr. Krabs is frequently known for having a villainous side throughout the series' run, and can even be seen as the main antagonist in several episodes. He has been shown mistreating his employees as slaves and using them for personal and financial gain, serving no consideration for almost anyone (including his own daughter) unless money is involved, and is even shown to show absolutely no respect for Plankton even at his most harmless, even if it means driving him to suicide for his own amusement. Those continuous traits overtime serve him as an antagonistic or yet, an outright villainous character on multiple occasions. In fairness, however, his cheapness is all to blame for which as he deep down does care about SpongeBob, and his daughter Pearl at heart.
In the films, he is a major character in The SpongeBob SquarePants Movie, the central antagonist-turned-anti-hero in The SpongeBob Movie: Sponge out of Water, and the tritagonist in The SpongeBob Movie: Sponge on the Run.
He is voiced by Clancy Brown, who also played Byron Hadley in The Shawshank Redemption, Viking Lofgren in Bad Boys, the Kurgan in the Highlander film franchise, Lex Luthor in the DCAU and other DC animated works, Mr Freeze in The Batman, Uka Uka and Dr. Neo Cortex in the Crash Bandicoot franchise, Hades in God of War III, Trident, Undertow, and Parallax in Green Lantern, Baron Praxis in Jak II, Taskmaster in Ultimate Spider-Man, Rahzar in the 2012 Teenage Mutant Ninja Turtles series, Gunmar in Tales of Arcadia, Ray Schoonover in Marvel's Daredevil, and Surtur in Thor: Ragnarok. While in a few video games, he is voiced by Joe Whyte and Bob Joles. In SpongeBob SquarePants: Typing, he is voiced by Patrick Pinney. In the Broadway musical adaptation, he was portrayed by Brian Ray Norris.
Villainous Side
Since the beginning of the series, Mr. Krabs' overall characterization has become more and more negative. Sometimes, he becomes the villain in some episodes of the show, with Mr. Krabs being just as bad as, if not worse than, Plankton himself.
Although he has moral standards and being a reasonable father figure for SpongeBob at best despite his greedy and recurring antagonistic behavior, the Post-First-Movie Seasons utterly removed it all in favor of more out of character moments where he's much more villainous. Subsequently, this turned him into a full-blown Protagonist Villain who proved time and time again more detestable than Plankton in his worst episodes.
Even prior to controversial Post-First-Movie Seasons, Mr. Krabs does have fair records of villainous and antagonistic acts, notably his recurring tendency to exploit his employees and even exhibits unnecessary sadism towards Plankton upon the latter's defeat. Krab's most prominent antagonistic role, as well as only instance where he truly came close to, if not outright crossing Moral Event Horizon without the franchise's degradation, is Jellyfish Hunter (where he abuses captured jellyfish in favor of producing as much jellyfish jelly as he can and nearly eradicate them all had the blue jellyfish save the day by exposing his crime on SpongeBob). He was also willing to harm SpongeBob for attempting to foil his scheme.
Other examples include trying to kill Squidward so that he could make money from his art, trying to con Patrick out of his coupon, and several other crimes. As with most characters, however, his morality depends on who is in-charge of writing the episode. One should also note that while it doesn't excuse his actions, he did try to convince Squidward to leave, so he wouldn't have to resort to murdering him.
A hideous and demonic version of Mr. Krabs that appeared for one second in the episode "Jellyfish Hunter", and now is seen frequently in videos on the internet is called Moar Krabs.
Personality
Mainstream
As stated above, Mr. Krabs is extremely greedy, cheap, avaricious, callous, arrogant, and sometimes he is even a hypocrite and quite cruel, often being portrayed as bad if not even worse than Plankton. His only interest is to have money, and he could not care less for his customers, employees, family or even himself as he is shown to risk his life several times if it means making more money.
He frequently associates his customers and products with money, with lines such as "That's me money walking out the door!" It should be noted that, while Mr. Krabs portrayal shows him as being obsessed with money to the point of anthropomorphizing it from the beginning, he became more miserly, cheap, and immoral as the series progressed. His money hunger may stem from his childhood poverty. When SpongeBob uses the term, obsession, to describe his relationship with money during "Plankton's Good Eye", he denies it and claims it to be a strong word.
He is prone to fits of insanity if he has to give up as much as a penny. He often goes to irrationally great lengths to acquire or to avoid losing money with little (if any) regard to the safety or well-being of others or even himself (in "Squid's Day Off", he loses both arms and suffers a severe head injury while attempting to pull a dime out of the sink). In "Krab Borg" (and shown earlier in "Squeaky Boots") reveals that Mr. Krabs always remembers the price for everything he has bought which proves his greed has a strong memory. In "Born Again Krabs", he sells SpongeBob's soul to the Flying Dutchman for 62 cents, despite the fact that SpongeBob put his life on the line to protect him from the Dutchman. Even Squidward was angry and told Mr. Krabs off (even though he hates SpongeBob).
In the same episode, he forces SpongeBob to sell a disgustingly old and contaminated patty that he found under the grill, refusing to let anything that he could potentially make money with go to waste. Ironically, this results in the Krusty Krab losing weeks of business. Twice, he has been shown to have little respect for the dead, most notably in "One Krabs Trash", where he defiles a grave to obtain a presumably rare drink hat to obtain one million dollars.
He also doesn't care for children. In "Krabby Land" after lying to the kids about Krabby the Clown he said to Spongebob "I don't care about the children, I just care about their parent's money". In another episode when asked if he would donate to the Children's Fund he asked "Why? What have children ever done for me?".
Additionally, he is somewhat disrespectful of royalty. In "Rule of Dumb", when Patrick is believed to be the king of Bikini Bottom, Krabs allows him to eat at the Krusty Krab in the hopes of getting tons of money. Krabs promptly kicked Patrick out (literally) when he discovered that he never intended to pay at all, shouting, "No one eats at my restaurant for free, king or no king!". In "The Clash of Triton", when he failed to take Krabby Patties away from King Neptune when ordered to do so, he was promptly electrocuted when he asked who was to pay for them all while also showing little respect towards the king's mourning his son. Also in The SpongeBob SquarePants Movie, he raises the price of a Krabby Patty to $101 when he finds out King Neptune is coming to the restaurant. He has also risen the price of food in "Truth or Square" in which it was the 117th anniversary of the KK and he added an extra zero on the end of every price on the menu in hopes of getting more money. This shows that he is willing to inflate the prizes if it means making more money for himself even if it means exploiting people of royal status.
There have been at least two occasions where SpongeBob has burst into the Krusty Krab to warn him about the oncoming disaster, only for him to think of it as an opportunity to try to sell them Krabby Patties. The first time was to an oncoming biker gang. The second was when he tried selling Krabby patties to giant whelks when SpongeBob described them as ravenously eating everything in their paths, he continued to try to push his products, despite them obviously being vicious wild monsters and he was promptly eaten. His treatment of his employees is just as bad as well as highly inconsistent throughout the series, SpongeBob and Squidward's wages are always stated to be extremely low, far below minimum legal wage.
In "Mutiny on the Krusty", he'll go great lengths to get money.
In "Bummer Vacation", SpongeBob comments that a nickel is "more than (he makes) in a year".
In "Big Pink Loser", he implies that instead of being paid, he actually has to pay his boss. He is also shown to abuse his employees, most notably in "Fear of a Krabby Patty", in which he literally forces them to work nonstop 24 hours a day, seven days a week without rest for more than forty days. He did, however, relent when he saw how tired Squidward was.
In "Squid on Strike", Mr. Krabs gives SpongeBob and Squidward bills instead of checks on payday, that charge them for any nonwork-related activity, including standing, breathing, and even existing, and SpongeBob even reveals in "One Coarse Meal" that Mr. Krabs actually pays him in play money. His safety measures and maintenance of the restaurant are extremely poor; if existent, frequently resorting to improvised and obviously inadequate measures to avoid paying for actual insurance and repairs.
In "Pickles", he took money out of SpongeBob's paycheck for one small mistake. In multiple episodes, Mr. Krabs takes advantage of the situation in order to make money, only to have it backfire later on. For example, in "The Krusty Sponge", after a food critic gives the Krusty Krab a good review because of SpongeBob, he completely changes the Krusty Krab to center all around SpongeBob, with SpongeBob condiments, SpongeBob train rides, SpongeBob napkins, SpongeBob ice cubes, and even "Spongy Patties" (really old, rotten Krabby Patties). The "Spongy Patties" give all of the customers food poisoning, and one of the customers, who happens to be a cop, arrests Krabs.
The next episode "Money Talks" reveals that Krabs has sold his soul multiple times to various evil spirits and demons, including to the Flying Dutchman and even SpongeBob because "He was five bucks short on payday" (ironically, this actually saved his soul since no single specter could fully claim it), this episode also shows that his attachment to money and refusal to spend a single penny is so much that his own money demands him to spend them themselves. In "Drive Thru", he turned a hole in the wall into a drive-thru. SpongeBob bought several things (including a menu, a microphone, and a light up arrow). However, Krabs turned it down (because it wasn't "free") as he already made a menu made of napkins, a microphone made of tin cans on a string, and a very small fish-shaped sign, despite the fact that SpongeBob already paid for them, thus meaning that Mr. Krabs does not have to spend money on any of those things. Because of the increase in customers, he keeps knocking more holes in the walls of his restaurant until it eventually collapses.
Mr. Krabs can also be incredibly petty. In "Plankton's Regular", where the Chum Bucket gets a regular customer, Mr. Krabs breaks down crying, saying that he can't let Plankton have even one solitary customer, even though Plankton said beforehand that he wouldn't try to steal the Krabby Patty formula anymore, because he "just can't afford it". At the end of the episode, Mr. Krabs finds out that Plankton's wife Karen bribed the guy to eat at the Chum Bucket. Because of this, Plankton feels miserable again and realizes that he actually never had a regular customer.
While Mr. Krabs and SpongeBob are caught in Plankton's trap, SpongeBob tells Mr. Krabs they can make their escape, but Mr. Krabs decides to stay and laugh at Plankton's misery. Another example is in "Penny Foolish", where he goes to ridiculous lengths to acquire a penny that SpongeBob found, setting up numerous tricks that would ironically cost far more than a penny and even breaks into his house in order to take it. In "Born Again Krabs", he attacks an innocent bystander who found a penny on the floor and nearly tore the man's arm off to get the penny. During his schemes, he often forces SpongeBob to help him by threatening to fire him.
In "InSPONGEiac", Mr. Krabs is defamatory, opprobrious, harsh, cold and vituperative, as he scolds SpongeBob for using 1% more mustard than he was supposed to, and calls him an insomniac for getting two minutes less sleep than normal. Mr. Krabs has also shown that he believes that he has full control over SpongeBob's personal life: in "Karate Choppers", he forces SpongeBob to give up karate altogether, including outside work, or else he would be fired. In "My Pretty Seahorse", where Mr. Krabs tells SpongeBob to not just stop bringing Mystery to work, but to get rid of her entirely, and once forced his employees to work nonstop and told them that they could never go home (which is actually illegal).
Despite his covetous and acquisitive behaviour, Mr. Krabs is also shown to be highly compassionate and tolerant. He has apologized for his actions on occasion, and he does care for his daughter Pearl, going to great lengths to acquire food for her in "Growth Spout". Despite his abusive treatment of SpongeBob and Squidward, he does care for and appreciate them (Mr Krabs exact quote: "I don't value you!" - Chum Fricassee) , as the two help keep his restaurant afloat. In "Krusty Love". Krabs finds his second love (after money): Mrs. Puff. However, their relationship has not been explored at all after this episode. Also in Best Day Ever, when SpongeBob is sad, he actually uses his money to try to cheer him up. This is because, despite often taking advantage of Spongebob's true nature, he loves him like a son.
Additionally, in "Born Again Krabs", he struck a deal with the Flying Dutchman for a second chance at life because he is a charitable and generous man, something that he did very well until he discovered he had no money in the cash register. As shown in "Hooky" (free water for Pearl and her friends), "Whale of a Birthday" (cardboard cake, dishwater for party drink, stale popcorn, an "It's a Girl" (with the word Boy crossed out) banner, and Boys Who Cry (really Squidward)), and "The Slumber Party" (crackers and tap water, and "how about some pizza, just put sauce on crackers"), he loves money more than his own daughter. In addition, as seen in "Little Yellow Book", even Krabs was upset at Squidward for reading SpongeBob's diary telling Squidward, "That's low, Squidward, even for you" as hypocritical as viewers might see this given his actions in the series. In said episode, he is also never shown laughing at SpongeBob or rallying against Squidward along with most of the residents (at least on screen).
Mr. Plankton Universe
In the episode "The Algae's Always Greener" where Plankton teleports to an alternate universe where his and Mr Krabs' roles are swapped, Krabs acts like Plankton does in the mainstream continuity, but with some differences. He prefers to steal the Krabby Patty formula by simply sneaking in and taking a sandwich rather than using ingenious plots or devices. Also, like Plankton, he is always naked, but because he was much crazier, he hates wearing clothes to the point where he surrenders when SpongeBob successfully makes him wear something. On top of this, his deranged nature makes Plankton realize how terrible Mr. Krabs' life is at times because of him. Because of this, he leaves this timeline and goes back to his own despite knowing he would never get the formula. However, due to the lack of continuity, Plankton never learned his lesson and continued his quest. That or, he ended up continuing their feud because he enjoyed tormenting his former friend.
Other media
The Endless Summer: Mr Krabs takes advantage of Global Warming and increases the temperature to get everyone to swim in the pool for more money. He makes the temperature extremely hot, causing everyone to evacuate Bikini Bottom.
Other Depictions
Internet Parody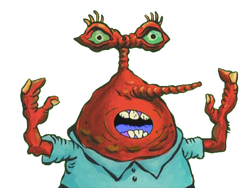 Moar Krabs is a meme character who appeared in the episode "Jellyfish Hunter", where Mr. Krabs wants SpongeBob to catch so many jellyfish.
Moar Krabs appeared in lots YouTube Poop videos and has became a meme.
Mr. Plankton Universe
Main article: Alternate Reality Mr. Krabs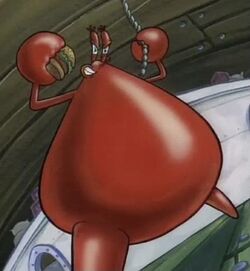 | | | |
| --- | --- | --- |
| " | Enjoy your victory screech, Plankton, because someday the Krabby Patty formula will be mine! | " |
| | ~ Krabs | |
In the episode "The Algae is Always Greener", an alternate version of Mr. Krabs serves as the main antagonist.
Role in the episode
In the episode, after Plankton unsuccessfully attempts to steal the Krabby Patty formula yet again, he becomes frustrated by all of Mr. Krabs' success and wishes to switch lives with him just to know what it's like to be him. Then Karen suggests using a device he had recently built to do just that. Activating the device, Plankton suddenly finds himself in the boss' room of the Krusty Krab wearing his rival's attire, showing the switch was a success, much to his happiness.
However, he would come to regret this decision due to having to deal with SpongeBob's idiocy or the dissatisfaction of the customers. But the thing that truly drove him over the edge was the realization that by switching lives with Mr. Krabs, he had taken over Plankton's job of stealing the Krabby Patty formula, which he had attempted to do so once again. Krabs attempted to escape with a sandwich, but SpongeBob managed to thwart him shooting clothes at him, eventually succeeding with a bra. He gives back the formula but vows to return every single day until he succeeds. Ultimately, Plankton couldn't take it anymore and presses a button to return him to his own reality.
Robot Chicken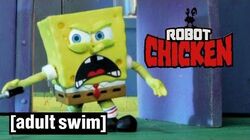 In an episode of the series Robot Chicken, SpongeBob finds out that Mr. Krabs has been feeding his customers Krabby patties that are made from crab meat and a variety of other sea creatures (such as tuna and squid). Mr. Krabs attempts to justify his actions by claiming to be the last honest person in Bikini Bottom, stating this is how nature wanted it. He is ultimately defeated when the customers, along with Squidward and Patrick, beat him to death.
Pamtri's Videos
Mr. Krabs is one of the main characters of the Pamtri's Mythos. He runs the Ugli Krab (an obvious parody of his restaurant) and tries everything to get rid of Plankton while keeping his sociopathic employees in check. Like in the cartoon, he abuses SpongeBob and Squidward, and sometimes cooks them, usually after being murdered by Santiago.
Mr. Krabs Overdoses on Ketamine
In November of 2020, a video-game developer known as ThrillDaWill, created a video-game called "Mr. Krabs Overdoses on Ketamine", which is a parody of the already famous Grand Theft Auto video-game series. The developer ended up uploading a trailer for the video-game, receiving over 3 millions views. In the game, Mr. Krabs does tasks. The tasks include: getting Ketamine for SpongeBob, killing innocent citizens of Bikini Bottom for Patrick, selling Squidward's Ketamine to Sandy, and killing a giant robot version of Plankton via a coin toss. Once all the tasks are done, the player can continue playing the game, without any tasks.
The internet ended up making videos in which they are speed-running the game. Most notably the YouTuber Penguinz0, which made multiple videos speed-running the game. Other YouTubers like MattShea, 8-Bit Ryan and Kubz Scouts also made videos playing the-game.
Quotes
| | | |
| --- | --- | --- |
| " | (Squidward: I'm not taking an order for a bubble!) Sure you are! Or I'll fill your life with misery and woe. Even if you quit. | " |
| | ~ Mr. Krabs' threat to make Squidward serve Bubble Buddy. | |
| | | |
| --- | --- | --- |
| " | Krusty Krab is unfair! Mr. Krabs is in there standing at the concession, plotting his oppression! | " |
| | ~ SpongeBob rioting against Mr. Krabs. | |
| | | |
| --- | --- | --- |
| " | (Customer: Hey man, ease back. You're crushing my arm.) Unhand that penny or the arm comes off! | " |
| | ~ Mr. Krabs threatening to rip off a customer's arm for a penny on the ground. | |
| | | |
| --- | --- | --- |
| " | (SpongeBob: But Mr. Krabs, what about the true meaning of summer? What about the children?) The children? I don't care about the children, I just care about their parents' money. Ah, the fact that their feeble minds are easily distracted by cheap playgrounds and talentless clowns is no skin off my nose! Survival of the fittest, SpongeBob. Survival of the fittest. Heh heh. | " |
| | ~ Mr. Krabs talking about deceiving the children. | |
| | | |
| --- | --- | --- |
| " | What do I do?! I can't let Plankton have so much as one single customer! | " |
| | ~ Mr. Krabs' motive. | |
| | | |
| --- | --- | --- |
| " | Where is my formula Plankton? (Plankton: I don't know, it just disappeared.) WHY SHOULD I BELIEVE YOU, YOU LYING LIAR?!'' | " |
| | ~ Mr. Krabs enraged overseeing that his formula is missing. | |
| | | |
| --- | --- | --- |
| " | Enough with the niceties, Plankton! This is the last time I'm gonna ask ya: WHERE IS ME FORMULAR?! (Plankton: I told you, Krabs, I don't have it!) Wrong answer! [Nearly steps on Plankton] | " |
| | ~ Mr. Krabs accusing Plankton of stealing the Krabby Patty formula, before nearly killing him. | |
| | | |
| --- | --- | --- |
| " | (Customer: They're in cahoots!) Yeah I guess that's a short way of saying it. STOP THAT BUBBLE! | " |
| | ~ Mr. Krabs ordering the customers to pop the bubble containing SpongeBob and Plankton. | |
| | | |
| --- | --- | --- |
| " | Jackpot! Money money money money! Come to papa! Oh boy. | " |
| | ~ Mr. Krabs about to be injured by a huge wave of coins. | |
| | | |
| --- | --- | --- |
| " | That's it, boys! Keep that gelatinous gold mine flowing! | " |
| | ~ Mr. Krabs killing and injuring jellyfish in the jellyfish factory to make jelly. | |
| | | |
| --- | --- | --- |
| " | Am I really going to defile this grave for money? Of course I am! | " |
| | ~ Mr. Krabs showing how far he thinks he can go. | |
| | | |
| --- | --- | --- |
| " | Who... touched..... ME THERMOSTAT?! | " |
| | ~ Mr. Krab after Squidward touched his thermostat. | |
| | | |
| --- | --- | --- |
| " | Nooo! You'll never get a cent out of me! Never! I'D RATHER THAT WORM COME IN HERE RIGHT NOW AND EAT YOU ALL ALIIIVE!!! | " |
| | ~ Mr. Krab after, for dramatic effect, Sandy said she would hunt down the worm for a price. | |
Trivia
Mr. Krabs is often considered more of a villain than Plankton. In fact, Plankton acts like a rather stereotypical villain like Mojo Jojo from The Powerpuff Girls and Dr. Doofensmirtz from Phineas and Ferb, and just like those villains, Plankton is actually shown to be sympathetic. Mr. Krabs, on the contrary, often behaves like a selfish sociopath who barely cares about how others feel and only cares about himself and the money he earns. Plankton is shown to have a soft spot for his computer wife Karen and pet amoeba Spot, and the only times he did anything truly heinous were in his first appearance, The SpongeBob SquarePants Movie, and the special "SpongeBob's Last Stand".

Mr. Krabs has also broken the law more than Plankton. Unlike Plankton, Krabs only three times went to prison onscreen for it.

In the episode "Jellyfish Hunter", Mr. Krabs demands more jellyfish from SpongeBob, upon which he begins to repeat the words "more", which is eventually followed by a grotesque image of Mr. Krabs with his claws raised up. The image is commonly featured and parodied in YouTube Poops and has been dubbed "Moar Krabs".

Unfortunately, he tortured or even killed almost four million jellyfish for jelly making to make more jelly Krabby Patties.

Not surprisingly, in the theory about how SpongeBob's cast represents the Seven Deadly Sins, Mr. Krabs represents the Deadly Sin of greed.
Even in his old age, he is quite tough. He was also in the navy for several years.
Mr. Krabs is so filthy rich, that his net worth is literally $5,249,351 according to a non-canon video on YouTube called "What is Mr. Krabs' Net Worth?"
At the beginning of the series, Mr. Krabs genuinely cared about SpongeBob and was even somewhat of a father figure to him (since SpongeBob's real dad lives far away from him). This fatherly behavior has waned in the later series, although it occasionally surfaces (depending on the writer of the episode).
Despite the claim of him always paying his employees below minimum wage, there are instances where Krabs paid them more proper wage such as "Skill Crane" or "Squeaky Boots". Once again, this all depends on the writer.
Unsurprisingly, many fans and ex-fans of SpongeBob alike consider Krabs to be the worst character in the entire series, as well as Patrick in post-movie episodes. It is debatable who is worse, but some can make the argument that Krabs is obviously worse because, unlike Patrick, he is more fully aware of his actions, plus he almost made Plankton commit suicide by his fear of whales and was proud of this, whereas Patrick was just aware of himself being dumb. Both ended up re-earning most of their love by the middle of season 9 although some fans have never forgave them for their horrible actions before the post-second movie era.

For this reason, Krab's negative portrayal due to the flanderization ultimately brought enough controversy that near the end of Season 9 (after the release of the second movie), this eventually revised where he eventually reverted back to their Season 1 selves, re-earning the love from fans. That said, some episodes portray him as a bit more depraved than he was during the first five seasons like the time he tried to get rid of and then kill Squidward for his art.

Despite his bottomless obsession of money, Mr. Krabs has absolutely 0% of knowledge about finance and banking as he stupidly makes absurd behavior at the bank and getting himself kicked out as well as only depositing a penny instead of huge tons of money to gain big interests due to being ignorant about how a bank works. That said, one could say that he does know, but he is unwilling to give up the slightest amount despite banks providing better protection.
See also

Villains
Animated Features
Holli Would | The Goons | Beavis and Butt-head | Dallas Grimes | Muddy Grimes | Principal McVicker | Angelica Pickles | Eric Cartman | Saddam Hussein | Sheila Broflovski | Satan | Mr. Garrison | Chef | Randy Marsh | Shelly Marsh | Gerald Broflovski | Coco LaBouche | Jean-Claude | Robosnail | King Goobot | Ooblar | Poultra | Alphonse Perrier du von Scheck | Nick Vermicelli | Big Bob Pataki | Sloan Blackburn | Bree Blackburn | Poachers | Siri | Sheldon Plankton | Karen Plankton | Mr. Krabs | Dennis | Cyclops | Victor | Boat Jacker | The Thug Tug Gang | Kim Jong-il | Film Actor's Guild (Alec Baldwin) | Vincent | Gladys Sharp | Dwayne LaFontant | Dag | Nora Beady | Coyotes | The Toad | Le Frog | Spike & Whitey | Thimblenose Ted | Fat Barry | Ladykiller | Henchfrogs | Prince Charming | Rapunzel | Pirates (Captain Hook) | Evil Queen | Cyclops | Headless Horseman | Stromboli | Steve and Ed | Mabel | Black Knights | Witches | Gnomes | Layton T. Montgomery | Ken | Grendel | Grendel's Mother | Dragon | Tai Lung | Criminals | Makunga | Teetsi | Nana | Tour Guide | Poachers | Gallaxhar | Robot Probes | Red Death | Rumpelstiltskin | Griselda | Baba | Pied Piper | Megamind | Minion | Tighten | Tortoise John | Rattlesnake Jake | Bad Bill | Hawk | Balthazar Douglas Peterson | Lord Shen | Lord Shen's Wolf Army (Boss Wolf) | Jack and Jill | Humpty Alexander Dumpty | Maybelle | Ivan Ivanovitch Sakharine | Allan | Tom | Pedro | Falcon | Aristides Silk | Red Rackham | Chantel DuBois | DuBois' Men | Max Mordon | Kopponen | Odysseus Inc. | Pitch Black | Nightmares | Burger-Beard | Jack Rackham | Moriarty | Reggie and Ronnie | Chimpanzombies | King Poseidon | El Diablo | Mayor Humdinger | Kitten Catastrophe Crew | Ruben and Butch | Tentacular | Jimothy Brett-Chadley III | Lady Mayhem
Live-Action Films
Frank | Pod People | Arthur Slugworth | Emilio Barzini | Emilio Barzini Jr. | Fabrizio | Jack Woltz | Luca Brasi | Francesco Ciccio | Carmine Cuneo | Michael Corleone | Vito Corleone | Sonny Corleone | Fredo Corleone | Connie Corleone | Vincent Corleone | Peter Clemenza | Carmine Cuneo | Don Fanucci | Paulie Gatto | Archbishop Gilday | Moe Greene | Tom Hagen | Rocco Lampone | Licio Lucchesi | Mark McCluskey | Al Neri | Frank Pentangeli | Carlo Rizzi | Hyman Roth | Virgil Sollozzo | Victor Stracci | Philip Tattaglia | Bruno Tattaglia | Salvatore Tessio | Joey Zasa | Petrox Corporation (Fred Wilson) | Orca | Captain Nolan | Leo Balmudo | Mr. Firat | Assassins (Moras) | Katahdin | Pamela Voorhees | Bluto | The Miner (Axel Palmer) | Jason Voorhees | Vermithrax Pejorative | Tyrian | Adolf Hitler | René Belloq | Major Arnold Ernst Toht | Herman Dietrich | Gobler | German Mechanic | Otto | Satipo | Barranca | Mola Ram | Chief Guard | Chattar Lal | Lao Che | Eh Tar | Mrs. Dribb | Victor Maitland | Curly Shepard | Tim Shepard | Texan Thugs | Maxwell Dent | Karla Fry | Walter Donovan | Elsa Schneider | Ernst Vogel | Panama Hat | Garth | Koji Sato | Carl Bruner | Willy Lopez | Don Altobello | Abigail Craven | Tully Alford | Benjamin Oliver | Holli Would | The Goons | Bobby Cahn | Debbie Jellinsky | Gary and Becky Granger | Amanda Buckman | Mr. Curran | Ellis DeWald | Orrin Sanderson | Steve Fulbright | Paul Barish | Beverly Barish Burns | King Edward I | Prince Edward | Robert de Brus | Craig | Mornay | Marion Hawthorne | Agatha K. Plummer | Governor Tracy | Aaron Stampler | John Shaughnessy | Archbishop Richard Rushman | Jim Phelps | Franz Krieger | Max Mitsopolis | Claire Phelps | Matthias | Sala | Sky Bandits | Xander Drax | Charlie Zephro | Skulls of Touganda | Quill | Singh Brotherhood (The Great Kabai Sengh, The Evil Kabai Sengh & Kabai Sengh) | Ray Zephro | Styles | Jack Farley | Morgan | Breen | Castor Troy | Pollux Troy | Kurt Bozwell | Troy and Griffin | Roxanne | Dr. William Weir | Cal Hockley | Spicer Lovejoy | Ruth DeWitt Bukater | Christof | Steamboat Willie | Kevin Dunne | Lady Van Tassel | Headless Horseman | Reverend Steenwyck | Sean Ambrose | Hugh Stamp | John C. McCloy | Wallis | Ulrich | Michael | Simon | Jacobim Mugatu | Henry Gates | Richard and Jay | James Rethrick | Madame Vandersexxx | Claire Wellington | Vincent | Paco | Felix Reyes-Torrena | Jed Parry | Plankton | Karen Plankton | Mr. Krabs | Dennis | Cyclops | Victor | Boat Jacker | The Thug Tug Gang | Count Olaf | Hook-Handed Man | Henchperson of Indeterminate Gender | Bald Man | White-Faced Women | Zateb Kazim | Yves Massarde | Zakara | Martians | Owen Davian | John Musgrave | Brownway | Kimbrough | Ramses | Brooks & Elwyn | Curtis Taylor, Jr. | Jean-Baptiste Grenouille | Norbit's Parents | Rasputia Latimore | Big Black Jack Latimore | Blue Latimore | Earl Latimore | Deion Hughes | Buster Perkin | Stranz Van Waldenberg | Fairchild Van Waldenberg | Katie Van Waldenberg | Robert Turner | Megatron | Decepticons (Starscream, Barricade, Frenzy, Blackout, Scorponok, Bonecrusher, Brawl, & Dispensor) | Charles Meachum | Issac Johnson | Mikhaylo Sczerbiak | Officer Timmons | Lila Cantrow | Assef | Sweeney Todd | Mrs. Lovett | Judge Turpin | Beadle Bamford | Jonas Fogg | Adolfo Pirelli | Clover | Parasites | Mulgarath | Red Cap | Goblins | Mole Troll | Lindsay Marlings | Predatory Vines | Irina Spalko | Antonin Dovchenko | George McHale | Tran | Les Grossman | ARIIA | Jake | Max | Anna Ivers | Jason Voorhees | Ozymandias (Watchmen) Romulans (Nero, Ayel) | The Fallen | Decepticons (Soundwave, Sideways, Grindor, Ravage, Alice, & Scalpel) | Constructicons/Devastator (Demolishor, Rampage, Long Haul, Mixmaster, Scrapper, & Scavenger) | Theodore Galloway | Cobra Commander | COBRA/M.A.R.S. Industries (Destro, Storm Shadow, Baroness, Zartan, Dr. Mindbender & Cobra Troopers) | George Harvey | Fire Nation (General Zhao, Ozai & Zuko) | Therman Murch | Darla | Sentinel Prime | Decepticons (Dylan Gould, Laserbeak, Shockwave, Driller, Igor, Watch-Out, Crankcase, Crowbar & Devcon) | Kurt Hendricks | Marius Wistrom | Sabine Moreau | Brij Nath | Bogdan Anasenko | The Zec | Charlie | Emerson | Muriel | Firefly | Zandar | Jordan Belfort | Donnie Azoff | Gordon Gekko | Colonel Nelec | Cooper | Khan Noonien Singh | Alexander Marcus | Zombies | Harold Attinger | Cemetery Wind (Lockdown, James Savoy, Steeljaw, & Shadow Raiders) | Kinetic Solutions Incorporated (Joshua Joyce, Stinger & KSI Drones) | The Creators | Noah | Tubal-Cain | Shredder | Foot Clan (Eric Sacks & Karai) | Dr. Mann | Burger-Beard | The Syndicate (Solomon Lane, Janik Vinter, Kagan, Saif, Richter, & Atlee) | T-3000 | T-5000 | T-1000 | T-800 | Skynet | Howard Stambler | Krang | Baxter Stockman | Bebop and Rocksteady | Krall | Manas | General James Harkness | The Hunter | Reece Tenneson | Burke | Quintessa | Infernocons | Decepticons (Nitro Zeus, Mohawk, Berserker, Onslaught & Dreadbot) | Transformers Reaction Force (Commander Santos) | Unicron | Death Angels | August Walker | White Widow | Zola Mitsopolis | Nils Debruuk | Rev-9 | Legion | Shatter | Dropkick | Blitzwing | Agent Jack Burns | Dr. Powell | Alejandro Gutierrez | Swiper | Powell | Viper | Christina X | Clayton Verris | Dr. Robotnik | Agent Stone | Echidna Tribe (Pachacamac) | Lyfegro (Zac Tieran & Colette) | Ghostface | Richie Kirsche | Amber Freeman | Abigail Fairfax
See Also
Amblin Entertainment Villains | Avatar Villains | Avengers Villains | Beavis and Butt-Head Villains | Beverly Hills Cop Villains | Captain America Villains | Chinatown Villains | Clone High Villains | CSI Villains | Danny Phantom Villains | Dimension Films Villains | DreamWorks Villains | Farrelly Brothers Villains | Friday the 13th Villains | G.I. Joe Villains | Henry Danger Villains | Indiana Jones Villains | Invader Zim Villains | Iron Man Villains | Jack Ryan Villains | Jerry Bruckheimer Villains | Jimmy Neurton Villains | King Kong Villains | Kung Fu Panda Villains | Legendary Entertainment Villains | Lemony Snicket Villains | Lucasfilm Villains | Madagascar Villains | Marvel Cinematic Universe Villains | Miramax Villains | Mission Impossible Villains | N.C.I.S. Villains | Nickelodeon Villains | Nickelodeon Movies Villains | Norbit Villains | Rango Villains | Ridley Scott Villains | Rugrats Villains | Scream Villains | Sherlock Holmes Villains | Shrek Villains | Sleepy Hollow Villains | Sonic the Hedgehog Villains | South Park Villains | SpongeBob SquarePants Villains | Star Trek Villains | Syfy Villains | Sweeney Todd Villains | Terminator Villains | The Addams Family Villains | The Cloverfield Universe Villains | The Fairly OddParents Villains | The Godfather Villains | The Loud House and The Casagrandes Villains | Thor Villains | Tim Burton Villains | TMNT Villains | Transformers Villains | Transformers Cinematic Universe Villains | Village Roadshow Pictures Villains | XXX Villains

Villains
Animated Features
The Businessman | The Conceited Man | Academy Teacher | Omar | Banzou the Cat | Beauty Smith | Curtis | Jim Hall | Ned | The Lynx | Ares | Mr. Dupette | Ed Bighead | Zim | Evil GIR | Mini Moose | Gaz Membrane | Almighty Tallests | Irken Empire | Mrs. Krum | Mr. Ellingboe | Olaf | Pumpkin | The Krum Clan | The Ellingboe Clan | Agent Red | Mugg-1N5 | The Hazmats | M.A.D | Father and Mother | Cat Mask Seller | Horatio P. Huntington | Zucchini | Samson | Stabby | El Diablo | Connor Mandrake | Arlo Woodstock | Dr. Arcannis | Spleech | King Poseidon | El Diablo | Plankton | Karen Plankton | Mr. Krabs | Prince Johan | Reggie | Rose Ross | Ilvira | Gingerbread guards | Baba Yaga | Kolobok | Don | Tiki the Statue | Ruff and Stucky | PAL Labs (PAL, PAL Max, Glaxxon 5000 & PAL Max Prime) | Pockets | Mr. Miller | Benedict Arnold | King James | Bellroc | Skrael | Zong-Shi | Lutador | Morag | Aggie | Sprout Cloverleaf | Clarance | Chaz | Chazzie | Bikers | Grimes | Mr. Van Schoonbeek | The Odd Couple | Lapin | Barry | Pigmies | Luther | Hamsters
Live-Action Films
The Commandant | Frank Stockburn | Cicero | The Man | Heather Fishman | The apparitions | Alex Green | Mirando Corporation (Nancy Mirando, Lucy Mirando, Frank Dawson & Johnny Wilcox) | Holly Viola | Vicky | Cody Favors | Light Turner | Mia Sutton | L | Ryuk | Antony Skomal | James Brode | Kenny Doyle | Reverend Gospel | Lucas | Miss Shaylock | Satan | Nicolette Cayman | C.A.B. | Monday | Moonlight Man | Gerald Burlingame | Tom | Bee | Max | Allison | John | Sonya | Satanic Cult | Wilfred James | The Shimmer | Canker Man | Syd Weld | Titus Weld | Rott | Cajun Captain | The Dogcatcher | Thomas Alexander Upton | Anders Behring Breivik | Lola Lola | Vincent | Vincent's Goons | Charlie Plummer | Shere Khan | Tabaqui | Bandar Log | Creatures | Gary | Stefan Butler | Pax | Jerome F. Davies | Peter Butler | Dr. Haynes | Mr. Blut | Vivian | A-Team | Mother | Jason | Garrett | Jason's Friends | The Higher Being | Bonnie and Clyde | Brody | Logan | Spencer | Garvin Cross | Vesps | The Hushed (Reverend) | Grace Ballard | Juan Carlos Rivera | Ryan Gaerity | Ross Humboldt | Eli Miller | Dr. Isabella Horn | Paul Miller | The Woman | Billy | Frank Sheeran | Jimmy Hoffa | Tony Provenzano | Russell Bufalino | Tony Salerno | Joe Gallo | Sally Bugs | Whispers DiTullio | Greg Harper | Alec | Rovach Alimov | Four Horsemen | Baasha Zia | A.I. | The Twins | Priest | Amir Asif | Farhad | Colonel Bajlur Rashid | Saju Rav | Gaspar | Ovi Mahajan Sr. | Shadek | Steven Merrick | Booker | Copley | Wayno | Kezza | Dr. Stern | Elmar Mund/Electro Man | Melanie | Jimmy and Diego | Satan | Mrs. Dubois | Hal | Diane Sherman | Grand Guignol | Peggy Drood | Toadies | Shadow creature | Cap | Dana & Rocko | Monsters | Gerold Röckl | Mrs. Röckl | Don Juan Diego | Gustafson | Belsnickel | Speck | Jola the Yule Cat | Land Barons | Ojo | Ms. Granada | The Plague Doctor | Evgeny Strelkov | Kirill Grechkin | Bank Robbers | Zeus | Martin | Zombie Queen | Bly Tanaka | Burt Cummings | Zombies | Nick Goode | Skull Mask | Camp Nightwing Killer | Ruby Lane | Billy Barker | The Milkman | Pastor Miller | The Shame Killer | Goode Family (Solomon Goode) | Satan | Sheila | Professor Nichcha | Dr. Hans Miller | Helena Jung | Kate | Natacha | The Shredder | The Witch | Zach Sandford | Adas Adamiec | Zosia Wolska | Wanessa Kowalczyk | Delacroix | Brad Cage | Rolph | John Hartley | Nolan Booth | Sarah Black | Sotto Voce | Wan | Phong | Paew | Fame | Janie Orlean | Peter Isherwell | Jason Orlean | Brie Evantee | Leatherface | Madea | Maya Sorian | Christos | Hal | Lance | Beck | Steve Abnesti
Animated Television
Hardcase | Dirtbeard's Crew (Dirtbeard) | Hayaku | Clip and Clap | Queen Invicta | S.E.C.R.E.T. | Chef Lombardo | Wendell | Ace Gecko | Breakneck | Cajun Cliche | Dean Cuizeen | F.A.J.I.T.A | Broaches | Baron Von Schwarzhosen | Gigundus | Barth | Crowzilla | Guy Gagné | Bloodwolf | Duchess | Scimitar | El Moco | Beast | Evil Dulcinea | Johann | Dragon Flyers (Krogan, Mr. Murderous Pile of Yak Dung & Flyer Leader) | Dragon Hunters (Viggo Grimborn, Ryker Grimborn, Cleve, Ingar Ingerman, Dragon Hunter Commander & Fight Master) | Dagur the Deranged | Amos | Gruffnut Thorston | Slitherwings | Firecomb Crasher | Hookfang's Nemesis | Drago Bludvist | D-Structs | Skrap-It | Splitter | Blayde | Pounder | D-Stroy | Goldtrux | Barbarossa | Falan | Memphis | Shaka | Zayzafon | Rotter | Gyokuen Ren | Matal Mogamett | Emperor Zarkon | Lotor | Haggar | Kaos | Kaossandra | Strykore | Dark Spyro | Malefor | Doom Raiders (Golden Queen, Wolfgang, Chompy Mage, Chef Pepper Jack, Dreamcatcher, Broccoli Guy) | Fire Viper | Conquertron | Fisticuffs | Bomb Shell | Greebles | Morgana | Gunmar | Angor Rot | Bular | Stricklander | Nomura | NotEnrique | Queen Usurna | Dictatious Maximus Galadrigal | Yumeko Jabami | Mary Saotome | Hyakkaou Private Academy Student Council (Kirari Momobami, Vice-president, Itsuki Sumeragi, Yuriko Nishinotouin, Midari Ikishima, Yumemi Yumemite, Kaede Manyuda, Runa Yomozuki & Sayaka Igarashi) | Dracula | Isaac | Hector | Blue Fangs | Carmilla | Death | Bishop | Prior Sala | Visitor | Saint Germain | Ryo Asuka/Satan | Demons (Zennon, Psycho Jenny, Sirene, Medoc, Kaim, Vegard & Jinmen) | Moyuru Koda | Babo | Hie | Angels | God | Gilbert Ross | Market Maker (Minatsuki, Laica, Kamui, Quinn, Izanami, Takeru & Kukuri) | Red | Blue | Yellow | Richard Crouse | Henry Crouse | Julian Crouse | Dead Kyle | Kirisame | Asagiri | Yukikaze | Kazan | The Prince | The King | Poppy Reardon | Tammy | Whittaker Reardon | Gloria Vaughan | Cameron Vaughan | Mr. Pearlman | Vladimir Borislav | Zoe | Stu | Maria | Patty Pupé | Kelly | Trevor | Melvin Sneedly | Benjamin Krupp | The Splotch | Socktopus | Theodore Murdsly | Smartsy Fartsy | Melvinborg | Teachertrons | Croco-bats | Butt-erflies | Dr. Disgruntled | Horde Prime | Hordak | The Horde (Catra, Shadow Weaver, Scorpia, Double Trouble, Entrapta, Imp, Super Pal Trio, Horde Robots, Horde Soldiers & The Horde Trio) | Galactic Horde | Clone Army | Light Hope | First Ones | Infected Robots | General Morando | Zeron Alpha | Colonel Kubritz | Gaylen | Professor Maelstrom | Coach Brunt | Countess Cleo | Dr. Sarah Bellum | V.I.L.E. (The Cleaners, Roundabout, Cookie Booker, Tigress, Le Chevre, El Topo, Paper Star, Mime Bomb, Neal the Eel, The Mechanic, The Driver, Lady Dokuso, Otter Man and Moose Boy, Spinkick and Flytrap, The Troll, Madame Goldlove & Dash Haber) | Baris | Barghest | Cthulhu | DeeBees | Detective Briggs | Dicko | Dracula | Golden Woman | Governor | Jibaro | Life Hutch Maintenance Robot | Tall Grass Monsters | Thanapod | Vacuubot | Werewolves | El Balde | El Balde's Jefes | Alejandra | Master Lo | Magnus Finke | Slinkwing Trio (Lurke) | Waldondo del Mundo | Erik the Wretched | Svetlana the Sly | Hervnick Z. Snerz | Goat | Yes-Man | The Dooka of Yookia | The Dookess of Zookia | Philip Trousers | Marilyn Blouse | Cleve Kelso | SH1FT3R (Shashi Dhar & Layla Gray) | Rafaela Moreno | Mitsuo Mori | Moray | General Dudley | DANN | Dominic Toretto | Human Resistance (Dr. Emilia, Greta & Zane) | Scarlemagne | Mod Frogs (Jamack & Mrs. Satori) | Newton Wolves (Bad Billions and Good Billions) | Scooter Skunks | Humming Bombers | Tad Mulholand | Fun Gus | King Arthur | Hera | Seraphim | Danny Nedermeyer | Sinjin Prescott | Computer Interface | Indominus Twins | Dianne | Mantah Corp (Daniel Kon & Kash D. Langford) | Henry Wu | Indominus rex | Eddie | Mitch & Tiff | Hawkes | Reed | Eli Mills | Fantos the Amassor | Stuck Chuck | Biker in Black | Krosh | Erodious the Planet Killer | Fast Frankie | Beanie The Kid | Secretary Wilson | Jason | Zombies | The Nowhere King | Minotaurs | The General | The Bog Lady | Mictlan | Xtabay | Cipactil and Cabrakan | Acat | Hura and Can | Chivo | Bone and Skull | The Widow Queen's Father | Cognito, Inc. (Rand Ridley, J.R. Scheimpough & ROBOTUS) | Bear-O | Robo Reagan | Reptoids | Flat Earth Society (Harold) | Rafe Masters | Buzz Aldrin | Shadow Board | Jinx | Silco | Singed | Sevika | Marcus | Deckard | Kira | Captain Happy | E.d | The Devil | Henchman | Baby Bottle | Ribby and Croaks | Ghosts | The Root Pack | King Dice | Rocky | ZaZa Royale | Merchin | The Monsters | The Orc King | Angel Royale
Live-Action TV
Carlton Bloom | Iain Rannoch | Victoria Skillane | White Bear Visitors | Baxter | Waldo | Matthew Trent | Joe Potter | Jennifer | Saito Geimu | Kenny | Hector | The Hackers | Arquette | Garrett Scholes | Robert Daly | Marie | Trick | Mia Nolan | Dogs | Rolo Haynes | Catherine Ortiz | Dr. Munk | Frank Underwood | Claire Underwood | Doug Stamper | Piper Chapman | Linda Ferguson | Pornstache | Natalie Figueroa | Desi Piscatella | Thomas Humphrey | Artesian McCullough | Aydin Bayat | Pennsatucky | Yvonne Parker | Stella Carlin | Maria Ruiz | Denning Sisters | Madison Murphy | Dayanara Diaz | Carlos Litvak | Kubra Balik | Saul Goodman | Mike Ehrmantraut | Charles McGill | Juárez Cartel (Hector Salamanca, Lalo Salamanca, Nacho Varga, Tuco Salamanca, Marco and Leonel Salamanca, Juan Bolsa, Krazy-8, Arturo Colon, Gonzo & Don Eladio) | Los Pollos Hermanos (Gustavo Fring, Victor, Tyrus Kitt, Lydia Rodarte-Quayle & Gale Boetticher) | Kim Wexler | Huell Babineaux | Ed Galbraith | Colombian Gang | Ghostface (Piper Shaw, Kieran Wilcox, Third Killer, Beth & Jamal Elliot) | Brandon James | Haley Meyers | Tom Martin | Becca | Tommy Jenkins | Luther Thompson | Avery Collins | Nina Patterson | Mind Flayer | Billy Hargrove | Demogorgon | Martin Brenner | Connie Frazier | Lonnie Byers | Troy and James | Tommy H. and Carol | D'Artagnan | Neil Hargrove | Grigori | Larry Kline | General Ozerov | Heather Holloway | Tom Holloway | Bruce Lowe | Hospital Creature | Vecna | Angela | Jake | Jason Carver | Shawn | Michael | Trevor | Count Olaf | Esmé Squalor | Hook-Handed Man | Henchperson of Indeterminate Gender | White-Faced Women | Bald Man | Carmelita Spats | Hugo, Colette & Kevin | The Man With a Beard But No Hair | The Woman With Hair But No Beard | Dr. Georgina Orwell | Sir | Vice Principal Nero | Ernest Denouement | Ishmael | Bombinating Beast | The Professor | Berlin | Arturo Roman | Alicia Sierra | Cesar Gandia | Palermo | Sic Mundus (Adam & Noah) | Eva | Luis Miguel | Luisito Rey | Tito | Matilde Sánchez | Cynthia Casas | Patricio Robles | José Pérez | Carla Rosón | Lucrecia Montesinos | Polo Benavent | Nano García | Cayetana Grajera | Teo Rosón | Begoña Benavent | Andrea Villada | Armando | Benjamín Blanco | Father Blackwood | Madame Satan | Weird Sisters (Prudence Blackwood & Agatha Night) | Batibat | Plague Kings (Beelzebub, Asmodeus & Purson) | The Pagans (Pan, Circe & Nagaina) | Green Man | Caliban | Jimmy Platt | Dorian Gray | Bartel | Jerathmiel | Mehitable | Satan | Michael Groff | Adam Groff | Hope Haddon | Olivia Hanan | Man on the Bus | Sean Wiley | Peter Groff | Groff's Father | Thornton Pavey | Garvin Cross | Brody | Spencer | Logan | Craig | Jutul Industries (Vidar Jutul & Fjor Jutul) | Ran Jutul | Saxa Jutul | Laurits Seier | Skeksis (SkekSo, SkekZok, SkekSil, SkekTek, SkekAyuk, SkekOk, SkekEkt, SkekMal, SkekVar, & SkekLach) | Tolyn | Seladon | Gruenaks | Darkened Creatures | Crooked Energy | Pat Rollins | Brayden Mills | Mr. Campbell | David Marsh | Dodge | Sam Lesser | Randy Lesser | Brinker Martin | Shadow Demons (Eden Hawkins - Frederick Gideon - Javi - Jackie Veda - Daniel Mutuku) | Erin Voss | Chad Garland | Raúl León | Pablo García | Natalia Alexander | Gerry Granda | Darío & Ernesto | Bruno | Alex | Roberto de León | Gerry's Father | Darío Guerra | Esteban Solares | Lys Antoine | Security Guard | Monsters (Starving Monster - Blind Monster - Spider Monster - Tongue Monster - Eyeball Monster - Protein Monster - Reach Monster - Speed Monster) | Outlaws | Ui-myeong | Hubert Pellegrini | Leonard Kone | Ravy | Frederick Gideon | Redcoats (Howe) | Spider | Oh Il-nam | Front Man | The VIPs | The Salesman | Masked Men (Masked Managers, Masked Soldiers & Masked Workers (Number 28)) | Cho Sang-woo | Jang Deok-su | Byeong-gi | Player 278 | Player 040 | Player 303 | Loan Sharks | Ji-yeong's Father | Yoon Gwi-nam | Son Myeong-hwan | Park Chang-hoon | Kim Hyeon-ju | Min Eun-ji | Lee Na-yeon | Lee Byeong-chan | The Principal | Zombies (All of Us Are Dead) | Hwang Jang-Soo | Ryu Lee-kang | Jo Seok-bong
See Also
13 Reasons Why Villains | Aardman Villains | Angry Birds Villains | Archieverse Villains | B: The Beginning Villains | Baki Villains | Barbie Villains | Beastars Villains | Benji Villains | Big Mouth Villains | Black Lightning Villains | Black Mirror Villains | Bleach Villains | Blumhouse Productions Villains | BoJack Horseman Villains | Breaking Bad Villains | Castlevania Villains | Cuphead Villains | Daredevil Villains | Death Note Villains | Defenders Villains | Disenchantment Villains | DreamWorks Villains | Dr. Seuss Villains | Fast and the Furious Villains | Final Space Villains | Fullmetal Alchemist Villains | Godzilla Villains | Hilda Villains | How To Train Your Dragon Villains | Invader Zim Villains | Iron Fist Villains | Jack London Villains | Jessica Jones Villains | JoJo's Bizarre Adventure Villains | Jurassic Park Villains | Kakegurui Villains | Kung Fu Panda Villains | League of Legends Villains | Legendary Entertainment Villains | Lemony Snicket Villains | Locke & Key Villains | Love, Death & Robots Villains | Lucifer Villains | Luke Cage Villains | Magi Villains | Marvel Cinematic Universe Villains | My Little Pony Villains | Nickelodeon Movies Villains | One Piece Villains | Orange Is The New Black Villains | Paradise P.D. Villains | Paramount Villains | Punisher Villains | Resident Evil Villains | Scream Villains | She-Ra 2018 Villains | Shrek Villains | Skylanders Villains | Sonic Villains | Sony Pictures Villains | Spongebob Villains | Squid Game Villains | Stephen King Villains | Stranger Things Villains | Studiocanal Villains | Studio Trigger Villains | Sweet Home Villains | Tales of Arcadia Villains | Teen Titans Villains | Texas Chainsaw Massacre Villains | The Addams Family Villains | The Boss Baby Villains | The Cloverfield Universe Villains | The Dark Crystal Villains | The Grudge Villains | The Jungle Book Villains | The Seven Deadly Sins Villains | The Umbrella Academy Villains | TMNT Villains | Turbo Villains | Universal Studios Villains | Usagi Yojimbo Villains | Warner Bros. Villains | Witcher Villains