Wiki Targeted (Entertainment)
Play Sound
Jafar says: Read my lips and come to grips with the reality!


This article is a stub and is in need of expansion. You can help Villains Wiki by expanding it.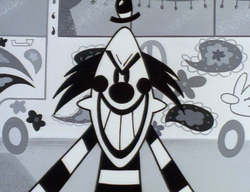 Mr. Mime is a minor villain from The Powerpuff Girls. He is a villainous black and white clown who was only featured in the episode, "Mime For A Change". He is the villainous alter-ego of Rainbow the Clown who transformed into Mister Mime after a freak accident with a bleach truck. He first appeared in the episode "Mime for A Change" when he sought to eliminate all color from Townsville, reducing it to black and white, which in turn drained the city of its vibrancy and happiness. He was eventually reverted back to his normal self by the Powerpuff Girls, but was still beaten up and sent to jail regardless. Rainbow was seen in the later episode "Birthday Bash" as an entertainer at the girls' birthday party, meaning that he had at least been released early and was on good terms with the girls. Yet his alter-ego, Mr. Mime, appeared in "Brought And Scold" and "Daylight Savings".
Trivia
He is most likely named after Mr. Mime the Pokemon, due to the fact that both Pokémon and The Powerpuff Girls were extremely popular at the time (Though they both still are extremely popular). However, the Mr. Mime in The Powerpuff Girls was a villain, whereas the Mr. Mime from Pokémon was a hero.