We're Getting Mutants in the MCU - The Loop
Play Sound
Jafar says: Read my lips and come to grips with the reality!


This article is a stub and is in need of expansion. You can help Villains Wiki by expanding it.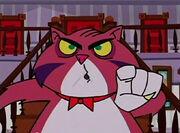 Mr. Mittens is a villain in Johnny Test, it is Tim Burnout's cat and Albert is his butler.
Mr. Mittens made his first appearence by trying to turn all of the citizens of Porkbelly into cats, but was foiled by Johnny and his friends. He first appeared in 00-Johnny. As Tim discribed, Mr. Mittens was never a friendly cat, he despised his owner for never cleaning his litter box and all the dogs for chasing him. When Mr. Mittens became intelligent, he decided to turn all living creatures in Porkbelly into cats (with the exception for Albert, who he needs to stay human to clean out his litter box) with his Cat Zapper and "Turn Porkbelly into Catbelly". However, the zapper wasn't strong enough to turn humans into cats, so he invaded the military base and charged his zapper with their million-volts electricity source. The zapper was then set to create a wave to turn everyone in a 100-mile radius into cats in one minute, giving Albert and him time to escape. However, Mary and Susan, with the help of Johnny, Dukey, and the military, reverted the zapper in time to save the Porkbelly population from turning into cats. After the incident, however, Mr Mittens remained intelligent.