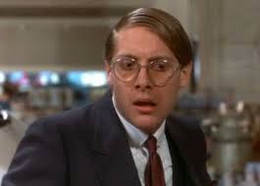 Mr. Richards is one of the main antagonists of the 1987 comedy/romance/fantasy film Mannequin. He is portayed by James Spader, who also portrayed Steff McKee in the 1986 film Pretty in Pink, Rip in the 1987 film Less Than Zero, Stewart Swinton in the 1994 film Wolf, Mr. Black in the 2009 film Shorts, and voiced Ultron in the 2015 film Avengers: Age of Ultron.
History
Mr. Richards was the vice president of the department store in Philadelphia called "Prince and Company", second to Claire Timkin. He was in league with B.J. Wert, the shady owner of the rival department store "Illustra". Claire Timkin introduces Mr. Richards to Jonathan Switcher, who saved her live from a sign that nearly hit her. Richards gives Jonathan a job, working as a stocker. Richards was a keeping an eye on Jonathan. He has Captain Felix Maxwell, the night security guard keep an eye on him at night. Felix, along with his English Bulldog named Rambo patrol the store and not knowing that the mannequin that comes to life named Ema Hesire a.k.a. Emmy find them together and Felix and Jonathan end up fighting. Emmy knocks out Felix with him not looking.
Mr. Richards has a talk with Felix, irritated by Felix's bumbling, tells him to find out more about Jonathan and Emmy. Felix asks about Rambo and responds "Screw your dog!". Later on that night, Felix gets knocked out after Emmy flies on a hand glider. In the morning, Richards finds Felix sleeping. Claire Timkin tells Richards to fire Felix. Felix told Claire that it was Richards' idea and he gets fired along with Felix. Jonathan Switcher becomes the new V.P. at "Prince and Company".
Richards, now at Illustra, talks with B.J. Wert about Switcher's romantic relationship with the mannequin. B.J. got pictures of Jonathan and Emmy with the help of Roxie Shield and Armand. B.J. does hire Felix Maxwell after Richards and him steal all the female Mannequins at "Prince and Company".
Jonathan arrives at Illustra and demands where Emmy is and B.J. tries to get Jonathan to come to work for him and refuses. Richards gets punched out by Jonathan who runs off to save Emmy. Richards, B.J., along with Felix and some security guards try to enter the stockroom, but Hollywood Montrose helps Jonathan by spraying that with heavy water with the fire hose till the water runs out. Jonathan saves Emmy. Claire Timkin arrives and tells the police to arrest Richard and Felix for breaking and entering and has B.J. arrested for conspiracy.
Community content is available under
CC-BY-SA
unless otherwise noted.