Jurassic World: Dominion Dominates Fandom Wikis - The Loop
Play Sound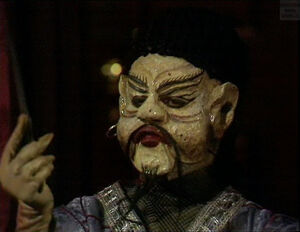 Mr. Sin, also known as the Peking Homunculus, is a supporting antagonist and later the secondary antagonist of the Doctor Who story "The Talons of Weng-Chiang".
He was portrayed by Deep Roy, who also played Moloch in Blake's 7. For the Big Finish audio plays, he was voiced by Alex Mallinson and Nicholas Goh.
Biography
Mr Sin was a doll created as a plaything for the commissioner of the Icelandic Alliance. However, it was fitted with the cerebral cortex of a pig and began to develop homicidal and psychotic tendencies, ultimately assassinating the commissioner and his family and nearly triggering a world war. It was retrieved by the war criminal Magnus Greel who took it with him back to the 19th century.
After Greel's time cabinet went missing, Mr Sin accompanied him to England in the company of the stage magician Li H'sen Chang, who used Sin as a ventriloquist dummy. Sin killed cab driver Buller when he started asking questions about his wife's disappearance (she had been kidnapped by Chang and drained of energy by Greel), and took part in first the abortive attempt to recover the time cabinet from Professor Litefoot's house, and then the more successful attempt, during which he concealed himself in a laundry basket to let Greel's servants the Tong of the Black Scorpion into the house.
Sin relocated with Greel to the House of the Dragon, where they prepared to return to their own time. Sin shot the Fourth Doctor when he tried to force Greel to release his latest donors, and being ordered not to kill him caused his homicidal tendencies to resurface. He opened fire on his own Tong allies, massacring them, and even fired on Greel himself. After Greel's death, Sin tried to kill Leela but was finally disconnected by the Doctor, who destroyed his fuse.
The novel The Shadows of Weng-Chiang saw the Fourth Doctor again encounter Mr Sin, who had been retrieved and reactivated by Chang's daughter, Hsien-Ko. The Doctor decapitated the automaton and the head was later destroyed by K9. In the audio play The Butcher of Brisbane, the Fifth Doctor encounters younger versions of Greel and Sin and witnesses their escape into the past.
Trivia
The novelisation of The Talons of Weng-Chiang reveals that Mr Sin was created by Greel as a deliberate assassination tool. However, The Butcher of Brisbane indicates he was innocently created by the scientist Professor Findecker, mentioned on screen as the originator of Greel's time travel theories.