Wiki Targeted (Entertainment)
Play Sound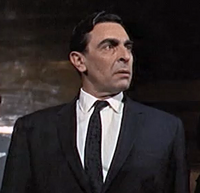 Mr. Solo is a minor antagonist of the 1959 James Bond novel Goldfinger and its 1964 film adaptation. He is a mafia boss who was in league with Auric Goldfinger.
He was portrayed by the late Martin Benson.
History
Mr. Solo happens to be one of the crime bosses (alongside Jack Strap and Jed Midnight) contacted by Goldfinger in his Kentucky home to learn about Goldfinger's plot, and that Solo had smuggled a laser shipped from Switzerland. At first, Solo gets impatient and demanded for $1 million for delivering the laser, but Goldfinger reveals his plot called Operation Grand Slam, which would involve spreading nerve gas across the area of Fort Knox that can kill all the guards so that he can send his private task force to use the laser to raid the fort. Goldfinger then proclaims that he would use the stolen gold bullion to pay the millions of dollars to the crime bosses as promised.
Though the other crime bosses find Goldfinger's proposal to be quite fair and accepted it, Mr. Solo refused to be involved in it as he still demands his money. Obliging to Solo's demands, Goldfinger arranges for $1 million in gold bullion to be placed in Solo's car. However, it turns out that Goldfinger actually plans to destroy the gold rather than stealing it so that the value of his gold will increase to become the richest man in the world, and that he has no intention in paying Solo and the other crime bosses. With that in mind, Goldfinger gets Kisch to seal the room and spray the nerve gas, killing all the other crime bosses. In the meantime, Oddjob, who was driving Solo's car at that time, shoots Solo and crushes his car with a scrap metal crusher.