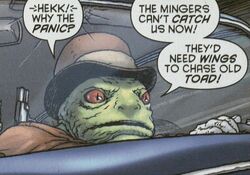 Mr. Toad is an evil member of the Circus of Strange.
History
Background
When he was on his way delivering domino blocks to his employer Professor Pyg he was captured by the new Batman and Robin and was handed over to the Gotham City Police Department. He was later found dead in his cell clutching a domino block in his left hand.
Batman: The Brave and the Bold
Mr. Toad makes a cameo appearance in the Batman: The Brave and the Bold episode "The Knights of Tomorrow!" (towards the end).
Beware the Batman
He appears in the Beware the Batman episode "Hunted" where he and Professor Pyg are working together in order to kidnap Simon Stagg and Michael Holt. They do this because they were involved in an agreement to sell a part of the Gotham enviorment to people who destroyed the land and the habitat of animals. They also tried to kidnap Bruce Wayne but captured Alfred instead. In order to get revenge they fill the headquarters with traps and make the men walk through the base. Batman breaks in and fights them however Mr. Toad throws some bombs at him which causes the whole base to blow up. Although Batman and the men escape they are not seen leaving however Batman thinks that they survived and will someday return.
He and Professor Pyg return in the episode "Instinct" where they kidnap a famous model who uses real dead bird feathers in her clothes. They strap her to a trap that ends with her falling off a clock tower however Batman saves her. They later capture a fasion designer who uses animal skins for his designs and strap him to another trap. Batman and Katana are able to save him in time though. Later a fasion company that uses animals has a party on a yatch. They plant a BBQ truck full of explosives in it. Although They are able to deduce that they are still on th ship. Batman Then finds them below deck with a device that is starpped to the wires and gets more hotter everytime a passenger enters. He fights them but they get the upper hand. Katana then arrives and helps Batman. Professor Pyg then tries to activate the device but Batman stops it and a fire erupts and Pyg and Toad are knocked out. Batman is then able to put out the fire.
In the episode "Reckoning" he and Professor Pyg are amoung the many criminals that are released by Ra's al Ghul from prison and went after Batman so that Ra's whould give them a piece of the city. However Batman tricks all the criminals and they all turn on each other. Batman then leaves them fighting.
In "Doppelganger" he and Professor Pyg steal Dr. Kirk Langstrom's research and transform him into Man-Bat. They plan to use his work to mutate the people that they kidnapped and make them into their own personal army of mutants. After Batman and Katana free Man-Bat from their control they he to Pyg and Toad's compound and confront them. Batman manages to free their hostages and fights Pyg in the building while Katana and Man-Bat fight Toad outside. While they get the upper hand on him at first, he is able to regain control of Man-Bat and commands him to capture Katana. He tries to mutate Katana however Batman stops him and Pyg in time and frees Man-Bat. Pyg and Toad are soon arrested after that.
In this show he is voiced by Udo Kier.
Gallery
Images
Videos
Trivia
Mister Toad is undoubtedly based on Mr. Toad from the novel The Wind in the Willows that was based in an England like world. Mister Toad was a self-centered rich man with an interest in motorcars.

Villains
Comics
Alice | Amanda Waller | Amygdala | Anarky | Arkham Knight | Azrael | Baby Doll | Bane | Barbatos | The Batman Who Laughs | Black Glove | Black Mask | Blockbuster I | Broker | Blockbuster II | Brain | Brother EYE | Calculator | Calendar Man | Captain Fear | Carmine Falcone | Catman | Catwoman | Circus of Strange | Clayface | Claything | Clock King | Club of Villains | Cluemaster | Composite Superman | Condiment King | Copperhead | Court of Owls | Crazy Quilt | Crime Doctor | Curtis Base | Dark Archer | David Cain | Dark Knights | Deacon Blackfire | Deadshot | Dealer | Deathstroke | The Dawnbreaker | The Devastator | Doctor Death | Doctor Dedalus | Doctor Double X | Doctor Hurt | Doctor Phosphorus | The Drowned | Electrocutioner | Emperor Blackgate | Ernie Chubb | Faceless | Firebug | Firefly | Flamingo | Floronic Man | Gearhead | General Ulysses Armstrong | Gorilla Boss | Gotham City Police Department | Grant Walker | Great White Shark | The Grim Knight | H.A.R.D.A.C. | Harley Quinn | Holiday | Holly Robinson | Humpty Dumpty | Hugo Strange | Hush | Jack the Ripper | James Gordon, Jr. | Jason Todd | Joe Chill | The Joker | Judge of Owls | Joker's Daughter | Key | KGBeast | King Snake | King Tut | Killer Croc | Killer Moth | Kite Man | Lady Shiva | League of Assassins | Leviathan | Lex Luthor | Lock-Up | Lloyd Ventrix | Mad Hatter | Mad Monk | Magpie | Malochia | Man-Bat | Maxie Zeus | The Merciless | Mister Bloom | Monk | Mr. Freeze | Mr. Toad | Mutants | Nightslayer | Nocturna | Nyssa Raatko | Onomatopoeia | Orca | Outsider | Owlman | Penguin | Phosphorus Rex | Planet Master | Poison Ivy | Polka Dot Man | Professor Pyg | Prometheus | Ra's al Ghul | Ragdoll | Ratcatcher | Reaper | Red Claw | Red Death | Reverse-Flash | Riddler | Roland Daggett | Roxy Rocket | Royal Flush Gang | Rupert Thorne | Sal Maroni | Scarecrow | Sensei | Sewer King | Signalman | Sinestro | Snowman | Solomon Grundy | Spellbinder | Steeljacket | Suicide Squad | Talia al Ghul | Tally Man | Ten-Eyed Man | Terrible Trio | Tiger Shark | Timecode | Tony Zucco | Tweedledum and Tweedledee | Two-Face | Ubu | Vandal Savage | Ventriloquist | Ventriloquist II | Ventriloquist III | Vertigo | Victim Syndicate | Victor Zsasz | Wrath | Zebra-Man
Movies
Batman (1966): Joker | Catwoman | Penguin | Riddler
Batman (1989): Joker | Bob Hawkins | Alicia Hunt | Carl Grissom | Max Eckhardt | Vinnie Ricorso
Batman Returns: Penguin | Red Triangle Circus Gang (Organ Grinder, Poodle Lady, Tattooed Strongman, Stungun Clown, Thin Clown, Fat Clown, Sword Swallower & Knifethrower Dame) | Max Shreck | Catwoman | Charles "Chip" Shreck
Batman Forever: Riddler | Two-Face | Sugar | Spice | NygmaTech (Frogmen) | Neon Gang (Neon Gang Leader) | Salvatore Maroni
Batman & Robin: Poison Ivy | Mr. Freeze | Bane | Snowy Cones Thugs | Golums | Jason Woodrue
Batman Begins: Ra's al Ghul | League of Shadows (Ra's Decoy) | Scarecrow | Carmine Falcone | Victor Zsasz | Joe Chill
The Dark Knight: Joker | Joker's Thugs (Thomas Schiff, Chuckles, Kilson, Bus Driver, Happy, Dopey & Grumpy & Bus Driver) | Two-Face | Sal Maroni | The Chechen | Gambol | Lau | Bank Manager | Michael Wuertz | Burmese Bandit
The Dark Knight Rises: League of Shadows (Bane, Talia al Ghul & Barsad) | Catwoman | John Daggett
Batman v Superman: Dawn of Justice: Lex Luthor | Doomsday | Anatoli Knyazev
Suicide Squad: Eyes of the Adversary (Enchantress & Incubus) | Suicide Squad (Deadshot, Harley Quinn, Captain Boomerang, El Diablo, Killer Croc, Slipknot & Amanda Waller) | Joker's Gang (Joker, Jonny Frost, Panda Man & Monster T) | Griggs
The Lego Batman Movie: Joker | Phantom Zone Criminals (Harley Quinn, Catwoman, Poison Ivy, Two-Face)
Joker: Clowns (Joker, Clown) | Penny Fleck | Randall | Wall Street Three
Community content is available under
CC-BY-SA
unless otherwise noted.