We're Getting Mutants in the MCU - The Loop
Play Sound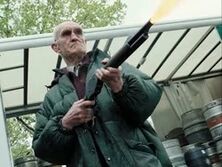 Mr. A. Treacher is a minor antagonist in the 2006 action comedy Hot Fuzz. He is a mute member of the Neighbourhood Watch Alliance.
He was portrayed by Tim Barlow.
Biography
Mr. Treacher is a member of the murderous Neighbourhood Watch Alliance, the fascist organization that kills anyone threatening Sandford's chances at winning Village of the Year. He first appears when Sergeant Nicholas Angel points him out as a suspicious character, as he wears a large coat that could easily conceal a weapon. Angel's colleagues ignore him.
Later, Treacher appears at the NWA meeting in the churchyard. Nicholas gatecrashes the meeting and tries to arrest the entire organization, but is shocked when his boss Frank Butterman is revealed as the leader of the NWA. Treacher and the NWA attempt to kill Nicholas, revealing the true horrific nature of their crimes by showing Nicholas decomposing corpses of their victims in the vaults, but Danny, Frank's son and Nicholas' friend, tricks them into thinking he killed Nicholas, escorting Nicholas out of town.
During the final shootout, Treacher is the first member of the NWA to shoot at Nicholas, revealing he does indeed carry a shotgun beneath his coat. After some exchange of fire, Nicholas shoots the tyres on a truck behind Treacher, causing some barrels to roll out and knock Treacher unconscious. He is later arrested.
The
Trilogy Villains
Movies
Shaun of the Dead: David Fastidious | Pete | Zombies
Hot Fuzz: Neighbourhood Watch Alliance (Butterman, Skinner, Weaver, Lurch, Shooter, Hatcher, Cooper, Paver, Roper, Reaper, Porters, Tiller, Treacher, Fowlers & Somerfield Employees)
The World's End: The Network | Blanks (Oliver Chamberlain, Guy Shepherd, Shane Hawkins, Marmalade Sandwich, Twins & Peter Page)

Villains

Villains
Animated Features
Yubaba | No-Face | Yu-Bird | Madame Suliman | Witch of the Waste | Max Mordon | Kopponen | Odysseus Inc. | Daniel | Anthony Trumper | The Pigs | Bull | Sir Claude | Wallace Eastman | Lord Nooth | Violet | Team Tropolis | Agent Red | Mugg-1N5 | The Hazmats | M.A.D.
Live-Action Films
Daleks | Robomen | Vilos Cohaagen | Mars Colony Security Force (Carl Hauser, Richter, Lori, Helm, Everett, Benny & Harry) | Dr. Edgemar | T-800 | T-1000 | Douglas | Skynet | Fence Shooter | Catherine Tramell | Roxanne 'Roxy' Hardy | Luc Deveraux | Andrew Scott | Colonel Perry | GR86 | GR55 | GR76 | Wagner | William Strannix | Krill | Daumer | William Foster | Nick the Neo-Nazi | Eric Qualen | Richard Travers | Kynette | Delmar | Kristel | Ryan | Heldon | Mike | Ray | Dial | Wade | Ra | Anubis Guard | Horus Guards | Dawg Brown | Boris Balkan | Liana Telfer | Harry Goldfarb | Tyrone C. Love | Big Tim | Uncle Hank | Drug Lord Physician | Sheriff Cooley | Homer Stokes | Big Dan Teague | Ku Klux Klan | Diane Selwyn | Jean-Pierre Richard | Mr. Big | David Carlton | Le Tenia | Pascal Sauvage | Dieter Klein | Klaus Vendetta | David | Pete | Zombies | The Hood | Transom | Mullion | Edmund Zuwanie | Nils Lud | Jean Gamba | Selma Quickly | Great Aunt Adelaide | The Flight 93 Hijackers | The Phantom | Georgia Skyes | Sharice Watters | Buddy "Aces" Israel | Frank Butterman | Neighbourhood Watch Alliance (Simon Skinner, Tom Weaver, Michael Armstrong, Reverend Philip Shooter, Robin Hatcher, Joyce Cooper, Amanda Paver, Annette Roper, James Reaper, Roy and Mary Porter, Leslie Tiller, Mr. Treacher, Greg and Sheree Fowler & Somerfield Employees) | Carson Clay | Harriet Bentley | Miss Gribben | Di Radfield | Uncle Phil | Miss Topsey | Miss Turvey | Abalam | The Big Guy | Agent Haggard | Agent O'Reilly | Rodney Cole | Martin B | Elizabeth Harris | Aliens | Hi Hatz | Bill Haydon | Vortex (Simon Ambrose, Killer Cleaner, Slater, Madeleine, Titus Fisher, Artem Karlenko, Ling & Susan) | Chi Han Ly | Matov | The Network | Blanks (Oliver Chamberlin, Guy Shepherd, Shane Hawkins, The Marmalade Sandwich, The Twins & Peter Page) | Pat Farrell | Tom Bowen | Zack White | Jack Hammond | Mike Lucas | Chester MacFarland | Millicent Clyde | Terry Cox | Felix Marti | George Cornell | Macbeth | Lady Macbeth | Wyrd Sisters | Phoenix Buchanan | Joanna | Jason Volta | Xander
Live-Action TV
Hannibal Lecter | Alana Bloom | Garret Jacob Hobbs | Abigail Hobbs | Abel Gideon | Tobias Budge | Randall Tier | Eva | Clark Ingram | Eldon Stammets | Elliot Buddish | Lawrence Wells | Kade Prurnell | Mason Verger | Rinaldo Pazzi | Matteo Deogracias | Tommaso | Francis Dolarhyde
See Also
Aardman Villains | Cornetto Trilogy Villains | Doctor Who Villains | Friedberg and Seltzer Villains | Hereditary Villains | Hannibal Villains | James Cameron Villains | Johnny English Villains | Lionsgate Villains | Miramax Villains | Netflix Villains | Requiem for a Dream Villains | Ridley Scott Villains | Shakespeare Villains | Studio Ghibli Villains | Universal Soldier Villains | Wallace and Gromit Villains