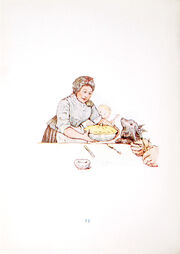 Mrs. McGregor
is an antagonist in two of Beatrix Potter's books. She is the wife of
Mr. McGregor
. As said in the first book, "The Tale of Peter Rabbit", she put Peter's father in a pie.
She is never seen or heard in the first book, but she is first seen leaving with Mr. McGregor and getting into a tirade with him in "The Tale of Benjamin Bunny", as a minor antagonist.
In "The Flopsy Bunnies", she sent her husband out to bring her six rabbits over to her so she can cook them. However, when he brings the bag over, he was unaware that Flopsy's children were replaced by rotten vegetables, and this angers his wife.