Click To Help Darkseid!

Darkseid has declared that this article requires immediate Cleanup in order to meet a higher standard.
Help improve this article by improving formatting, spelling and general layout - least it fall victim to an Omega Effect


✓
Mrs. Dellacrocè (Jennifer Bassey) is a minor villainess in the 1996 film 'Dunston checks in.
A posh, wealthy woman who's staying in the hotel, spends the majority of her time cheating on her husband by constantly flirting with other men. One in particular is the main villain, Lord Rutledge, who she attempts to go out of her way for, including when she tries to seduce him under the table during Mrs. Dubrow's ball and giving an invitation to her room.
She is unaware, however, that Rutledge was behind her diamonds and jewels being stolen when he sent Dunston on a mission to steal them all. Mrs. Dellacrocè screams in horror when she returns to her raided room and turns on the light to see all her belongings everywhere.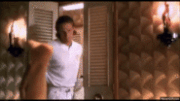 In another scene Dunston swaps over with the masseuse and does a better job, without her realizing she has a monkey on her back. After the massage climax, the masseuse returns to the room only to be grabbed down by Dellacrocè as she cheats on her husband yet again.
Community content is available under
CC-BY-SA
unless otherwise noted.