We're Getting Mutants in the MCU - The Loop
Play Sound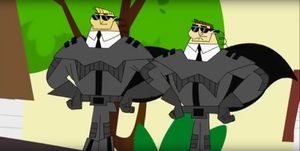 The Mutant Agents are two cybernetic agents created by Area 51.1 who both went wrong and tried to take over the world. They are characters in Johnny Test.
Biography
After Area 51.1 took away Susan and Mary's lab experiments after Johnny X and Super Dukey caused an explosion, they used their technology to create mutant cyborg agents, but then it went horribly wrong as the two agents broke free and caused havoc throughout Porkbelly.
As the general, Mr. Black and Mr. White came to Johnny, Dukey, Susan, and Mary for help, Johnny asks them what the agents look like. An explosion occured that reveals the two agents standing outside of their house. The general pointed out their appearance to Johnny and that the capes they're wearing are their ideas. As both agents take off their sunglass, they reveal to have laser eyes. Mary mentions that their inventions don't make people insane and fire laser eyes. Mr. Black notes that the two agents are actually cyborgs. As everyone gets away from the Mutant Agents, one of them asks what they should do now. The other one suggests taking over the world before flying away.
The two Mutant Agents destroyed Porkbelly and threatened the Mayor to rename the city Supermutantville. Just then, Johnny X and Super Dukey appear before them, along with Mr. Black and Mr. White, also with superpowers. As the heroes were about to use their super poots on them, the Mutant Agents mutiply into eight and outnumbers the heroes. The mutants spread across the worldm, such as Russia, the White House, and Fiji, and start terrorizing them.
Johnny X recruits others and gives them superpowers to help them. As the two Mutant Agents are seen sitting in lawn chairs in Russia, they talk about ruling the world is fun until Gill, Lolo, and Speed McCool appear before them, telling them that saving the world is more before they used their power poots to destroy them. As Dark Vegan, Susan, and Mary arrive at the White House, one of the Mutant Cyborgs, who are playing polo, tells the others not to worry as he says the heroes are turning away from them, only to be destroyed by their power poots. In Fiji, as the Mutant agents there were dancing, Bling Bling Boy, Mr. Black and White arrived and also destroyed them with their power poots. Finally, in Porkbelly, Johnny X, Super Dukey, and the general arrive at city where the last two mutant agents are, they caused an explosion that destroyed them.
Trivia
Dukey counted the mutant agents after they duplicated themselves and said there were eight. Although, at the White House, there were three mutant agents, making it a total amount of nine.