Jurassic World: Dominion Dominates Fandom Wikis - The Loop
Play Sound
This article's content is marked as Mature
The page Mature contains mature content that may include coarse language, sexual references, and/or graphic violent images which may be disturbing to some. Mature pages are recommended for those who are 18 years of age and older.


If you are 18 years or older or are comfortable with graphic material, you are free to view this page. Otherwise, you should close this page and view another page.



Click To Help DIO!

DIO has declared that this article has stopped in time, and any and all information on it may be outdated.
Help improve this article by checking and updating it's info wherever necessary
And now time resumes!

✓
| | | |
| --- | --- | --- |
| " | Evil or not, a scoundrel needs someone to put his faith in. | " |
| | ~ N'Doul | |
N'Doul is a minor antagonist in JoJo's Bizarre Adventure: Stardust Crusaders.
In Japanese, he was voiced by Yūji Kishi in JoJo's Bizarre Adventure: Heritage for the Future, Kouji Nakata in the OVA, and Kentarō Itō in both the anime and JoJo's Bizarre Adventure: Eyes of Heaven (who has also provided the voices of Barry the Chopper (FMA 2003), Kan Ki from Kingdom, and Mogudrago, Manhole Banki, Toome, Invisible World, and the Great Invisible World from Super Sentai). In English, he was voiced by an uncredited voice actor in the OVA and Greg Chun in the anime.
Biography
JoJo's Bizarre Adventure: Stardust Crusaders
N'Doul was born a blind man, living his life as a beggar and using his Stand powers to commit small crimes without being noticed. However, he wanted to find someone who saw his true value. One day, he met with DIO, becoming instantly enticed by him, as he could see his value. Dio convinced N'Doul to help him defeat his enemies, sending him to kill Jotaro an his group as soon as they arrived in Egypt. N. Doul attacks the group in the middle of the desert, standing kilometers of distance from them. An helicopter of the Speedwagon Foundation rendezvous with the group, bringing supplies as well as Iggy, a dog who controlled the Fool stand. After Iggy messes around with Polnareff, he notices the presence of N'Doul watching over them.
N'Doul in initially attacks the helicopter shortly after it takes off, killing one of the SPW crew members. The group come to rescue the crew, finding one of them near death. Joseph tries to give him water from their canteen, but a water hand comes out of it and decapitates the man. The water hand appears again, slicing Kakyoin's eyes and attacking the wristwatch of the dead crew when it's alarm runs off, which is when the group realizes they are being tracked by the sound vibrations. The group all jump inside their car, but the stand attacks again, creating a hole on the sand to drag the car. N'Doul notices when Iggy jumps out of the car after anticipating his attack, but decides to leave him be when Iggy just starts to sleep.
Avdol attempts to trick the stand by using his bracelets, tossing them in front of himself to simulate his steps. However, N'Doul notices the trick when the steps suddenly stop, dodging Avdol's attack and hitting him. He prepares to finish Avdol, but Jotaro suddenly starts running. He noticed Iggy could sense the presence of the enemy, so he grabs the dog and forces him to tell him where he is. Iggy uses his stand to form a glider, so Jotaro grabs him and lets him carry him. When he kicks the ground to give impulsion to Iggy, N'Doul is finally able to track them, realizing they are floating, so his stand starts pursuing them, scattering sand around to use as a sonar to track their exact location. Iggy attempts to leave Jotaro behind and escape, but Jotaro grabs the dog and toss him on N. Doul's direction, forcing the two to defend themselves from the collision. Jotaro uses the distraction to safely approach N'Doul, attacking him from behind.
Defeated, N'Doul uses his stand to attack himself on the head, in order to prevent them from interrogating him. Before dying, N'Doul reveals how he doesn't want to be killed by Dio, not out of fear but of his admiration of him, also telling about himself and his stand, named Geb after one of the nine Egyptian Gods of prosperity. As he dies, Jotaro buries his body beneath the desert sand.
JoJo's Bizarre Adventure: Eyes of Heaven
???
Powers and Abilities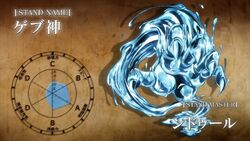 | | | |
| --- | --- | --- |
| " | The Stand wasn't hiding in the water, it is the water! | " |
| | ~ Avdol on Geb. | |
N'Doul's Stand, Geb, is made out of water. It buries itself underground and takes the shape of a hand to attack using its sharp nails and superhuman strength, weaving around or blocking attacks using its aquatic form.
N'Doul himself, due to being blind, possesses exceptional hearing prowess, being able to easily track down his victims by sound vibrations, using this ability to swiftly attack with his stand.
Trivia
N'Doul is named after the Senegalese artist Youssou N'Dour.
Geb's abilities was inspired after series creator Hirohiko Araki heard a story of someone drowning with just a cup's worth of water in a washbasin, and thought after reading it about the idea of someone drowning in a desert being interesting.