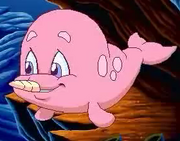 Nadine the Narwhal is the possible main antagonist of Freddi Fish 3: The Case of the Stolen Conch Shell. She may not always be the thief, though she is one of the six suspects. However, here is a reason when she is.
If the hidden item in the bag is a whale-sized toothbrush, she is the thief. Of course, like any suspect who turns out to be the perpetrator, she will deny it being hers, but Uncle Blenny's dogfish Old Soggy will bite her on the tail, prompting her to confess the following purpose: she had accidentally knocked it off with her tooth, but fearing dental indescretions, she took it to try to hide the evidence. When she was told by Freddi that when they do wrong, they have to face up to it, for covering it up only worsens the situation, just as it nearly ruined the Conch Festival. She repents and gives Uncle Blenny back the conch, which he blows.
Although in the background, she is patted on the back for comfort. However, Nadine is revealed to have been convicted of violating penal code 121 for what was later named the "Narwhalgate Cover-Up", so she has to publicly teach fish dental care for "many long hours".
Community content is available under
CC-BY-SA
unless otherwise noted.